Review: Sony's Duo 13 Windows 8 Hybrid - A visual artist's best friend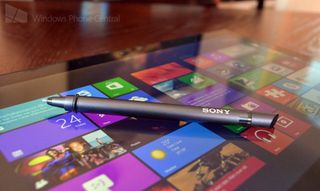 Sony has been hard at work trying to find the perfect solution for a Windows 2in1 machine. As of now, the company has two units available on the market, their VAIO Duo and VAIO Flip. We will be reviewing the Flip unit shortly, but let us present you with the long awaited VAIO Duo review - maybe it will be all you need, or maybe not.
---

Excellent build quality and beautiful design. Stylus and gorgeous 1080p screen make for a great drawing experience. Included Sony applications are always a great plus. Powerful under the hood.

---

Poor positioning of buttons. Ports can be hard to access in "laptop" mode. Exposed wires look terrible. Keyboard and trackpad are a joke. Battery life is only decent, but could be better.

---

The Sony VAIO Duo 13 is first and foremost an excellent 13 inch 1080 tablet. Due to the poorly designed keyboard and tiny trackpad, "laptop" mode leaves much to be desired. If you are looking for the perfect ultrabook/tablet combination you are better off with the Sony VAIO Flip or Lenovo YOGA. The Sony VAIO Duo 13 makes a great laptop for visual artists and those who don't intent on using the keyboard often.
Form
Whenever we receive a premium Sony machine for review, we know one thing for certain, it is going to look amazing - the Sony VAIO Duo is no exception. The unit's metal and glass exterior is a beautiful marriage of materials that draw you in with its sleek body profile.
When you first pick up the VAIO Duo, you are picking up a 13 inch tablet. The keyboard is hidden cleverly beneath the unit's screen and slides out for later use (as we will later examine). The screen faces outward at all times and, to our delight, the border is clean of clutter. In the upper right hand sits a slightly reflective Sony logo and on the bottom center sits Sony's beautiful angular Windows button. Instead of opting for a simple circle or rectangle, the button is an angular design that compliments the modern design of the machine.
Three edges of the unit are tapered to give the unit a thinner appearance, but there is slightly more tapering at the front edge of the unit than on the sides - the back of the unit remains flat. The overall design presents the VAIO as a thin and light machine, which it certainly is.
Almost all of the unit's buttons are placed at back edge of the unit, which is suitable for tablet use, but can become a huge annoyance when using the machine in PC mode. Back ports include an SD card slot, an HDMI port, two USB 3.0 ports (one of which supports always on charging), a headphone jack, and the unit's 10.5 Volt charging jack.
The front edge of the unit is kept completely free of ports, while the left side houses the power button, and the right side houses a slide out stylus holder. You might notice that we have yet to mention where Sony has placed the volume control keys - on the backside of the unit.
The back of the unit is home to what you might expect, two exhaust grills, an 8 MP camera, and then of course - the oddly placed volume buttons. Three buttons site on the backside of the unit including a volume up key, volume down key, and Sony's Assist button.
When using the device in tablet mode, it is hard to discern between each individual button and you might find yourself launching the recovery software instead of adjusting the volume during your favorite movie. To make matters worse, the buttons are even placed in an ideal location. The buttons where placed in a matter, which suggests the machine is to be used in a portrait orientation. If you are holding the unit in landscape (as one might do when watching a movie or surfing the web) you will find your hands searching the unit to uncover them.
We just cannot understand why on Earth Sony placed the volume keys where they did. On the back of the unit, sits two rubber feet which prop the unit up slightly and also convey that the unit is to be used primarily in landscape mode.
Getting passed the absurdly placed buttons, one will also discover an NFC logo on the back for easy transferring of files between devices and the unit's large speaker grill.
We previously mentioned that the side of the unit includes a slide out pen holder for the included stylus. The holder itself won't actually hold your pen during transport, but instead presents an "inkwell" style holder during use. We really wish Sony would have added a way to either snap on the pen (as they did with their VAIO Tap unit) or included a silo to slip the device in. We almost guarantee you that you will lose the pen at some point.
Let's talk a bit about the hidden keyboard built into the unit. To reveal the keyboard, simply put your fingers under the back left and back right areas of the screen and pull up. Once you do so, the screen will move back then rotate up to give way to a physical keyboard.
As the screen moves back and up, two metal hooks are supposed to grab the LCD screen and stabilize it in its upright position. Many times, when you slide the screen up, it doesn't catch the hooks and instead is simply propped up loosely. While this may sound terrible, it actually does not make a huge difference, but we do wish Sony paid a bit more attention when designing them.
Instead of simply placing a keyboard underneath the screen or indenting a recessed rectangular area for the keys to sit, Sony has once again conjured up their designers to produce a beautifully modern keyboard surrounded by angular slopes. The palm rest is a cool metal surface, while the keyboard keys are plastic.
The design may be beautiful, but when you touch the keyboard and track pad - that is where the issues begin. The keyboard itself has very good spacing between keys, but feelings as if you are typing on mashed potatoes - a thin layer of mashed potatoes. The keys are mushy with little pushback and have absolutely zero satisfying click to them. The touchpad might be the same width of a normal touchpad, but the height is not much greater than that of my nail on my thumb. If the touchpad sounds incredibly small, it is because it is. And this is where the issues of Sony's 2in1 are evident.
While Sony markets the device as a 2in1 (a tablet and laptop in one), we can't help to feel that we are holding a beautifully designed 13 inch tablet with a crappy keyboard and impossible to use touchpad slapped on as a gimmick. The keyboard might be alright if you intend to only type once in a while, or if you primarily intend to use the touch screen and will treat the keyboard as a practical add-on, but if your main focus in life is typing - move on now.
When we look at other device's such as Microsoft's Surface and its Touch Cover keyboard, we can see it as it really is - a keyboard with a decent keyboard for the occasional email; that is exactly what the keyboard on Sony's VAIO Duo feels like.
The hinge mechanism that Sony uses to create its sliding keyboard and pop up screen is not only the unit's unique selling point, but its Achilles heel. The screen only slides back in one direction, but easily gives if you try to open it the wrong way, we see a lot of angry users in the future who will be breaking their Sony VAIO by accidently opening them the wrong way. As I visited my local Sony Store, I watched how people interacted with the machine and my guess was correct - people were unsure how to open the unit and instead pried at the edges, almost breaking it, before a Sony representative rushed over to teach them how to properly use it.
The hinge itself is made of metal, but the breaking point of concern is the unit's LCD where the hinge mounts. In addition, opening the device to expose the keyboard also exposes wiring and ribbon cables behind the hinge - it is a poor design, that we would have expected Sony to have gotten right.
In essence, the design of this device can only be summed up by one word – "Sony". There are times when companies seem to follow a design mentality with their machines and upon looking at this Windows 8 hybrid machine – there is no doubt that it is a full-fledged Sony product. What exactly does that mean? Well, Sony likes to take risks with high end machines and that is evident when handling the VAIO Duo. While we aren't sure if it is a winning solution for a Windows 8 hybrid, the extremely well put together build (minus the visible wiring/ribbons behind the hinge), beautiful design language, and slider design is a unit that will grab attention.
Function
Design isn't everything though and as mentioned above, this is a high end machine, so expect some nice silicon under the metal chassis. Sony's VAIO Duo Ultrabooks can run up to Intel's 4th generation Core i7 processor with Intel's HD Graphics 5000 and 8 GB of system RAM. Users can add-on a whopping 512 GB SSD drive for ultimate storage.
Overall, our review unit featured the Intel Core i7 process, 8 GB of RAM, and the 256 GB SSD. Performance was extremely fluid and applications like Adobe's Photoshop CC ran without any trouble. While we don't recommend the machine for any hardcore gaming, Intel's integrated Graphics HD 5000 chip has really pushed what can be done with onboard graphics. Sure, you don't have a Crysis killing machine here, but you will definitely be able to get away with some Team Fortress 2 gaming or finishing your Final Fantasy quests as you wait for your next class.
The machine itself is, as usual, loaded up with a full collection of Sony software that we have gone through many times before. Included are "Album my Sony", "Music by Sony", and "Socialife". The two first pieces of Windows 8 software are decent alternatives to Windows's built in music player and photo viewer; both are well optimized for touch and feature an alluring design. The latter, "Socialife", is a poorly done social networking application that gives you an overview of Facebook and Twitter, but lacks many basic functions found in other apps.
For the handy dandy stylus pen that is included, Sony continues to prepackage two pieces of drawing and note taking software. The first is "Note Anytime for VAIO", which allows users to scribble down notes and would function as a great alternative if it included cloud syncing for mobile access. We feel that most users will check it out, but retreat to either Evernote Touch or OneNote Touch for a more complete and better overall experience.
The second piece of stylus software included is "ArtRage Studio Pro", it is a Windows desktop application that can be thought of as FreshPaint on steroids. If you prefer a more laid back painting experience, FreshPaint will still probably be your go to app, but if you need something a bit more serious with full control – ArtRage Studio Pro is a truly great option and we are happy to see it included free. Not only is it free, but they didn't skimp and give us the lite version, you get the full Pro edition.
Sony also includes their VAIO Control Center and VAIO Care center, which we quite love, as they allow you to easily keep an eye on your machine and receive new driver alerts as soon as they are available. Software that automates system process for the average everyday user (or even myself) are welcomed.
Other software is also included such as Cam Scanner for scanning documents with your webcam, ArcSoft Camera for Photo booth fun, PuzzleTouch for passing the time, and Sony's multimedia editing duo (PlayMemories Home and VAIO Movie Creator). We didn't mentioned the above titles in detail, because they truly aren't worth the time… except for CamScanner, you might find that a bit useful.
In terms of battery life performance, we found the unit to perform anywhere from four to five hours while performing day to day tasks and listening to music. This number is decent, but we would have expected Sony to squeeze a bit more life out of the machine.
Conclusion
There are a ton of great Windows 8 hybrid machines on the market and the question that everyone wants to know is if the Sony VAIO Duo 13 is one of them. The answer? Yes, and no. While we love the overall design of the unit, we honestly feel it is first and foremost a tablet; the keyboard and ridiculously sized track pad simply seem like an add-on. If you are looking for the perfect combination of a tablet and a laptop, this probably isn't the answer for you.
There does seem to be a market that Sony is aiming at with this machine though – art and design students. The stunningly beautiful 13 inch Full HD display, excellent stylus, included software, and overall design really give the impression that this units should be used flat down, while working in Photoshop, ArtRage Studio Pro, or other pieces of multimedia creation software. The unit itself even includes a stylus holder – take that IBM suite men, this is an artist's machine.
Luckily we don't have to have the final say on whether or not you go out and purchase this unit, you can check out a local Sony store near you to play with the device in person or head on over to Sony's website for purchasing details. The Duo is currently running in the neighborhood of $1,200 on up depending on configuration.
If you are looking for the perfect artistic canvas, this may be it – otherwise take a look at Sony's Flip Ultrabook while you are there.
No, it absolutely gorgeous. I own one and get complements on it it from strangers all the time.

Yes it is great! I don't find the keyboard and trackpad are poorly designed. Switch between tablet and laptop mode is the most convenient on the market. I tried Sony Flip and Lenovo Yoga.. Don't like them both.

It depends on how you look at it but to me, the Vaio Duo 13 is the best looking Windows machine around. All my colleagues at work except my manager use either MBA or MBP and they were constantly taunting me with their anti Windows tirades in the office. At a point I was considering buying MacBook Air and boot camp it with Windows 8 but ever since I got this device I receive nothing but praise for to the extent that, one of those Apple fanboys in my work has recommended the Vaio duo 13 to his brother and he's considering buying one himself. Its very portable, very fast and I get between 9-12hrs of battery life.

Yeah but they have much better keyboards and trackpad. But then I'd never want a Macbook to run Bootcamp as you gain so much from having a Touchscreen with Windows. The Duo looks great, but that keyboard and touchpad ruin it, be glad your colleagues don't use your laptop too much to realise that. There just isn't a Windows convertable that does everything yet, the closest is the Lenovo Yoga Pro 2, but it's let down by battery life (mostly cos of the amazing screen). It also looses by not having a Wacom screen, but not everyone needs inking abilities. The Thinkpad Yoga covers that, but is a bit chunky and much as I appreciate the Thinkpad looks, just isn't as sexy. I think right now we just have to keep waiting for the right hybrid machine and stick with Ultrabooks, ASUS Zenbook, Samsung ATIV 9 and HP Spectre are all lovely machines that beat Macbooks, just a shame they cost much the same (but worth it for the touchscreen and higher specs).

seriously, the duo is so thin how in the world you can add a longer-travel keyboard as in normal laptop? And the Macbooks keyboard is crap compared to my 2007 Thinkpad - it's just a pleasure typing on that keyboard, shame Lenovo discontinued it in favor of thinner chassis. Trackpad? It's shit compared to the joystick on the Thinkpad too. Don't know why Sony didn't use joystick on the Duo 13, the Duo 11 has it.

I find it very beautiful, innovative!!!

Is there an RT or Bay Trail tablet with higher resolution than 1080p? That's what I'm waiting for.

The Lenovo Thinkpad 8 is 1920x1200

Why isn't Windows 8.1 preloaded?

Yes, this is what I want to ask too. Why no 8.1?

New stock comes with Windows 8.1 preloaded.

The review unit they sent us had Windows 8 loaded, but if you walk into a store today they should all have Windows 8.1 ready to go.

Is the stylus using a Wacom digitizer? It'd be for the best to be able to use one pen across several devices.

I was wondering the same thing. If they want to tout it as an artists machine they need wacom.

If it's like their previous Viao convertibles then it's N-Trig.

Yes it is... Though I like it better because of N-Trig accuracy... Better for note taking. (I have the Flip series by the way)

Thanks. That makes it a no-go for me then.

It's a gorgeous machine, I've loved playing with them in stores but it's definitely the Vaio Flip for me. As you said, the tiny keyboard and trackpad are dealbreakers. It's great that Sony are actively making devices that are suitable for creatives though, such a huge market that Windows OEMs generally ignore. Even when they include decent digitisers such as N-Trig or Wacom they advertise them for annotating PDFs and signing documents and other dull stuff. If MS had marketed Surface Pro as an artists tool rather than that dumb ad with them dancing around the office they could have had a more coherent marketing message.

Totally with you on the bad marketing for the Surface. Those silly ads make it out to be a fun everyday laptop for everyone. Which would have been fine if that was the case; but it is a power machine best suited to graphical designers and out of the price range for many people. Without the expensive Wacom screen on it and with options for less powerful CPUs, they could have had a version that was significantly cheaper and lighter, two IMO of the biggest problems with the Surface. It is a lovely machine and I was very tempted for a long time, but it just feels overdesigned and in the end a bit of a niche machine. Even people who have it (and love it) I bet would wish for it to be lighter and probably the majority of them never need the Wacom (and of course would have rather have spent less). Just surprises me nobody has filled that gap yet - and here's another over-designed device from Sony that doesn't master any one task and is a gimped for many.

meh, when are they going to stop this mess? the only way to do a "perfect" w8 laptop/tablet hibrid is using cloud computer, you either have the i7 and bad ergonomics or the weak(for productivity) ARM and slim device i prefer to have both separated, whats the point of carrying an i7 mess with you? leave it on your desktop where it belongs and can work at full potential @ 5GHz and tons of ram and energy to waste for when you need serious work to get done, and use the skinny cute tablet for content consumption what i want is a 15-17" 4k win RT tablet with 20h battery life, but seems like i might end getting a surface 2 ¬¬

Dont know if you bank your head too much. You complaint about i7 making your device bulky and then you asked for 17" with 4k capability...

Really need a wacom device that's 11" and using baytrail or an i3. Need something with battery life and performance for artists, lol.

This is the perfect convertible for me. I use one for school and I've had no problems with the keyboard. The trackpad is bad but better than not having one at all. I disagree with the idea that this device feels like a tablet more than a laptop, the size just doesn't scream tablet and I'm always using it with the keyboard. The stylus is great for writing out some math in OneNote or scribbling over some PDFs in class. The battery life is incredible. This was definitely the best device available for my needs last fall.

Can I ask you? I'm a new owner of the Flip series and also new in Windows 8. How exactly the way to "scribbling over some PDF's? Can we save the scribbles together with the PDF? I will love to learn the way.

Drawboard PDF has this functionality, and is free. Also looks good and works well :)

Michael should be the new Bob Ross! :D "Now we'll just add trees. Add as many or few as you like...it's your world..." http://www.youtube.com/watch?v=5ThQybRgvwA

Mike, you posted Windows 8. Is it just not running 8.1? Looks good to me btw and thanks for the video review.

Thanks, Jazmac. The unit we received for testing had Windows 8 loaded onto it, but if you walk into a store today they should all have Windows 8.1 out of the box.

Hey Mike you should have reviewed the White version which brings out the beauty of this device. Btw I just want you to know to the packaging comes with a separate plastic holder which can be plugged in the opening just underneath the built-in pen holder for traveling purposes.

I prefer the sleek black, but I'm sure they both look beautiful. We usually just end up reviewing whatever color and specs they decide to send us. As far the the plastic holder, we didn't seem to receive one in the box with our unit, but I will double check that. They did include a plastic holder on the VAIO Tap 11, which was quite terrible as you were just as likely to loose that.

Come on Sony, what are you waiting for to give us the Z1 compact running Windows Phone 8?!?! There's NOTHING like it in WP.

Yes.. I really like the Idea of a good Waterproof cameraphones running WP8.1 :D

Wow. Sony created the pen that should have come with the Surface Pro. Ugliest pen I've ever used. Microsoft put no effort into the pen that comes with a thousand dollar tablet.

Eh... Doesn't look that impressive to be honest. The excecution of the tablet mode is just terrible. Granted I'd likely take it over the Yoga Pro 2. Sure the Yoga had a higher res display, but the auto-brightness was horrific, and the light bleed from the panel was even worse. Ended up going for a nice generic Asus Zenbook. My first foray into the convertible market spit me out into the notebook market very fast.

So you review the unit with the astronomically high pricetag but don't mention its price and only note the cost of the underpowered base unit? Impressive reporting around here. As for the device itself, it is oversized, overweight, overpriced, and poorly built. How can you claim build quality as a plus and then note the remarkably cheap hinge design, lousy keyboard, and unusable trackpad?

There is a fine line between "build quality" and "design". The hinge, keyboard, and trackpad were designed poorly in my opinion, but the materials used to make each respective part were of a quality build.

It's a perfect machine, the keyboard is good, the trackpad is really bad, the worst thing of all is the terrible service of Sony, they ignore you or have no answers on simple questions, the possibility of automatic landscape or portrait mode is gone on my device and there is no solution for. Oh they have one solution, sending back the device for a minimum of 2 weeks (for example repairing a Xbox is less then one week)
Sony dislikes their customers and they are arrogant!!! (EU)
No more Sony devices for me in the future.

I am impressed with, and appreciative of Sony's continued commitment to the convertible form factor. The market segment needs all of the support that it can get, in part because so many main stream pundits repeatedly say that they "don't get" the form factor. I am personally waiting for (and hoping for) the release of Fujitsu's T904. The T9xx series machines are the equivalent of high end SUV's, or perhaps commercial trucks, in the tablet marketplace. They are expensive, and targeted at businesses and professionals. This, however, brings some advantages such as proper docking station. IMHO, their T900 was hands down the best tablet on the planet when I bought bought one in early 2010, and the T904 should reestablish Fujitsu's leadership position, if the T904 actually makes it market.

Another solid unbiased review from Michael ! My only gripe is that you only recieve few devices and usually very late, I don't know if there is anything that wpcentral can do to support your reviews with more devices. Thanks for the awesome review :) Sent from Acer Aspire E1-532
Windows Central Newsletter
Get the best of Windows Central in in your inbox, every day!
Thank you for signing up to Windows Central. You will receive a verification email shortly.
There was a problem. Please refresh the page and try again.