Review: Token2Shell Mobile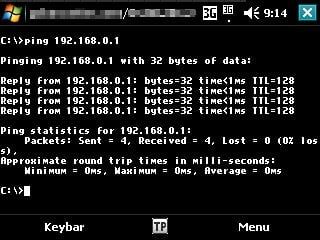 When it comes to software for Windows Mobile, we have a little bit of everything. Twitter clients (PockeTwit, Twikini, moTweets), Music/Video Players (Kinoma Play, Core Player, Pocket Tunes), Games (Rabbit Wars, My Little Tank); these are just the tip of the iceberg. One class of applications that seem to be significantly under served are programs that are designed for IT professionals.
It seems like Information Technology would be an area that had more applications than it knew what to do with. Tools that allow remote monitoring or remote control of servers and network hardware are available, but aren't nearly as pervasive as one would expect them to be.
Token2Shell Mobile is a SSH (Secure Shell) client for Windows Mobile. For the uninitiated, SSH is one of the standard tools for remotely managing and maintaining IT equipment. For the full review, hit the jump.
Features
The primary concern with any remote control tool used for production equipment should be security. Token2Shell features a Login Agent which caches passwords and decrypted private keys if you are in a PKI environment. A wide variety of authentication methods and encryption algorithms are supported (for a full list visit here). As an added bonus, SSH Tunnels are supported by using a separate standalone application which provides a tunnel (as well as port forwarding) for other applications.
Token2Shell also features a Keybar, which gives you access to keys that don't appear on all mobile keyboards. Keys like ESC, Page Up, Page Down and the F1-12 keys are commonly used for test based applications.
Other tools like Telnet, an SSH2 File Browser in addition to PING and TRACE-ROUTE are included.
Usability
Because SSH is text-centric, and typing on a smallish keyboard can be a difficult proposition, Token2Shell offers some impressive functionality that will allow you to accomplish your tasks with minimum effort. First of all is a feature called SmartClick. SmartClick allows you to send any word or menu string to the server as input. Applications that support X-Window's XTerm, mouse clicking is supported as well.
Another feature which should make hard core users drool, is the command macro tool. Essentially, you can create a text file with a list of commands which you can then play back to the server. There are a couple of benefits to this over server-side scripts. First, if you are not permitted to run scripts server side, this is a method of automating commands. Second, if you need to run one script against multiple servers, this will give you the ability to do this as well.
Conclusion
Token2Shell is targeted at Professional or Enterprise level users that need to be able to access their hardware at all times. With the $49.95 cost, that's pretty much the only market segment that will be able to justify the price. This is a fairly full-featured tool, and the security features are on par with what you would expect from an Enterprise level tool.
The price is probably about right for what it's targeted at, but I would like to maybe see another version in the future that is a little more basic/stripped down for the lower end users. Something in the $10-$25 range would be pretty sweet.
If SSH is something that is very close to the core of your existence, give Token2Shell Mobile a trial run and see if it's worth the $49.95. Are there any current users out there? Let us know what you think in the comments!
Swipe to scroll horizontally
| | |
| --- | --- |
| Ratings (out of 5)Features: 5Usability: 4Overall: 4.5/5 | ProsSupports a long list of security standardsOffers tools for easily managing IT equipment.ConsIt's expensive |
Windows Central Newsletter
Get the best of Windows Central in your inbox, every day!
George is the Reviews Editor at Windows Central, concentrating on Windows 10 PC and Mobile apps. He's been a supporter of the platform since the days of Windows CE and uses his current Windows 10 Mobile phone daily to keep up with life and enjoy a game during down time.
With a $49.95 price tag, I am compelled to point out that SSH and Telnet are available for free if you use PocketPuTTY, which is my SSH client of choice at the moment on my TP2 http://www.pocketputty.net/ $50 is a lot of simoleans, this program better be a marked improvement for me to move over.

As another fellow putty user, this program better polish my shoes and do the dishes as well for that kind of money... I don't see anything that really makes it worth the price honestly. What I would like to see, is MS correct the RDP program to support 800x480 resolution on my TP2!

Thirding the PocketPutty remarks. It's missing a thing or two, but for its small memory footprint and great (free) price tag, you really have to need this program's improvements.

If only somebody would come out with a workable Cisco compatible VPN solution I COULD do some IT work with my phone.

Are there any good free SSH clients for WM?

You mean, other than PocketPuTTY, mentioned four times above?

There is no free program that comes even close to what Token2Shell offers and delivers. Yes - I paid the hefty price tag, but don't regret it even for a second! When I saw it and tried it the first time, I said finally my days of torture with stuff like Pocket PuTTY and MidpSSH are over! BTW - I am using SE XPERIA X1. RAReed0219, as far as good IPsec VPN client - give NCP secure client a try. You won't be disappointed. It supports not just Cisco, but many others too.