The Ring Video Doorbell app for Windows 10 adds support for Mobile smartphones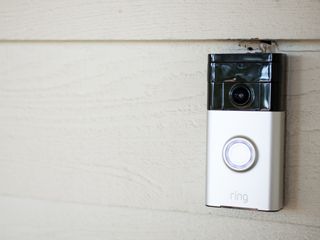 The company behind the Ring Video Doorbell released an official app for Windows 10 PC users earlier this year, and that app has received an update so it will work with Windows 10 Mobile smartphones as well. The universal app allows owners of the doorbell to view its connected camera on their devices.
Here's what Ring has to say about their updated Windows 10 app:
The release notes add that Ring is working on "even more new features and improvements" for future Windows 10 app updates. The Ring Video Doorbell itself is priced at $199 and you can read more about it at our sister site Android Central:
"Ring review Part 1: Setting up a $199 connected doorbell"
Amazon (opens in new tab) Ring Lowes (opens in new tab) Home Depot (opens in new tab)
Download Ring Video Doorbell for Windows 10 (opens in new tab)
Check out the first part of our Ring Video Doorbell review at Android Central
Installed one of these bad boys for a neighbor. Pretty sweet.

Technology has gone mad bruv

I'd be curious to hear with most of these new windows 10 mobile apps you're writing about if they were ever available on windows phone before 10?

The part that tips it off is if it says "for windows 10 PC/Mobile" an 8.1 version may run on 10, but they aren't FOR the platform. So it doesn't really matter if it was available on 8.1 or not, it still had to be rewritten.

Awesome must have home security gadget. Will definitely pick one up now that the W10 app is out.

Nope came out with Windows 10, and still is not available for 8.1.

Been using it in W10 desktop and mobile for a few weeks. Love it.

If you dont hardwaire how is the battery life? Thanks.

I picked up the Ring Doorbell on Black Friday and the battery runs about a month before you have to unmounts it to recharge it. I am considering on running wires to it to avoid that mundane task. The site says the doorbell should run off battery from 6-12 months depending on usage, but I'm not even near that. I've set my motion to Zone 6 only as well. Overall I like the product, but there are bugs in the Ring app for Win10 Mobile.

Outside temp will GREATLY impact battery life. Cold climates eat batteries up very quickly.

I have been eyeing this hardware for awhile now. I was disappointed that there wasn't a Win10/Mobile app, now that isn't a reason to opt out. I would only use it in a hardwire scenario though. Recharging it would be a hassle. Does it have a rechargable battery backup option when hardwired?

I have had this app for weeks.. Truly is amazing.

This would be cool. I need a doorbell. Posted via the Windows Central App for Android

I like the concept but the design of that box is hideous

I just ordered one, now that there's a W10M app.

I haven't bought this yet, but now that it works on my Windows 10 devices, I'm sure I will soon. Even without buying, I've been impressed with their customer service. I've both called and texted with reps with questions and even after making clear I haven't bought one, they've still been very helpful. I made sure to tell them that the reason I was even considering the purchase was because Ring now works with Windows 10.

Can't verdict which will buy ring video doorbell or ring video doorbell pro. The Ring Video Doorbell supported for Windows 10? http://homedoorbell.com/ring-video-doorbell-pro pro version supported for windows 10. Also i read some of blog and they are said pro is windows 10 supported but no details how to use. Need this solution, How i can get this solution?? Thanks

Tread lightly. I bought one at Costco, and was unable to get the unit added to my account. I was able to get the Chime added. Tried on both Mobile and Desktop. Back to Costco it goes. Posted from Windows Central for Windows 10
Windows Central Newsletter
Thank you for signing up to Windows Central. You will receive a verification email shortly.
There was a problem. Please refresh the page and try again.