Rise of the Tomb Raider's latest trailer explores Lara's motivations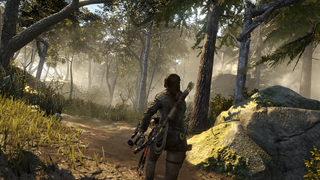 The latest Rise of the Tomb Raider trailer asks: "What makes someone reach beyond the boundaries of human experience?" Lara has the answer!
Rise of the Tomb Raider will arrive on November 10th, as part of Microsoft's exclusive Xbox line-up for 2015.
The trailer offers a glimpse at some of the challenges Lara will face in her latest adventure.
Crystal Dynamics hopes to inject some of that 'classic' Tomb Raider feel in the newest game. Tombs themselves will play a greater role, and as expected, they'll be laden with deadly traps and complex puzzles. Lara has taken a leaf from Indiana Jones' playbook with an expanded set of tools, including a rope swing for bridging gaps and traversing treetops.
I've seen Rise of the Tomb Raider running live on a Xbox One, and it certainly features among the line-up's most gorgeous titles. One interesting aspect about this trailer is that it uses the Microsoft branding at the beginning - a firm reminder that it is indeed Microsoft publishing this initial release of the game. Rise of the Tomb Raider will hit PC and PS4 later on, published instead by Square Enix.
Rise of the Tomb Raider launches November 10th on Xbox 360 and Xbox One, Q1 2016 for PC and Q4 2016 for PS4.
Jez Corden is the Managing Editor for Windows Central, focusing primarily on all things Xbox and gaming. Jez is known for breaking exclusive news and analysis as relates to the Microsoft ecosystem while being powered by caffeine. Follow on Twitter @JezCorden and listen to his Xbox Two podcast, all about, you guessed it, Xbox!
Another tasty game....but seriously, Lara moans too much.

Yeah, u noticed it too. It makes me feel she's not brave enough.

Connects me more with her tbh

Yeah, i am playing this month version with gold and... I can't believe how the game is too rough her.

I think the developers have some kind if fetish for beating up women

Moaning means you're doing something right...

I don't mind the moaning, but it could be much more varied. If you were jumping off a cliff, you'd moan too. Say 100 different moans depending on circumstance rather than just a few to cover all situations.

I've skipped the 2013 reboot, far too much blood, gore and pain. I really hope the new game has less, even better the option to turn it off (like Gears). Much prefer classic, capable Lara.

Think you'll be disappointed, Rise of the Tomb Raider seems twice as violent haha, although they have shown off how you can avoid combat if you choose to do so.

This game is a direct sequel to the 2013 game (currently free for the second time on Games with Gold...) If original series Lara is more your thing, then you might want to try Lara Croft GO!

Well actualy it is the first time that its free on games with gold for the Xbox One version, before it came down to like $7.

Bought this months gold edition. Love the game itself, but I do not fell comfortable playing it in front of my wife at times. Anyways, I love the game. I even set aside twilight princess to get into this game. Anyways, after I finish definitive addition not sure if there is another tomb raider like it I can pick up.

What makes you uncomfortable? Seeing me play it made my wife want to play too!

The scenes where she is getting a stalked, assaulted and physically held down. I turned the volume down, made it better.

Interesting. I guess playing video games my whole life made me jaded to this stuff since it's not real.

I did mind the scenes myself, but I just was not sure how she would react. I look forward to the next one.

Never heard so many PC comments in one article.

Are these naughty motivations... or regular heroine motivations?

Looks so so good. Cant wait.

I think Lara from the former Tomb Raider is prettier but why cares if she doesn't look the same. I'd play it!

Think of this new series as the precursor (which it is, chronologically). So this is from before her breast augmentation and facial plastic surgeries. ;-)

So this is the Lara Croft from before Angelina Jolie. :)

Hope it has as many gut wrenching moments as the last one.

Never played ANY tomb raiders until the last one. Loved it!!!! Can't wait for this one.

Same here. I thought the game play was refreshing and quite enjoyable. Here's to hoping they can improve on that even further.
Windows Central Newsletter
Thank you for signing up to Windows Central. You will receive a verification email shortly.
There was a problem. Please refresh the page and try again.