Rock of Ages II will roll its way down to Xbox One and PC this fall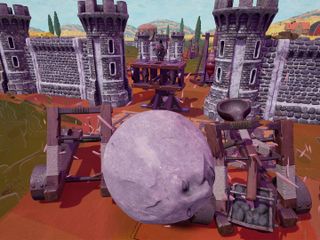 Developer ACE Team and publisher ATLUS will release Rock of Ages II: Bigger and Boulder, the sequel to the very unique looking and playing tower defense game, this fall for the PC, Xbox One and PlayStation 4.
The original Rock of Ages was released in 2011. The player had to roll a large stone boulder down a hill and destroy his enemy's castle at the bottom while the opponent set up defenses to slow down the ball's veloclity. Rock of Ages II will keep the basic gameplay, plus its theme of different art history styles for each mission, but will add a number of new features:
Up to 4-person Multiplayer - A little friendly competition never hurt anyone, so that's why ACE Team decided to up the gate-smashing stakes by beefing up the multiplayer features of the game. Play with up to four players online in a 2v2 match to the crushing death with the ability to customize banners and colors for your "units." Plus, the tracks now intersect, so you can knock the enemy rocks to get an advantage!
Utter Chaos - Expanding on the first game with a more diverse selection of units and a larger focus on rock-smashing strategy in Bigger and Boulder, chaos reigns supreme! Just don't take each turn for granite!
Improved Physics and Destructible Environments - Developed in Unreal Engine 4, Rock of Ages II has upgraded physics and even more things to be cracked, crushed, flattened, and slammed. It's the most fun you can have rolling rocks down a big hill!
ACE Team's Trademark Quirkiness - With humor is turned up to 11, players will literally rock and roll through the ages. Famous historical figures beware!
Rock of Ages II will be shown in playable form for the first time during E3 2016 later this month in Los Angeles.
Windows Central Newsletter
Get the best of Windows Central in your inbox, every day!
Whoo, glad to see Atlus finally on board with Xbox One. I always wanted to play the first game, and presumably this one will be better anyway.

The first game was excellent, it really is a hidden gem on the 360. I will definitely be interested in picking up the sequel.

hahah, this game is hilarious