Rocket League's Rumble mode will add lots of wild and crazy power-ups in September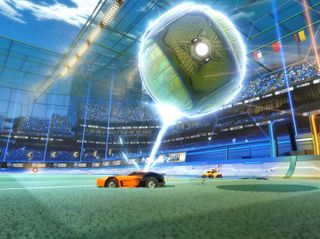 Psyonix announced Rocket League Rumble, an upcoming free multiplayer mode for its jet-powered PC, Xbox One and PS4 arcade sports hybrid. The mode will add lots of wild and crazy power-ups for Rocket League's cars, injecting some welcome variety into the mix.
Rocket League Rumble will be added to the game's online playlists, and can also be available in Private and Exhibitiion matches. Here's the list of the imaginative power-ups that will be available in the mode:
The Boot (Kick's an opponent's car)
Disruptor (Forces the opponent to drive uncontrollably)
Freezer (Freezes the ball in-place)
Grappling Hook (Pulls you towards the ball)
Haymaker (Punches the ball)
Magnetizer (Attracts the ball to your car)
Plunger (Grabs the ball via plunger and cord)
Power Hitter (Hit everything harder)
Spike (Attach the ball to your car when you bump into it)
Swapper (Change positions on the field with your opponent)
Tornado (Sweep up the ball and cars into a giant funnel cloud)
Psyonix says Rocket League Rumble will be one of many planned updates for the game that will be released sometime in September.
Get the Windows Central Newsletter
All the latest news, reviews, and guides for Windows and Xbox diehards.