Rocket League's Rumble mode will add lots of wild and crazy power-ups in September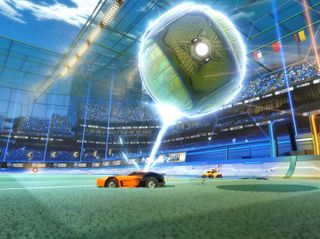 Psyonix announced Rocket League Rumble, an upcoming free multiplayer mode for its jet-powered PC, Xbox One and PS4 arcade sports hybrid. The mode will add lots of wild and crazy power-ups for Rocket League's cars, injecting some welcome variety into the mix.
Rocket League Rumble will be added to the game's online playlists, and can also be available in Private and Exhibitiion matches. Here's the list of the imaginative power-ups that will be available in the mode:
The Boot (Kick's an opponent's car)
Disruptor (Forces the opponent to drive uncontrollably)
Freezer (Freezes the ball in-place)
Grappling Hook (Pulls you towards the ball)
Haymaker (Punches the ball)
Magnetizer (Attracts the ball to your car)
Plunger (Grabs the ball via plunger and cord)
Power Hitter (Hit everything harder)
Spike (Attach the ball to your car when you bump into it)
Swapper (Change positions on the field with your opponent)
Tornado (Sweep up the ball and cars into a giant funnel cloud)
Psyonix says Rocket League Rumble will be one of many planned updates for the game that will be released sometime in September.
See at Microsoft Store (opens in new tab)
Windows Central Newsletter
Get the best of Windows Central in in your inbox, every day!
Disrupter and swapper sound like some utterly terrible gameplay ideas! Everything else seems to aim to empower people to imitate some advanced moves that you can achieve with only alot of practice... Which I have no problem with. Still, I think I will steer [sic!] clear of this when it comes out. The base game is still one of the most refined mechanics I've ever had the pleasure to play!

The 'Disrupter' power-up reminds me of the public hoppers in Forza 6... People (mainly immature kids) that cannot drive or control their cars!

That sounds like a terrible idea to implement into a great game. RL is a simple game, yet very fun and rewarding if you master the mechanics.
Adding something like these power ups would really turn it into a power ups fest, rather than skill competition it is now.
Still, can't complain as long as it's optional. :D

It's a different "rumble" mode added to the game like snow day etc and won't change normal matches...and I think it's a great addition for people who haven't "mastered the mechanics" but play this game for fun only

Did sony ever approve Rocket League cross play with XBox? If they did I missed the article.

I think its a great game. Just waiting they lower the price at least for gold member. And I hope Sony allows cross playing...I have friends who own a ps4.

its on sale a few days ago for $40 i think for a year
Windows Central Newsletter
Thank you for signing up to Windows Central. You will receive a verification email shortly.
There was a problem. Please refresh the page and try again.