Rockstar Games addresses GTA Trilogy Issues and gives free games as apology
Rockstar is working towards fixing the trilogy.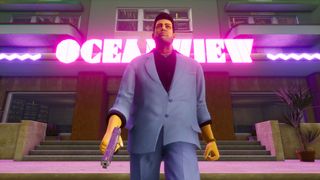 (Image credit: Rockstar Games)
What you need to know
Rockstar Games has acknowledged the problems with the GTA Trilogy and is committed to fixing the game on all platforms.
It'll restore the delisted original games to the store and give them for free to customers who bought the game or will buy the game until June 30, 2022.
It's also committed to fixing all versions of the game until they're at a level of acceptance from Rockstar.
GTA Trilogy: The Definitive Edition was supposed to be the magnum opus of Rockstar's line-up for 2021. Unfortunately, players were met with a less-than-acceptable presentation of a game that was riddled with bugs, crashes, and effects in the game that made it almost unplayable.
A week after the digital exclusive release of the game, Rockstar Games has finally put out a blog entry addressing the issues with the game and promises to rectify the game on all platforms.
In the entry, it recognizes that the game was far from perfect and will need a lot of polishing to make it an acceptable product for fans. It also stated that it's committed to work and achieve a proper state.
"The updated versions of these classic games did not launch in a state that meets our own standards of quality, or the standards our fans have come to expect," the blog post stated. "We have ongoing plans to address the technical issues and to improve each game going forward. With each planned update, the games will reach the level of quality that they deserve to be."
In addition, Rockstar is reversing the delisting of the original ports of the trilogy and putting them back in the Rockstar Store at a later date. Players who bought the trilogy from the release of the game and will buy the game until June 30, 2022, will get the original games for free as a bonus.
The blog post only mentions the Rockstar Games launcher and its unclear if PlayStation or Xbox players will get the rewards or not, but so far it looks like the rewards are exclusively for PC and only on the Rockstar Games Launcher, with no sign of the original ports returning to Steam.
Three iconic titles
Grand Theft Auto: The Trilogy — The Definitive Edition
If you want to experience the games again

With Grand Theft Auto: The Trilogy — The Definitive Edition, players can revisit three games that helped shape Rockstar Games and the GTA franchise as a whole: GTA 3, Vice City, and San Andreas.
Get the Windows Central Newsletter
All the latest news, reviews, and guides for Windows and Xbox diehards.