Rogue One: A Star Wars Story now up for pre-order on the Windows Store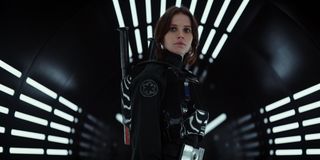 If Rogue One: A Star Wars Story hitting theaters has you psyched, you can go ahead and get a jump on the movie's home release with a pre-order at the Windows Store (opens in new tab). Microsoft's digital storefront now has Rogue One up for pre-order for a cool $20 in HD or $15 in standard definition.
So far, Rogue One is scoring a solid 85% over on Rotten Tomatoes, so it's shaping up to be a solid flick. And sure, the movie just hit theaters, but if you're a big Star Wars fan (who isn't?) who had your sights set on grabbing the movie anyway, the Windows Store is now ready and waiting.
Have you made it to the theater to see Darth Vader grace the big screen once again? Are you planning to pre-order? Let us know in the comments!
See at the Windows Store (opens in new tab)
Windows Central Newsletter
Get the best of Windows Central in in your inbox, every day!
Dan Thorp-Lancaster is the former Editor-in-Chief of Windows Central. He began working with Windows Central, Android Central, and iMore as a news writer in 2014 and is obsessed with tech of all sorts. You can follow Dan on Twitter @DthorpL and Instagram @heyitsdtl.
Saw it. Wasn't expecting much since It's not a saga entry. Having said that, I thought they blew me away. Great film! However, if I may have been expecting a lot more, I might have had a different reaction. Go see it for yourself, you won't regret it!

I was expecting a lot, and some how they still managed to deliver even more than I expected. Was extremely impressed and preferred it over Force Awakens.

I was expecting a lot, and some how they still managed to deliver even more than I expected. Was extremely impressed and preferred it over Force Awakens.

Movie was awesome, only complaint I have is I found they used depth of field background blurriness a little too much. Regardless can't wait to see it again.

That's cause they filmed it with iPhone 7 Plus. Apple invented a whole new way of shooting movies called "bokeh".

Just got back from seeing it. I'm def a fan of it. Can't wait to sit down and re watch everything.

I almost watched A New Hope when I got home, but the wife didn't seem too thrilled about that this evening, so...

I've got tickets to take my grandson and a friend of his in IMAX 3D on the 23rd. Can't wait!

I wouldn't recommend this one for kids until their at least 8. Instead of adventure, this one emphasizes the Wars part of the title.

Saw in IMAX last night! It was awesome and definitely has some nice surprises.

When do you get the title after pre-ordering?

When it's released on digital stores

I'm excited to see it tomorrow morning, but I don't understand the point of pre ordering a digital version of anything.

Yea, unless it was at a great discount MAYBE but, in most cases, I agree 100% with you...

I really don't recommend pre-ordering. I did a couple of times, and both times I got JUST the movie. No bonus featurettes, trailers, or anything. Plus $19.99 is regular price. They won't give you a refund if they have their usual, first week sale of $14.99 or less that Disney movies usually have.

Only thing I can think of, and it's not really a good reason, is it'll download as soon as it's available and as long as you're not sitting there waiting, it'll be ready the moment you wanna watch it. Not worth it to me unless there is a promo along with it though.

For Force Awakens they did give a $5 discount for preordering. Every Disney movie since then has been $19.99.

Spoiler Alert: I can't believe Darth Vader is Luke Skywalker's father! Oh wait wrong movie.

I might see it this weeked (as I have to see this in the theater) but, for all you pirates out there, I am sure it will be all over the Torrent sites within 24-48 hours... A nice blurry cam...YUCK !

I better hurry and preorder it before they run out of downloads!

It was a bit too long. The last third was definitely all action. The CGI at times were not good.

I hear that ISIS score a major victory in the area of counter-intelligence against the US in this show.

I liked K2's humor and Donnie Yen's, "ARE YOU SERIOUS??" moment lmao

The lol moments were often and good. Just got home from seeing it. Couple things caught me odd, but I won't mention here as to not spoil. I loved it.

If you're talking about the cgi quality of a certain character that I won't mention i agree.

Both CGI humans were still too much in the uncanny valley for me, although full props to ILM to taking such a big risk in trying to pull that off! Maybe the special edition 'one day' it will be fixed and the technology would be fully convincing...

Great movie, classic star wars but action packed!

Very classic. I was very pleasantly surprised by the sets and wardrobe. They did a great job with this film.

I'm going to wait for the VHS edition.

i have never seen any star wars flicks. which exactly should be the 'first' film because im hearing that the 80's ones were not the actual first, and that its one of these that came out.

Personally I enjoy watching them in the order of release. But if you wanna go in the story order, 1-3, rogue one, 4-7.

For a first viewing you should definitely watch them in release order.

Fore you're first time watching them, do it in this order: 4, 5, 1, 2, 3, 6, 7 It basically treats the entire prequel trilogy as a flashback after the Ep 5 reveal. I'd probably now slot Rogue One at the start.

I'm seeing it for the first time tonight!

For anyone in the UK, O2 network are currently offering 2 Odeon tickets to this movie with select Pay & Go phones from under £99 until 21st December. Don't think it includes any Windows Phones though!

Maybe I'm just the odd ball, but it was a slow movie for me compared to other star wars, and the director removed the infamous text prologue that's in all of the movies along with modifying and/or changing the musical score completely...maybe I was expecting too much, but in my opinion you don't mess with the foundation.

They're saving those features for the core Star Wars movies (e.g., Episode VIII will have the text crawl). That's to distinguish that while this move is canon, it's not the core story focused around the Skywalker family.

This movie is much better than I expected, I will surely purchase Bluray disc for this movie, just like I purchased Star Wars 7 bluray disc.
Windows Central Newsletter
Thank you for signing up to Windows Central. You will receive a verification email shortly.
There was a problem. Please refresh the page and try again.