Roller Champions beta preview: High-speed skating that's got me hooked
It's a premise so simple — but feels so dang good to play.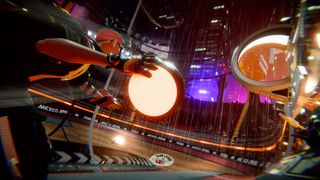 (Image credit: Ubisoft Entertainment SA)
Diverging from Ubisoft's usual lineup of expansive role-playing to hit multiplayer shooters, Roller Champions could be its next title deserving of the spotlight. Best pitched as Rocket League sans rocket-powered vehicles, it's a frantic scramble of arena roller-skating and ball games. The title first appeared on my radar at E3 2019, walking away as an "unexpected highlight" of the show I otherwise may have overlooked. But with an imminent closed beta and scheduled for free-to-play launch later in 2021, it's a premise that's kept me hooked. It's some of the most fun I've had in years.
After a few more hours with Roller Champions this week, I'm still trying to settle on what exactly draws me. It could be the smooth yet multi-layered movement that feels so sleek or the constant rush of maintaining ball control at breakneck speeds. As a long-neglected Jet Set Radio fan, it's also a premise that resonates, with a vibrant street style that's not afraid to embrace a loud persona. After walking away impressed following its reveal, and now a few hours more, I'm still keen to keep skating.
You'll rock up in skates to a velodrome-esque stage in Roller Champions, split into two teams of three, with the sole aim of scoring goals. The match sees players fight over ball possession, completing counter-clockwise laps around the track while passing and dodging on the way.
Completing one lap, passing through four designated checkpoints, opens your window to snag a goal — but an interception from the other team sets you back to zero. Scoring successfully also nets you one point, while additional laps either earn you three points or the full five to win the match. That means a high payoff for doubtful plays, adding elements you won't find in most traditional sports.
That loop makes up your majority of your time in Roller Champions a constant back and forth for the ball, balancing risk versus reward. Roller Champions exists in the same space as Rocket League, that's clear from the outside, but unlike Psyonix's automotive playground, huge disparities appear at a deeper level.
The movement has proven to be one of Roller Champions' defining traits. In-line skating is fundamental to the dynamics of gameplay, as is each arena's design. You don't have a throttle or steering, but instead, rely on physics and positioning to keep moving. That includes pumping a ramp to gain momentum from the curvature of the track or grabbing onto teammates to pull yourself forward, each contributing to a sense of more nuanced control. The resulting gameplay feels consistent and responsive, best experienced with a controller in-hand.
The curved track also means a cyclical arena, condensing the match into a tight channel. It means that its sole three-versus-three mode provides ample action despite the relatively small player count, and providing more guidance over a more open pitch. And while each track has the same simple oval layout, each course's specifics will vary, with tweaks to the surfaces factoring into plays.
Ubisoft is yet to lock down a firm release date for Roller Champions, but with its closed beta rolling out on February 17 through March 1, the end of development is rapidly closing in. The title's future now rides on the final content offering and how that resonates with players, as a multiplayer title so heavily dependent on an active community.
While Roller Champions ships with one core game type, additional modes like ranked play, a time-based "hot potato," and a communal skate park aim to inject more ways to play. This all comes with a rewarding loop of player cosmetics, switching out your attire with new items as you progress. While the shop accepts earnable in-game currency dubbed Wheels, there's also "lootball" random drops and a "Roller Pass" with a few dozen tiers of rewards. We also know Ubisoft hopes to support its free-to-play model with monetization, the first instance a "Premium" track coming to its pass.
Roller Champions has been in the pipeline for some time for Ubisoft, but it finally appears to be nearing completion. It retains the initial charm that drew me in two years ago, with continued work to expand on its premise, coupled with what looks to be a healthy economy. It's totally free to get started, so there's little friction to try yourself — the next opportunity is the closed beta, where sign-ups remain live ahead of February 17.
Get the Windows Central Newsletter
All the latest news, reviews, and guides for Windows and Xbox diehards.
Matt Brown was formerly a Windows Central's Senior Editor, Xbox & PC, at Future. Following over seven years of professional consumer technology and gaming coverage, he's focused on the world of Microsoft's gaming efforts. You can follow him on Twitter @mattjbrown.