Roundup: Here's everything we learned about Microsoft's new Lumia lineup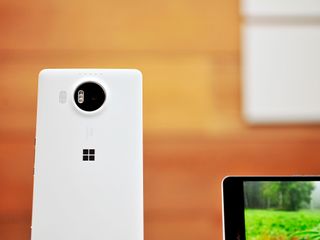 Today in New York as we all expected and knew, Microsoft has announced the new Lumia line-up. The Lumia 950 and Lumia 950 XL are Microsoft's newest devices to show off Windows 10 Mobile when it launches later this year.
Many of us have been wanting a true flagship devices since Microsoft bought Nokia mobile division back in 2013. Well here we are almost two years later and with a new platform on the horizon, and we have three devices heading our way.
The Lumia Line
As with most Lumias, they all share some specs/features that are a part of the Lumia heritage. This overlapping is no different with the new Lumia 950 and 950 XL. The two biggest things that theses two phones share are Qi wireless charging and the camera. Both devices sport the 20.0 MP PureView camera with a Carl Zeiss lens with optical image stabilization and natural flash. The sensor is also a True 16:9 sensor with a f/1.9 aperture. The camera is also capable of recording 4K video at 30fps.
Perhaps, one of our favorite features of both phones is that they both come with 3GB of RAM and both sport 32 GB of storage. If that's not enough for you, you can quickly add up to an extra 2TB with a MicroSD. One thing to also take note of is that both of these phones allow you to change the backplate so that you can have your own unique device.
Also, Glance Screen has made its long-awaited return to Lumia devices. If you don't remember what this is, this allows you to pull your device out of your pocket and quickly see notifications of your choosing at a glance. These devices will also take full advantage of Windows 10 Mobile with the ability to support continuum and the Windows Hello Beta thanks to an infrared iris scanner.
As for what sets these phones apart, let's look into each phone below.
Lumia 950 XL
The Lumia 950XL is the larger and more powerful device of the three that were announced today. It sports a 5.7" WQHD (2560X1440) Corning Gorilla Glass 4 OLED ClearBlack display with 518 PPI. The phone also weighs in at a hefty 5.82 ounces. As for the kind of power this phone holds, it runs on a Qualcomm Snapdragon 810 with Octa-Core (2.0GHz) clocking in at 2000MHz.
The phone will also carry a beefy 3340mAh battery that can give you up 19 hours of talk time and 12 days on standby and 9 hours of internet browsing.
And finally sticking to true Windows Mobile fashion, this phone has an FM antennae for those of us that still enjoy listening to our local radio stations. If this sounds like the device for you, you can expect the phone to be in your hands sometime in November for $649.
Lumia 950
Although it isn't the XL, the middle child of the new Lumia line, the 950, is nothing to gawk over. Although this phone sports a smaller 5.2" WQHD (2560X1440) OLED ClearBlack display, it does, however, have a better PPI that racks in at 564. They did, however, opt for the last generation Corning Gorilla Glass 3 display.
The power of this phone is not that of the XL, but it still holds its own. The 950 contains within it the Qualcomm Snapdragon 808 with Hexa-core clocking in at 1800 MHz. The phone also carries a 3000 mAh battery that can get you up to 19 hours of talk time and 12 days on standby.
The Lumia 950 will be available sometime in November for $549.
Lumia 550
Microsoft also made a surprise announcement that they will release their first budget phone for Windows 10 this December. It will be the Lumia 550 and will be priced at $139. No further information was given, but you can bet as soon as we get the details you will be able to read about it here.
Wrap-up
We here at Windows Central are stoked for the new devices and can't wait for to have them alongside the finished version of Windows 10 Mobile. We came away impressed with Microsoft's quick look at a near-final version of Continuum, and we are excited to try it out for ourselves. As for the hardware, the Lumia 950 XL holds it's own against some of the best smartphones on the market today while the 950 is a natural competitor against most mid-range devices today.
What did you guys think of the phones? Are these a win for Microsoft? Sound off in the comments below.
Lumia 950
Surface Pro 4
Surface Book
Microsoft Band 2
Windows Central Newsletter
Get the best of Windows Central in your inbox, every day!
Screw the number 940 basically.

If you look at 1520 about you will see it as rm 940, just saying.

We basically learned that they don't care about the consumer phone business anymore. Surface all the way now.

Yeah, that was pretty apparent. The Lumias were basically quickly shuffled off the stage after the Continuum demo.

Oh give me a break. They gave the phones enough time considering how many products they had to go through. Plus the Lumias got there own very important Continuum presentation which is going to be one of Windows 10 main selling point. I bet if they quadrupled the time given to Lumias then you'd be complaing about how "Microsoft just doesn't care about Surface" or Microsoft just doesn't care about band2" or something else to cry and complain about. If Microsoft didn't care about the consumer phone business, then they wouldn't have a phone division.

+ As Panos had mentioned during the conference, the Lumias were leaked to the heavens and "stole my [his] moment", every bit of detail besides its internals (Tablet class cooling and performance) were already known by nearly everyone in the room (considering they were all technical journalists and whatnot) so going off about leaked content is wasted time. Better to have spent an hour on the not-so-leaked Surface line, especially the super-secret Surface Book.

Don't you think the so called leak was to distract people/journalists from the the main product launch of the evening? Surface book. They don't wanted anybody to predict anything about this product, so they leaked info about Lumias and all tech web sites kept doing repeated articles on these Lumias as what to expect from the event. In Yesterday's event MS killed iPad and almost killed Lumias(not windows phones). Since OS is going to LOOK same on a 950 and 550, they need some definite hardware magic(like lumia1020's camera when it launched,or like that awesomely designed hinge of surface book) for higher end Lumias.Yesterday's magic might be enough for W10, but not enough for Lumias. But undoubtedly best presentation after years. I was fed up of usual flipping tiles and dancing phones video presentations. For a change, they showed what is inside phones.

Technically there was no "main" product of the evening. Each and every device was as important as the last with some highlights. But that doesn't mean the Lumia line was so crap and they had no faith in it that they'd leak it. Panos specifically said "it's not nice" to have leaked the details and besides, who would want their hard work to be leaked so the live reaction to it would be weak? Absolutely no one. Also everything was leaked besides the Surface Book, I'd say that wasn't according to plan. They can tease things through proported leaks, but the things we got about the 950 (Photos, specs and event leaks) were over the top and no way meant to tease the fans, it spoiled them. I mean there were enough leaks for people to critisize the device altogether without it even being announced. I don't think these leaks were meant to distract...but they took away from the impact nonetheless.

Yes.... I think it was a cover for their ultimate book

Contunumm demo was given so people like you could support them and say that Lumia was given enough time... MS just wizzed passed the Lumia with no information given ... They just read some notes on screen... No information about How 5th gen OIS is better & in what way? How will new Camera take good photos.. some samples... Like they explained everything including hinges on Surface devices...

I stopped watching after the phones, so I'm at least glad they put phones before Surface so I didn't have to wait through Surface demos. Surfaces are nice, but too expensive for me to even consider.

Did anyone watch the Verge videos? You could see what looked like leather and wood back covers for XL.

Via third party OEM Mozo (ironically they're Finnish) http://wmpoweruser.com/3rd-part-lumia-950-950-xl-replaceable-backs-will-... Now will people stop bitching about the lack of metal. Look at them. Look! With your eyes.

Hopefully the their party back covers will have Qi. That's my biggest requirement. No more cables

Those are third party back covers. I think Daniel posted something about them on Twitter.

Yep..he said third party...let's say it again for fun...

Yep, but Mozo is also (some kind of) Microsoft partner. So I guess they could be as good as if they came from Microsoft.

Just saw a CNET article quoting a MSFT exec that the 950 and 950 XL are exclusive to AT&T !!!! WTF ?

Exclusive for /carrier/ sales. The devices themselves will be available unlocked via the Microsoft Store.

That is not what the article says. But it also means customers who are on other US carriers such as Verizon Wireless or T-Mobile won't be able to buy the smartphone. Microsoft believes it will get more of a focused promotional push of its devices through a single carrier.

Doesn't matter what the article says, go to http://microsoftstore.com, the listings are for unlocked phones.

I dont think you get the point... People on carriers usually have the option of getting phones through their carriers, with a subscription, for much cheaper than unlocked prices. About $200-$250 instead of having to pay full price. It will be the same for people getting it through At&t. MSFT is missing out on those customers on other carriers, as that's how most people pay for their phones. It's a smaller part that pays full price

MS really needs to do the same thing Apple is and start offering subscriptions/installment plans directly. Selling via carrier is a losing proposition for them anyway as the carriers won't push the phones and often actively discourage people from buying them. Verizon store reps in particular would tend to straight up tell you not to buy a Lumia if you expressed any interest. There's no good answer for them in the US market.

@Azizelh, yet you pay out more over the course of the "subscription".

In case you haven't noticed... Verizon and T-Mobile have dumped their contract subsidies. It's all about the pay-by-the-month plans now. And these devices will be sold unlocked, so T-Mobile is a shoe-in. The bands match up and everything. And looking at the specs for this device: It /might/ even work on Verizon. Not sure who's losing out here, it's open to everyone to buy. AT&T is pretty much the only one left still subsidizing phones in the US, and guess what? They're also the people offering the 950 on contract. Everyone else, meanwhile, has easy access to an unlocked phone. Perfect for me, seeing as I'm going to Italy this spring. It's about time Microsoft sold their phones direct and unlocked.

Verizon confirmed to me today that the 950 XL will work on their network without any compromises.

except for the fact that the CDMA bands for verizon and sprint arent listed... In summary... Verizon and Sprint customers are screwed...

My mistake, while reading the band specifications I mistook WCDMA for CDMA. I guess Verizon customers are indeed screwed, but Verizon has never been good to Microsoft anyways. But AT&T and T-Mobile are still covered. Would I like to see Verizon support? Definitely. But is one carrier in one country that doesn't even like Lumia that big of a deal when you consider this phone is still otherwise world-ready? Again: I would LOVE to see Verizon support, but it's also not like Microsoft is losing out on millions here, to be cynical and honest.

Sorry but this is a myth that needs to die. Verizon and Sprint phones don't depend on CDMA anymore. CDMA is being phased out. Insert a compatible and get Verizon or Sprint to activate. Sprint usually gives an hassle, but the phone will work.

The thing I'm worried about is, will the ATT version and unlocked be released at the same time? Or will ATT receive it first, and then the rest of the world will receive it sometime after?

Just what MS needs another path to failure. AT&T exclusive = low volume sales. Hardly anyone will jump ship to AT&T just to get these devices. AT&T will do what they always do, ignore these and continue to push the iPhone and Galaxy devices. Last month I was in an AT&T corporate store and they had 2 windows devices on display. One was dead and the other was literally falling apart on the display. Unless AT&T offers a decent spiff to employee's to push the new MS devices, I fear they will just sit there until AT&T decides to EOL them. Posted via the Windows Central App for Android

Nothing new, thats been going on since WP7 to be honest.

The 950 is just a little too expensive :( Something like 450$ would've been more fair, especially compared to how cheap the Nexus 5X is (which runs Android, so way more market share as well).

Does market share equal value?

No, but you are paying a huge amount of money for an OS with way fewer apps. I would've liked a more humble price point. And before you call me out as a hater: I've never owned a smartphone that wasn't a Lumia.

Having fewer apps doesn't lower down the manufacturing cost..

not for them, but for us who will decide if we buy this or the iPhone trust me, 90%will choose iPhone and not this so whats better? Lower the price and get new costumers or leave the price high and let the people decide what they want?

I think $550 is reasonable and already a far better deal in terms of hardware than the iPhone. Besides, even if the 950 was like $300, I doubt that would make much difference for people looking into iPhones. From what I hear, people choose iPhones because they either like the design, like iOS, like the Apple ecosystem, like the feeling of having something "premium" by buying an expensive phone, or like having the same thing as half the population (I just threw that last one in); none of which the Lumia 950 offers. App support would definitely help, but otherwise I think these phones are made for hardcore Lumia fans, and business users.

It does lower value for the consumer.

Compare specs, and you may feel differently.

It has better specs, but it costs nearly 200$ more. It could've been just 100$ more.

$200 more than what. The 950XL at 32gb costs the same as the 16gb smaller iPhone 6S and it offers storage expansion and removable battery. How cheap do you want it?

You'll see I was referring to the 950, not the 950XL. And I was comparing to the Nexus 5X. Here's another one: Motorola Moto X Style (or Pure edition in the US). Costs between 400 and 450$. The 950 is just too expensive compared to that. I really want it, but I don't think I'll pay 550$ for it (worse actually, I live in Europe, so it'll be more like 650$ for me).

Agreed, sad to see the 950 is priced at $550 and the XL came in $150 more then the Nexus 6P.. IPhones aren't even in the mix for me, hate apple's overpricing on everything they sell.

I agree completely. Comparing to iPhones is indeed irrelevant, as they are the most overpriced phones on the planet.

Make that €680 & €750 for the 950/XL based on the GBP price... No one (except some fanboys) would pay that much for a device that nots a true flagship and lacks Apps... and not to mention most of services/features from MS are useless outside US/UK.... Any be assured that you will probably not see any bundling deals like they will come out with in US/UK...

Not a true flagship? Are you joking?

Smartphones are all about the software and apps.

What about the metal and leather casings? Did you get any info on this?

http://wmpoweruser.com/3rd-part-lumia-950-950-xl-replaceable-backs-will-...

Anyone know the thickness and weight of the 950 xl or both of them?

There's this thing called reading...

I have read and i dont see it anywhere. I even binged it

I'm not sure about the XL, but the 950 will weigh 150gm

Read again...5. something ounces.

Found it on their new thread. 8.1 x 151.9 x 78.4 mm and 165 G weight.... and for those wondering a side by side to the 6s plus here it is... iphone 6s plus dimentions: 7.3 x 158.2 x 77.9 mm and 192 G weight.. also dont forget the screen size difference between the phones.. 5.5 vs 5.7 inch

Also just for those wondering how the dimentions stack up against the 1520 here they are. 8.7 x 162.8 x 85.4 mm and 209 G Weight.

We also learned that Microsoft is being stupid. How do you take a Windows Everywhere philosophy to an exclusive carrier? What's the word I'm looking for besides stupid?

Consistently stupid.... they never release anything to all carriers. so stupid

You can buy the phones unlocked, ya know

But we don't know if it will work on Verizon

For about double-triple the price unlocked, versus through carrier

All of the carriers are moving to unsubsidized pricing. Tmobile's been there already for a long time, Verizon just jumped in. So it's installment plan vs all at once, rather than cheaper overall.

The carrier actually gets more money from you if you buy it from then at the cheaper price than if you were to buy it unlocked. This is because you need a 2 year contract to get that lower price, and the carrier bundles the missing value between the price they sell you the phone for and the actual price of the unlocked phone (plus a little more for their own "interest" purposes) over the next 24 months.

News flash, not all carriers (Verizon) want phones (WP) that do not sell!

Verizon would sell alot more if they would stop putting so much effort into talking customers out of WP.

You get that this probably isn't Microsoft choice, right? Verizon and Sprint probably aren't at all interested in selling these phones, and it's likely that AT&T demanded an (at least temporary) exclusive deal in exchange for marketing the phone at all. Frankly, I am surprised that the AT&T versions of these phones have Qi charging. AT&T demanded Qi be ripped out of the 1520 and got their way. Why? Because Microsoft in an underdog when it comes to sales, and are beholden to carrier demands. That's just reality. Fortunately, you can always pick one up at the Microsoft Store, right?

I've heard that argument before but the problem is HTC was able to get both the HTC 8X and the One M8 for Windows on all three participating carriers. Nokia/Microsoft hasn't been able to do this even one time which tells me there are some behind the scenes things going on that prevents this from happening. Posted via the Windows Central App for Android

"Glance", at least on my 925, means essential information is always visibale on the lock screen. Unless the 950XL has the same, I'll pass.

Glace is not on lock screen its a "Glance screen" which is when the phone screen is off. It shows essential info.

Yes it is, they talked about it in the presentation

I love how Microsoft has learned nothing. Right away, let ATT get exclusive, again. Can anyone please say, whether or not the 950xl is compatible with Tmobile?

As of right now there is no word for tmobile getting it. But you can always buy it via microsoft store and use it unlocked on tmobile for sure. I prefer buying non contract anyways...

Yeah, but who's going to shell out $600 up front for a Windows phone? On the other hand, some folks may take a chance with it on a Jump or Next plan with no money down.

Well usualy when you provide your own phone you get a cheaper bill so you save on the back end...

MS could fix that by offering installmet plans/financing through their own retail channels. Going through the carriers just isn't working for them. They don't sell enough for the carriers to care about them.

@Eolirin. I'll correct that statement for you, "carriers don't give a damn in selling them", this not new and has been ongoing since WP7 and gotten worse over time.

Damn. I'm starting to like the 950XL !

I think you rushed this article. It's hard to read and surely can't be all you know. I know more than that. A run down on how the radios will work and on which carriers would be cool.

THIS. Need to know if it will be enabled for CDMA and unlocked.

You're out of luck, GSM only. However do you really want to be at the mercy of a carrier that really doesn't care?

http://www.microsoftstore.com/store/msusa/en_US/pdp/productID.326602300?icid=icid_us_catp_modg_phn_citytalk_100615lnch Maybe not. I don't know cellular bands well enough to know for sure... I was under the impression that CDMA and WCDMA were two different things, but this listing shows WCDMA 1700/2100. Verizon's 4G band is 1700/2100, so maybe. Let's hope.

564ppi or 518ppi for the XL you guys are contradicting each other

It's 565 ppi for 950 and 518 for XL.

The microsoft store says the phone is unlocked, how is that exclusive to one carrier.

Well, exclusive to two: AT&T and T-Mobile. No CDMA (Verizon bands).

Actually looking at the microsoft store web page, the tech specs for the XL show it as having Verizon bands. http://www.microsoftstore.com/store/msusa/en_US/pdp/productID.326602300?...

I don't know cellular well enough to know if this is correct or not. I've been under the impression that CDMA and WCDMA are two different things, though it does include the 1700/2100 band, which is what Verizon is on if they are the same.

WCDMA is global name for what we know as HSPA or 3.5G. It's still GSM. CDMA in the U.S. is signified by EV-DO. The Lumias don't list that. The likely scenario: you'll be able to connect to Verizon's LTE data, but people will have problems with making phone calls and SMS, which rides on the CDMA network, or the EV-DO network.


Thanks for the clarification. I was afraid that was the case.

Nope, it doesn't. There's no mention of EV-DO or 1X RTT, which is the Verizon version of CDMA.

It is exclusively sold through one carrier AT&T as part of plans etc., but you can buy it unlocked from Microsoft and use it on any carrier.

Maybe, but consumers in the U.S. don't buy unlocked phones at full cost. So this means, it's a sales flop right out of the gate.

Oh no, US citizens won't buy 10 more windows phone above the 50 they have bought since 2012. Microsoft will go bankrupt

@Johnny Tremaine, that's because the US = the entire world, right? right? ... smh... lol.

The U.S. matters, a lot, because that's where most of the developers are. And without developer support, the platform dies. So yeah, the two most important markets are the U.S. and China. You can downvote me all you want, but them's the facts, like them or not.

Ugh...still only 30fps? How did they miss this? Maybe I'm missing something...a lesser resolution at 60?

which phone records 4k at more than 30fps

I do have some questions: Microsoft didn't say word one about Windows 10 Mobile, or carrier partners. Anything at all? The hardware seems great, but smartphones are obviously mostly about the software and apps, and nothing at all was said about that.

Well today's event was called Windows10devices. They didn't see much about Windows 10 on PCs and Xbox either. Focus today was on hardware

That's no excuse, given that a smartphone without great software and applications is just a hunk of plastic and metal and a nice looking paperweight.

Seriously why couldn't they just use the same 950 XL camera housing on the 950? That ring looks ridiculous! Yeah I know it could be covered up with some 3rd party back covers but c'mon MS!!

There has been several questions of which none look to be officially answered, on what US carriers the 950's will work on. AT&T obviously, but no word if the "unlocked" will work on Verizon or Sprint (CDMA). It's assumed an an unlocked version should work on T-mobile (GSM like AT&T). There is a question if the 950 is AT&T exclusive, but the 950XL isn't. I'm in the market for a new phone today as my 925 has had issues lately. I'm leaning on getting a phone that doesn't have questions like these.

And according to CNET, these will be AT&T exclusives. http://www.cnet.com/news/microsofts-new-lumia-phones-are-exclusive-to-at... Fail, on Microsoft's part.

Big fail. A small nich phone system on only 1 of the 4 major US carriers dooms the phone to failure out of the gate. Really this was what I needed to hear so that I can move on. It appears to me that Microsoft has abandoned the phone market in the US to rivals, at least for the time being.

The 950 and 950XL ARE NOT exclusive to AT&T! They may be exclusively available as subsidized phone from AT&T but check out the specs below. It will work on any US carrier. Also, the OP's article even says it is NOT exclusive

In this case, Microsoft said that its deal with AT&T is not exclusive to the carrier, and that the software titan was having discussions with other carriers both in the US and abroad about carrying both smartphones.

Just comparing the 950XL supported network bands to the Verizon Lumia 735 phone the 950XL checks the box on all of the networks the 735 supports. Not sure what the difference is between CDMA and WCDMA but the 735 doesn't list separate CMDA support either. BTW, these network bands are taken directly from the MS Store site. Lumia 950XL Supported Network Bands
GSM network: 850MHz, 900MHz, 1800MHz, 1900MHz
GSM max data speed DL: EGPRS 296.0kbps
GSM max data speed UL: EGPRS 236.8kbps

WCDMA network: Band 1 (2100MHz), Band 2 (1900MHz), Band 4 (1700/2100 MHz), Band 5 (850MHz), Band 8 (900MHz)
WCDMA max data speed DL: 42.2Mbps (Cat 24)
WCDMA max data speed UL: 5.76Mbps (Cat 6)

LTE FDD network: Band 1 (2100MHz), Band 17 (700MHz), Band 2 (1900MHz), Band 20 (800MHz), Band 3 (1800MHz), Band 4 (1700/2100 MHz), Band 5 (850MHz), Band 7 (2600MHz), Band 8 (900MHz), Band 28 (700MHz), Band 12 (700MHz) TD-LTE network: Band 38 (2570-2620MHz), Band 40 (2300-2400MHz), Band 41 partially (2555-2575 MHz)
LTE max data speed DL: 300 Mbps (Cat 6)
LTE max data speed UL: 50 Mbps (Cat 6)

Lumia 735 (Verizon phone) Supported Network Bands
GSM network: 850MHz, 900MHz, 1800MHz, 1900MHz
GSM max data speed DL: EGPRS 296.0kbps
GSM max data speed UL: EGPRS 236.8kbps

WCDMA Band 1 (2100 MHz), Band 5 (850 MHz), Band 8 (900 MHz)
WCDMA max data speed DL: 42.2Mbps (Cat 24)
WCDMA max data speed UL: 5.76Mbps (Cat 6)

LTE FDD network: Band 20 (800MHz), Band 3 (1800 MHz), Band 7 (2600 MHz)
LTE max data speed DL: 150 Mbps (Cat 4)
LTE max data speed UL: 50 Mbps (Cat 4)


Getting Verizon to actually activate it on their network is, I'm sure, going to be jolly fun. Like going to a dentist. And it's a lot to pay up front for a phone that you're not sure is going to be compatible on your network.

Actually verizon has sim cards that activate the devices. All youll have to do is have an active sim card and it should be as easy as putting that sim in. Although ive already made a choice and will move to straight talk in the case verizon wont work with 950 xl

Same here. Looks like I will have two numbers if Verizon doesn't get this. I'm keeping my unlimited data though so I'm not leaving Verizon. Posted via the Windows Central App for Android

Verizon still needs to clear your phone to join the network though (part of CDMA) even if you have an active SIM. However, Verizon is generally a bit loose on this and will approve large baths of unique signatures, and if they don't officially approve the phone, it will still work but just show up as "unrecognized device" in your Verizon account. Sprint however uses their CDMA network to really lock down what can and can't join, and each individual device has to be approved, and they typically don't allow anything they don't recognize.

Interesting you mentioned on another post that WCDMA and CDMA are not the same thing. Can you shed some light on those comments? Just wondering how the 735 is working on Verizon with no CDMA bands?

very interesting... where did you get these specs?

From the Microsoft Store website: Lumia 735
http://www.microsoftstore.com/store/msusa/en_US/pdp/Verizon---Microsoft-Lumia-735/productID.318278000 Lumia 950XL
http://www.microsoftstore.com/store/msusa/en_US/pdp/productID.326602300?icid=icid_us_catp_modg_phn_citytalk_100615lnch

I have also compared the specs from the Lumia Icon (the old flagship exclusive to Verizon) on the Microsoft store site and notice WCDMA listings that match. I'm convinced the unlocked Lumia 950XL will work on Verizon's network, but not sure if they will actually carry or offer it. You will most likely have to buy the phone from Microsoft and take it to Verizon to activate it. The one thing I'm not seeing is the CDMA max data speed DL: Rev0/A 2.4Mpbs/3.1 Mbps and the CDMA max data speed UL: Rev 0/A 153.2 kbps /1.8 Mbps radios, so I hope this just measures the data speed, and not determines connectivity. I guess we'll just have to wait and see. I will state, that I AM getting this phone as it will make the iPhone6S look like a kid's toy, so I'm not letting ANY carrier determine my preferred device! If Verizon won't let me connect, hello AT&T/Sprint/T-Mobile/Cricket etc.!!! I've posted links and radio info from the Microsoft website below. LUMIA ICON
https://www.windowscentral.com/e?link=https2F%2Fclick.linksynergy.co... GSM network: 850 MHz, 900 MHz, 1800 MHz, 1900 MHz
GSM max data speed DL: EGPRS 236.8 kbps
GSM max data speed UL: EGPRS 236.8 kbps
WCDMA network: Band 1 (2100 MHz), Band 2 (1900 MHz), Band 5 (850 MHz), Band 8 (900 MHz)
WCDMA max data speed DL: 21.1 Mbps (Cat 14)
WCDMA max data speed UL: 5.76 Mbps (Cat 6)
LTE FDD network: Band 4 (1700/2100 MHz), Band 13 (700MHz)
LTE max data speed DL: 150 Mbps (Cat 4)
LTE max data speed UL: 50 Mbps (Cat 4)
CDMA network bands: BC0, BC1
CDMA max data speed DL: Rev 0 /A 2.4 Mbps /3.1 Mbps
CDMA max data speed UL: Rev 0 /A 153.2 kbps /1.8 Mbps LUMIA 950XL
https://www.windowscentral.com/e?link=https2F%2Fclick.linksynergy.co... GSM network: 850MHz, 900MHz, 1800MHz, 1900MHz
GSM max data speed DL: EGPRS 296.0kbps
GSM max data speed UL: EGPRS 236.8kbps
WCDMA network: Band 1 (2100MHz), Band 2 (1900MHz), Band 4 (1700/2100 MHz), Band 5 (850MHz), Band 8 (900MHz)
WCDMA max data speed DL: 42.2Mbps (Cat 24)
WCDMA max data speed UL: 5.76Mbps (Cat 6)
LTE FDD network: Band 1 (2100MHz), Band 17 (700MHz), Band 2 (1900MHz), Band 20 (800MHz), Band 3 (1800MHz), Band 4 (1700/2100 MHz), Band 5 (850MHz), Band 7 (2600MHz), Band 8 (900MHz), Band 28 (700MHz), Band 12 (700MHz)
TD-LTE network: Band 38 (2570-2620MHz), Band 40 (2300-2400MHz), Band 41 partially (2555-2575 MHz)
LTE max data speed DL: 300 Mbps (Cat 6)
LTE max data speed UL: 50 Mbps (Cat 6)

These phones do NOT support Verizon and Sprint! Verizon Uses CDMA bands 0 & 1 (not WCDMA) for voice, and for LTE data bands 13 and 4 primarily. Verizon Lumia 735 specs are cut and pasted from the international version by mistake.

@TW137 - Thank you for the clarification. And what a bummer!

That is AWESOME news! This means that when tax time comes, and I can afford to buy an XL, I should be able to add it to my Verizon plan. That will be my plan, then! :-D However, I am STILL unhappy about the AT&T exclusivity, because it WORKS AGAINST the effort to get these phones into as many hands as possible, which is really the only incentive that will probably work to get app developers to really work on closing the gap - which, I feel is MS's biggest problem in mobile right now! So, I'm somewhat less optimistic than I was before - and more disappointed in MS than I expected to be..........that said, I'm still planning on buying an XL (as I'm not disappointed with the phone itself at all) so take the immediately preceding statements with that grain of salt. :-) Cheers!

I am thinking, i have a Lumia 630 now and i want a upgrade. But i also want a new laptop
Which do i buy first, the Lumia 950 or the Surface Book ?

Whats the reason behind on screen buttons really?

I hope that when W10M finally RTMs, they've dialed in performance quite a bit and really tune it's efficiency. If I get one of these phones, I never want to see a resuming or loading screen ever again.

Lol! Did you really just call a 5.7 inch device that weighs only 165g (& is lighter than ALL its rivals) "hefty"?

Really hope Glance responds a lot faster on these new flagships than it does on my 830. It should but it was a little slower to respond on the 830 than my old 920.

I wish Daniel would have put it in the leather case for us to see. I love the way they looked.

I think it's becoming pretty clear that phone has become a "We need to do this, so here, but this product over here is more interesting..." situation for them. I just don't get a feeling of commitment from them. Which, shouldn't be surprising. Everyone has their own opinion. Mine? Underwhelmed.

I just confirmed with VZW that the 950XL will work on their network :)

Don't get my hopes up dude. Lol I need to see proof Posted via the Windows Central App for Android

No way judging by the supported bands.

Anyone wanna complain about the bezel?

Where are the new Windows 10 App announcements????

If ATT is the only carrier, then WP is dead. It is really unfortunate, I switched to android and it is really, really bad even with all of the apps.

Even if if it was true (and it's not), windows phone platform doesn't rely on the us market to be successful, at all

The U.S. is where the developers are, at least the ones that matter. Without mass adoption in the U.S., no dev support, hence it's dead.

Still no word on release date??

For everyone who's quoting the fact that these are unlocked as proof they aren't exclusive, understand that not all T-Mobile services work that great with unlocked phone. Wi-Fi calling is tentative. You can't buy Jump. Not to mention, now you have to put down $550-650 down on a phone instead of $20 or so a month. Assuming you put that on a credit card, you'll be paying up the butt in interest. That's a bad deal. Especially when att customers will pay 1-200 subsidized

You don't know what you're talking about. Seriously.
MS isn't going to make everyone pay full price for the phones. It just isn't going to happen.

I remember when people SAVED money to buy things and didn't need payment plans. If they couldn't afford it, they didn't buy it.

I am going bonkers! :)))))) I am high fiveing myself for the last 2 hours! Internet high five to you MICROSOFT, internet high five to you Dan and internet high fives to all fellow Windows Mobile lovers :))) (And u can change the back oh the beast to metal/leather, here u go crapple :))

The big question marks for me are: will these be carrier unlocked, carrier exclusive, sold by carriers at all or direct from MS. I really want the 950XL, but I am afraid that for some stupid reason, they won't be available for Verizon. I really hope that they are carrier unlocked.

The leaks for the 950 & 950XL were pretty much spot on, I am a bit disappinted in the pricing though, I thought/hoped the 950 would come in under $500 and the XL under $600.. I really think MS had to get competitive with they're pricing for these phones but thats definitely not enough against the Nexus phones which are cheaper and we all know the iPhones are overpriced but the blind sheep will gladly dish out whatever they charge. I saw a show last week that showed it only costs Apple something like $250 to build the iphone 6 lol. Anyway, I was pretty excited waiting for these new phones but pricing took some of my "got to get me one" feelings away.. Not sure I'll jump right on one now :(

And they kept the superior readability in the sun and super sensitive screen (can operate with gloves on)

I can use my 920 with bike gloves on and the super sensitive deactivated, go figure

IT HAS A BAROMETER!!!!! via: specs on MSFTSTORE

MS should have really offered their own payment plan if they were only going to one carrier

I bet they do... once the product is actually on sale.
It would be tedious in a presentation to say "on this plan, you'll pay $XX, but if you choose this plan you'll pay $YY" They did that with many things in the presentation.. they cut short the details to get through all the important talking points.

Do I get lumia 550 in uk ? I mean did it come to Europe market don't have enough budget for lumia 950 or xl I can afford to buy 550 can someone tell me I can buy it from uk Thanks

Is there the cyan Version?

Only thing I was looking forward to was surface pen support

Do you know if either have pen support i've seen conflicting reports about this all day and most don't mention it at all.

Very strange as that would obviously be a selling point. Then again, you could tell MS didnt care for the 950/xl at the event. Dude was gushing over the Surface stuff, but basically just threw the phones on the stage and said "here's the new flagships you bitches wanted, but we are going to talk about Surface now." I saw no love for these phones, even from the man that is supposed to be selling them to us.

How do those rated talk times and standby times compare to where WP8 was? I don't recall the original quotes on battery life for the 920 (which I still have), and I'm curious as to how the increased sizes of the batteries compares balances with how the new hardware drains them.

Pricing is legit (fair) to me. Especially for "newly announced retail unlocked". In other words, it's the MOST you will ever be charged for the highest tech phones to ever run Windows 10.
As for predicting success or failure based on USA cellular service providers selling in store? Windows Phones have a dismal history via that sales model anyways. Works great for pre-determined, and I mean determined to tell the salesman "just give me the dang phone I asked you for please".
I watched the whole presentation. I'm pretty sure I understand Microsoft's current smartphone strategy. It is nothing like going head to head with the iPhone at the cell phone kiosk.

anything about munchkin or is that for later?

I am THOROUGHLY impressed with the 950XL qua hardware and software, and almost as impressed with the 950. However, if the 950XL is not usable on the Verizon network, then it's all moot, for even with as awesome as the phone itself is, I'm still not leaving Verizon for it. Not even a question. Nor is it worth the monthly overhead to sign up with AT&T alongside Verizon just to use the XL. I should be able to afford this phone in the tax time window, maybe just a little before. IF I can use it on V, then it's pretty much a guarantee that I will buy this phone. However, the alternative is an ABSOLUTE guarantee that I will pass - and if that's the case, I will be FURIOUS with Microsoft. ---FURIOUS!--- This whole presentation for me (and millions of other people - some of which have been MS's biggest cheerleaders) will have amounted to nothing but a giant tease - and/or an advertisment for AT&T, which I have absolutely no interest in. Maybe this is just me being really mad right now, and I'll retract this later, but I think this might even be enough to possibly quench ALL the zeal I have over their ENTIRE ecosystem. In fact, to be honest, despite the fact that my fan passion SHOULD be 10x hotter today than it was yesterday over the full spectrum of excellent products they're dropping (and they are truly excellent), my fan passion is actually probably 10x COOLER over even the unconfirmed prospect of a shut-out. And even if we Verizon customers - and other non-AT&T customers ---CAN--- use unlocked phones on our networks, while I would probably still buy the thing, I will still be SUPREMELY disappointed if they go the exclusive partnership route with AT&T. Their biggest obstacle for Mobile success right now is to narrow the app gap, and the easiest way to do that is to get the phones into as many hands as possible to incentivize the developers. If they go AT&T exclusive, this seems like about the worst thing they could possibly do to help their brand long-term. Yeah, there will be the trickle of us who buy unlocked phones and use them on our own networks, but they can kiss mass adoption goodbye.... .......and for what, AT&T paying for a few billboards in their stores? Maybe a commercial or two?I just don't get this move. Microsoft has been soooooo good lately about long term strategizing, brilliant! And yet this one just seems so impossibly short sighted. It's so weird, how angry and appalled I am with Microsoft right now (even over just a rumor) - and on the very eve of their just having presented me with perhaps THE COOLEST THINGS I have EVER seen in mobile! How very anti-climactic! >:-|

The basic definition of insanity, is doing the same thing over and over, and expecting a differant result. MS is clearly insane for giving AT&T yet another exclusive deal after they muffed all the other exclusive WP deals. NOBODY is going to jump a carrier for WP and deal with a shitty carrier, and US customers dont like to pay $600-$700 outright for a phone and would rathe have it subsidized. Its that initial $600-$700 price point that hurts the most even IF you can buy it unlocked.

loved the look of these lumias.

These phones look great! I am very impressed but quite disapointed that no stylus support was mentioned for the Lumia 950 XL. I know the stylus suppport was a rumor, but MS would be missing out on a huge opportunity to compete with the Samsung Note if they don't enable surface stylus support. That's half the beauty of having a phablet. A. I hope the phone supports a stylus B. If it does support stylus input then I hope MS or a 3rd party makes a flip cover which has a spot for stylus storage. It would be a bloody shame not to have inking support on such a large and beautiful device.

Does anyone have links to the 3rd-party back plates/covers that are (or will be) available for the 950 (XL)?
Saw some good looking images for leather backplates but couldn't find a source.