Ryanair working on official Windows Phone app, 'should be available soon'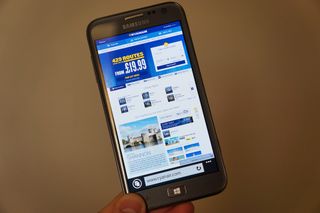 Ryanair has shared on Twitter that the airliner is working on a Windows Phone app. It's positive news for Europeans who utilize and rely on the low-cost airline. We expect the Windows Phone app to share similar functionality what's included in solutions from competitors, including mobile boarding and flight tracking.
The company already has iOS and Android apps available on respective platforms, so hopefully it shouldn't be too long before Windows Phone owners are also able to use a Ryanair app. Unfortunately, no ETA was provided.
What would you like to see in the Ryanair app?
Source: Twitter (@Ryanair); thanks, Mdc84, for the tip!
Windows Central Newsletter
Get the best of Windows Central in in your inbox, every day!
Rich Edmonds was formerly a Senior Editor of PC hardware at Windows Central, covering everything related to PC components and NAS. He's been involved in technology for more than a decade and knows a thing or two about the magic inside a PC chassis. You can follow him on Twitter at @RichEdmonds.
How do you do that "tm" thing in text?

Click on the smiley button on your keyboard and it's in the '?!' menu

WordFlow keyboard... I simply write trademark and get ™ in suggestions...

Is this the new "seem faster"? I think Paul said something like this kind of "memes" are not allowed, the same for one word posts.

Great news. The sooner, the better.

Nice to see more big brands getting on board. Knowing RyanAir though, the app will be free to download but £400 to use...

Actually you can buy a ticket for 20£

CAN YOU though. Plus tax. Plus baggage. Plus a meal. Plus insurance. It's all hidden/surprise costs with them.

Hahaha true!! Its so complicated to buy a ticket with ryanair...

Nonsense, in Europe prices must be stated to include taxes (all of them, including airport) and a meal isn't requires, you can bring your own food, only drinks are an issue, but you can buy those after customs and bring on plane. Insurance is a choice and many alternatives exist for that that even cover your ticket. The only issue ryanair has is that they make you print your own boarding pass, but funny enough there is even a law for that.. Ryanair has to supply the boarding pass for free (in Europe anyway) Only luggage is an issue, but even with the luggage costs it's often much cheaper than any other airline anyway. Just follow their simple and obvious rules and you are fine. Sure they prey on less intelligent and make a little money off that, but seriously, I've flown with them a few times now and you have to be REALLY stupid to fall for their money traps.

404 Sense of humour not found

Yes, I can...and I do.
The prices advertised on the 'best fare' page are the price you pay.
If you want hold baggage or insurance direct from Ryanair, then of course you'll pay more.
I use my 10kg allowance, & get annual travel insurance. Can't knock that value.
With that said, Norwegian Airlines are much better - and, for my last two trips, cheaper. They also have free wifi, and are far more lenient when it comes to cabin baggage sizes etc. Oh, and you don't need to print off the booking confirmation either...

True. My brother managed to buy a ticket for just £20. That was the cheapest flight EVER!

That's good news. Hopefully Easyjet will follow

Easy Jet already have a (bad) app and are working on an update.

easyJet don't have their proper app on WP at the moment they just have their "Flight Tracker" app.

Irish company developing WP app? That's definitely something new.

I heard them saying it on the matt cooper show, sweet!!

Rya nairo? Ithentha ivideyum NSSo?

Budget app then? Limited functionality? LOL

Glad to hear about this. They weren't expecting the uproar they got from not releasing it when iOS and android apps were launched. Hopefully not waiting very long.

Was there uproar? Interesting... What's the market share for Windows Phone in Ireland? I think reaching 10% in the UK is a decent milestone that'll kickstart more development from brands like this.

No idea what ryanair is so .I dont care Lufthansa rules !

Ryanair is the cheapest airline in europe

Try Norwegian Airlines. They have been consistently cheaper for me, have free wifi, and most importantly, aren't run by a rogue!

My most terrible flight experience is linked to this company. Honestly I don't care about them at all.

Everyone's most terrible flight experience is linked to this company.

Same,but who else to fly with

If you ever use these guys make sure you have precise bag measurements...

Great news. The more big companies that have "app store, play store AND windows store" the more publicity Windows phone will get. It's a chicken and egg situation and it looks like we're getting over the critical mass issue.

Give Ryanairs accuracy of landing destinations will the app actually work android?

I'm sure that this is going to be another web wrapper

RyanAir need to start working on an official airline first.

I still believe this is a great thing for the platform to get official apps. When companies deliver, it shows they have true interest in the people they serve.

I'd like to see integration with the wallet for boarding passes seeing as it supposedly supports the Apple pkpass format.

I love how Ryanair take the lowest amount of fuel legally possible so that air traffic control can't make them circle the airport in the air. It costs £80 if you don't print your own boarding pass, and I heard from a friend that they made an elderly lady stand in a 'corner of shame' because her bag was too big.

I think this news may give a hint of a substantial growth in Europe of the Windows Phone platform. Maybe market share data that we don't know yet. Standby.

Flew them this week from Paris to London luckily it was only an hour flight ✈ ' heads up you gotta pay for water and the seat doesn't recline.

About bloody time we got some big name apps!!! What about Garmin connect and strava??

Oh yeah? How soon. A year or two like other devs say?

I bet you this app will just be a mobile site wrapper

Almost 2 months after "soon"

Almost a year after "soon" :(
Windows Central Newsletter
Thank you for signing up to Windows Central. You will receive a verification email shortly.
There was a problem. Please refresh the page and try again.