Salesforce1 app for Windows Phone and Windows 8.1 now in invite-only testing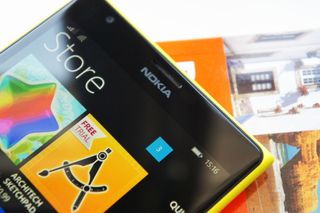 Salesforce.com has provided more details about their recent partnership with Microsoft that was first announced in May, including word that the promised Salesforce1 app for Windows Phone and Windows 8.1 is now being tested via an invite-only preview.
While the app won't be available to the general public until sometime in the second half of 2015, Salesforce1 can now be accessed via Internet Explorer on Windows 8.1. The company also offered an update on progress to integrate their customer relationship management (CRM) products with other Microsoft software and services. It stated:
The partnership between Salesforce.com and Microsoft is in stark contrast to just a few years ago, when Salesforce.com CEO Marc Benioff was highly critical of Microsoft, Windows 8, and the company's overall direction. On Monday, Benioff shared the stage at the company's Dreamforce conference with Microsoft's Windows marketing head Tony Prophet. Business Insider quoted Benioff as saying, "A year ago at Dreamforce we would not have thought Microsoft would have been here, on stage. It's a shock."
Source: Salesforce
Windows Central Newsletter
Get the best of Windows Central in your inbox, every day!
Salesforce.com Inc. is a global cloud computing company headquartered in San Francisco, California, best known for its customer relationship management (CRM) product. Source - Wikipedia. It's a great partnership I believe.

http://www.salesforce.com/ CRM and cloud computing service.

You know you could have just used BING to answer your question. Although, maybe the author shouldn't have just assumed that all readers would know what they do.

I did, realized that it wasn't really my area...
Sorry for the trouble :-*

You don't want them to stay?!

Why the name Salesforce1? Is there already an app with the name Salesforce?

No that's the name of their app. ;) in android and iOS

good partnership with Microsoft to get more businesses for dynamics CRM

Can I ask question related to my problem.
Like my recent problem is: After grabbing w8.1+cyan(preview developer) update.
My phone gets hang very often, some times phone starts and switch off simultaneously for 5 to 6 time. N lot.
I'm experiencing this since the first day I updated to cyan.
Is there is anyone else who is having same problem.
Please do reply...
Vineet.vpns@live.com

You're going to be redirected to the Forums, which either way, should help you more. You using a 920 by any chance? Had similar issues when I updated to Cyan but they got reduced with the DP update that was last released,. Now the phone feels buggy with random lags especially when playing games, despite all apps being closed and minimum apps running in the background. So, I'm guessing this is simply a price we pay for upgrading our OS.

Isn't Microsoft dynamics CRM a competitor to salesforce?

Re: aeroidinc,
Yes, and also Microsoft's Business Contact Manager (BCM) Software for small businesses. Sadly, BCM has no WP support due mostly to the fact that BCM doesn't sync to the internet cloud.

Wait, what? They are developing for Windows and Windows Phone? Good news but I read where the CEO called Windows 8 "irrelevant". Did reality show up? http://www.linuxine.com/story/salesforcecom-ceo-windows-8-irrelevant

Yeah I actually thought I would never see this, MS CRM and Salesforce have been at war for years but Salesforce seems to have other priorities these days

How do you get an invitation? I've been pestering Salesforce about this ever since I joined a new company that uses it for their CRM. I have a Windows Phone and want to be part of this - will give great feedback!

Exactly the same for me, joined a new company where sfdc is the main resource, but always felt out in the cold with mobile access!

I am in the same boat. Disappointed to hear this is still a year away. That is just ridiculous for a company the size of Salesforce.

So, here is the link to what they are talking about. At the Dreamforce conference and hit up the Microsoft Guys... https://na8.salesforce.com/one/one.app

Also, they mentioned that in 2015 the next version will be released by Salesforce.

First time I hear of this company! :D

My company uses Salesforce, so a good functioning app for my windows phone would be welcomed!!


Good news. Cause the web interface does not function on phone right now.

Include me for the test. In have the lumina 520.

had the beta app on my 1520 for several months already.. might be just a bit too late to prevent my company wasting a shedload of cash on iTaco's and its the only thing on the requirements list that WP didn't satisfy. I will be p**sed if we go iPhone, Android is out of the running due to security thank god.