Salesforce1 Mobile app for Windows 10 in the works, due in 2016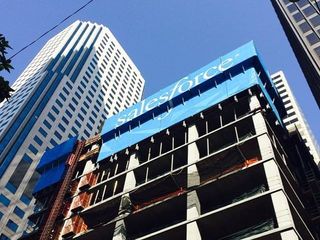 The customer relationship management service Salesforce will be making a number of new partnership deals with Microsoft, including a new Salesforce1 Mobile app for Windows 10 that will be released sometime in the second half of 2016.
You may remember that Salesforce announced plans for a Salesforce1 Mobile app for both Windows 8.1 and Windows Phone some time ago. That app went into invite-only testing in 2014. However, a more recent post on Salesforce's support forum confirms that the company has decided to move ahead with supporting Windows 10:
Salesforce has also announced plans to integrate Microsoft's OneNote and Skype for Business to the company's Salesforce Lightning Experience, along with adding Salesforce content in Office Delve. All of these features are expected to become available sometime in the second half of 2016.
Source: Salesforce
Windows Central Newsletter
Get the best of Windows Central in your inbox, every day!
Hey John you are alone today in Windows central?

I dont get this... Many companies seem to be retiring their apps and many others are developing...

Coming soon. Today I saw new video on Surface YouTube channel about Salesforce / Surface Pro 3 is too good to be true. I think we will see new salesforce app for Ipad pro before 2016 (with the same functionallity on that video for Surface Pro 3) Anyone want to bet :) :)

As usual, salesforce is super slow.

Annnd what salesforce is ? Posted via the Windows Central App for Android

I thought you are smart enough to search for it in Bing :p

Its a CRM, basically. They try to pimp the underlying platform as cloud compute, but its too weird. Its on Dell servers, on Linux. With Oracle as the back end I think. The tw*t that runs it Marc Bellendikov has said "Windows 8 is the end for Microsoft", "Microsoft is irrelvant" and other stupid sh*t that does not sit with the reality of a company (MS) that still rakes in billions per quarter. Its amazing then, that this idiot has now agreed to partner with MS. Weird firm.

Don't worry; you're probably not alone. Windows Central seems to focus mostly on the consumer side of the news and ignore the enterprise side. Ironically, the enterprise will (hopefully) have the biggest impact from a market share standpoint. Enterprise isn't the most exciting thing to read about for most, but this type of story is REALLY good news. ...and, yes, I'm sure that there will be iPhone, iPod, iPad, iPad Pro, and -- god forbid -- Apple Watch apps at the same time. But, W10 needs enterprise apps in order to be viable for businesses.

Microsoft. More coming attractions than Hollywood!!

It's a shame that Salesforce is such a terrible platform, we use it at work and it's so poor compared to Dynamics. Saying that though, Salesforce is very popular so any partnership will be good for Microsoft regardless.