Samsung and T-Mobile rolling out Mango for Omnia 7?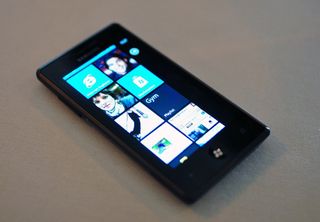 We're getting word from one of our readers that T-Mobile UK is at least rolling out Mango for the Omnia 7. Owners of the Omnia 7 may recall the double/triple asteriks in the international 'Where's my Update' page (opens in new tab) that plainly stated "Except Samsung Omnia 7 models".
Now, Martrin R. has let us know that he received the notification and successfully updated his Omnia 7 to the final Mango build. We should note that he was on the unofficial developer beta, meaning this could be like the HD7s situation--people on the dev beta can get the update, but folks on NoDo or earlier, not so much.
But it looks like at least some users won't have to try the force-update trick, which at least in this case, is only partially successful for some (see forums). Let us know if you're having any luck with the Omnia 7 in comments.
Daniel Rubino is the Editor-in-chief of Windows Central, head reviewer, podcast co-host, and analyst. He has been here covering Microsoft since 2007 when this site was called WMExperts (and later Windows Phone Central). His interests include Windows, Microsoft Surface, laptops, next-gen computing, and for some reason, watches. Before all this tech stuff, he worked on a Ph.D. in linguistics and ran the projectors at movie theaters, which has done absolutely nothing for his career.
Yep, successfully received mango update Yesterday on my unlocked Omnia 7, and also on my unlocked HD7.On the Omnia 7, the updates are those necessary to bring the os version to 7720.68, but after reboo there is also a Samsung update that brings the firmware version to 2424.11.8.5 and radio version to 2424.11.7.2Also note that some Samsung apps previously released but non in Samsung Zone, starting from today are available in the Samsung Zone (Video Call, RSS Times, Minidiary, and so on)

No problem updating to Mango yesterday on unbranded omnia 7 with three australia. Very smooth.

Got the official update yesterday my unlocked Omnia 7 on AT&T stateside. No issues what-so-ever.

I got nothing stateside on AT&T, rolled backed from the leaked RTM...then got angry and did it all manually again. The leaked RTM now in only two steps will just take you into the official release all through Zune. Then I just manually updated the firmware. But had the leaked RTM for a month previously and it all ran so smoothly.

no problem force updating my unlocked (still Optus branded) omnia 7 on Telstra

No problems here upgrading my unocked Omnia7.My only grief is now with apps I had previously (from the british marketplace) that are missing in the Swedish marketplace :-(I have mailed to Tripit, Amazon Kindle and others telling them to publish their apps to more countries.

I got my upgrade yesterday but I was already running the RTM release of mango

unlocked omnia7 updated from RTM on day 1 (UK on Orange).worked perfectly.

I'm from Czech Republic and I still can't update my Samsung Omnia 7 nor force update.

I have an unbranded Omnia 7 on vodafone Italy and i've recieved Mango yesterday morning using the trick. It worked instantly at the first try.

updated Omnia 7 without issues using the force method (germany)phone is free from any network provider (purchased at amazon)

updated omnia Hungarian T-Mobile...finally a polished system :)

updated yesterday wihout issues (Hungarian T-mobile)

I was on beta 2 and the update appeared as soon as JB tweeted it was rolling out, but it failed during the ISV cleanup and I had to roll back to my Nodo backup.Havent been able to get the force method to work for me either.

i am on t-mobile UK and i have a t-mobile Omnia 7 with the NoDo update - never tried to manually put anything on and i have... NOTHING. GRRRR... have tried the 'force' technique a million times and nothing... :(

Would love to hear off t-mobile uk users. I have an omnia 7 on that network but haven't seen anything yet.

I have an Omnia 7 on T-Mobile UK too - nothing as yet, including with the "pull the plug on the Internet during Updates" trick. Desperately hoping they won't take too long rolling this out properly!

I am an Omnia 7 tMobile user too.. Nothing so far

I'm a T-Mobile UK Omnia 7 user currently with developer RTM beta on my device and confirm that I can't get official update yet even with WPCentral forced update method, so I'm pretty sure that the full Omnia 7 Mango release packages aren't configured for European T-Mobile (Listed as Deusche Telecom on MS Where's my update international page) on the MS update servers yet.Obviously as I've already been running full 7720 Mango OS software for a while I'm not as frantic about getting the official release as I would be if still on NoDo ;) but I do want the update as the Samsung driver update part of things was rumoured to tweak battery life and connectivity.For your info Mango on Omnia 7 is really excellent and even without those driver updates has been very fast and stable in use as my main phone. I believe resultant battery life is slightly less than under NoDo but that's likely just me using the phone more and now it's linked in with extra background services (i.e. Twitter etc) so I'm hoping the driver update may help that and/or help solve a hot battery issue I get when using 'Turn by Turn Navigation' Sat Nav app which the developers have said is specific to Omnia 7 (Since app release on 7004, not Mango issue)Connectivity wise I'm hoping the new drivers sort one odd bug where clicking the latest items in my Me > What's new feed result in intermittent 'Can't get feed' error message panel. I currently also have some intermittent app specific issues with the Mango version of FeedReader Google Reader client. But generally connectivity stuff already works great without the drivers update. Once I'm back on official software branch I will re-test all those issues and raise them with support if they're still present.

on tmobile uk with a Omnia 7, was expecting this to happen, the fact that the phone is not listed under there suppor section, they no longer sell the phone either !!. Been having a issue with the Internet since day one, T mobile are as much help as a chocolate tea pot, when I phone them they send be updates but my phone just displays an error saying this phone is not supported :-). When I try to use the self help on there web page it also reports that my hand set is not supported.I very much doubt we will see mango on this handset unless you de brand it.

According to Twitter and @TMobileUKHelp, they are still testing the upgrade for the Omnia 7, but can't give a date when that will be completed. Whether that's true or not, I've no idea...

no mango for me! i have a branded t-mobile omnia 7 (germany) with a different SIM card. neither is there an official mango update nor works the forcing trick for me. tried it a couple of times.. anybody who has success with this?

The only way is:- wait for the release from T-Mobile- flash with a different firmware (samfirmware's got a french one)I had the same problem, I've waited until the official release to use Mango.. but I didn't want do wait for T-Mobile to prepare their firmware and release it later. So yesterday I flashed it with the last one from samfirmware, everything perfect.. no operator logo on startup also :P

Can't wait, no mango for me! i have a unlocked omnia 7. Is there an official mango update for me. I live in Ghana, west Africa. tried to update it a couple of times. but says my phone is up to date.

I don't think that updates from 7712 to 7720 are any indication that Mango is available for those who try to update from 73xx!The thing is that the update from 7712 is taken from Microsoft's update servers for developers - but updates for everybody else are served from separate servers. A typical developer update process is:1. Update from 7712 to 7729 (downloaded from developer servers).2. Patch to switch to retail servers (downloaded from developer servers).3. OEM driver update (downloaded from retail servers).If step 3 never happens, it is likely that Mango update is not yet available to non-developer devices because of missing drivers (which I believe is the case for Omnia 7, HTC HD7S, Dell Venue Pro). This also means that updated developer devices will run with old drivers (until the new ones will be made available) and won't have hidden Wi-Fi, tethering, compass, touch camera focus, and all other hardware-dependent features.In my case I updated two developer devices on day 1: Omnia 7 and HD7. Omnia 7 did NOT get driver update (and checking for updates still says that no such update available), but HD7 did.

Forgot to mention that I have open market Omnia 7.

My Omnia 7 was updated the day before yesterday, on Tuesday September 27, without any problems what so ever. I am on Three (3) Sweden. since then I have had more updates in from Marketplace. However, Marketplace for the Swedish market is nowhere to be seen and there I have a slight problem when I use Marketplace in Zune on my PC. I hope this will be resolved shortly.

Ok, so I have an Omnia 7 and I am on 3 UK. It is not unlocked and frankly I am a bit of a scaredy-cat when it comes to unlocking it, or forcing through the update. Does anyone know if the Mango update will eventually come for 'locked' Omnia 7s on 3 UK? I can't seem to get a clear indication of whether it will or not. Obviously I would like to get Mango, but I don't want to risk messing up my phone because of my lack of technical knowledge in the process.

@ooblyboo - On 3 UK with Omnia 7 you're fine as '3' is listed as parent company name 'Hutchison Group' under Global section of International Where's my update page - https://www.windowscentral.com/e?link=https2F%2Fclick.linksynergy.co...You haven't had the update yet as you aren't in the first 10% rollout selected by MS this week. but you'll definately get the update automatically within about 4 weeks. If you don't want to wait that long then you can try WPCentral's Force Update/Pull Network method without any risk as that is all using MS's official update servers and process, just stopping the check whether your handset is on the staggered release handset list.But you're definately good and fine as 3 are listed as 'Delivering Update' for all their handsets on that official update status page, it's just MS who are intentionally throttling the rollout to make sure there aren't any last bugs when run against real end user handsets (and probably also ease the strain on their update servers)

Im having Omnnia 7 in T-Mobile (Germany) but now luck. I tried normal way and forced way but nothing worked out for me. T-Mobile as usal sucks.

Someone got an update from T-mobile UK on they're official phone updates forum saying a couple of weeks till Omnia update available. Guess that's not too bad as MS won't even have opened update to all other WP7 owners fully by then (they said 4 weeks till 100% rollout)http://www.wpcentral.com/t-mobile-expects-land-mango-update-within-sever...So we might only be weeks not months behind, which is much better than NoDo!

I have an unlocked, T-mobile branded, Omnia 7 and nothing yet. No official release and not able to force update. Have found a feed that people could use if they are "dare-devil" enough to flash. I'm deciding whether to do it or not, mainly as I don't want to mess my phone up.http://forums.wpcentral.com/windows-phone-7-os-discussion/181427.htm

I've flashed my locked t-mobile Omnia 7 using this guide - incredibly easy to do, and it's working perfectly, so I'm now fully mangoed :)http://callumpy.co.uk/2011/10/how-to-update-t-mobile-uk-omnia-7-to-mango...
Windows Central Newsletter
Thank you for signing up to Windows Central. You will receive a verification email shortly.
There was a problem. Please refresh the page and try again.