Samsung announces the ATIV Book 9 2014 Edition, a 15.6-inch Windows 8 laptop with 14 hours of battery life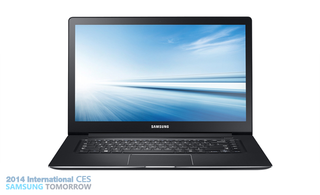 CES doesn't officially kick off until tomorrow, but that doesn't companies from announcing all their products. Samsung didn't announce anything new for Windows Phone, but there are a handful of new Windows devices from the Korean tech giant. Here are the specs and details for the Samsung ATIV Book 9 2014 Edition and the ATIV One7 2014 Edition.
Up first is the 2014 edition of the Samsung ATIV Book 9. This laptop features a 1920 x 1080 resolution on a 15.6-inch display. You'll have your choice of either Intel Core i5 or i7 processors when configuring this machine. You can also throw in a 1028GB SSD, of course smaller storage options will be there. Port wise we've got 2 USB 3.0 ports, 1 USB 2.0, HDMI, mini VGA, and more.
The craziest part of this machine? The listed battery life at 14-hours for the ATIV 9 Book 2014 Edition. If that battery life is even three quarters of what's listed… that'll be impressive. It's also not too beastly in terms of size. The laptop weighs in at 1.85 kg (about 4lbs). We can't wait to check this machine out in person.
For the fans of all-in-one's there's the Samsung ATIV One7 2014 Edition. This all-in-one PC offers a 24-inch display running a resolution of 1920 x 1080. You have your choice of either an Intel Core i3 or i5 processor. You're also looking at 8GB of RAM, 1TB of storage, and the usual plethora of ports.
We'll be on the CES show floor this week to check out all the offerings from Samsung. The ATIV 9 2014 Edition looks really interesting with its all-day battery life. What do you guys think?
Get the Windows Central Newsletter
All the latest news, reviews, and guides for Windows and Xbox diehards.
14 hours battrey life is crazy! WIsh Samsung had planned something for Windows Phone.

It even beats tablets at their own game

Interested in price for these bad boys!

Holy moly! This is gonna be pricey.

1028GB SSD? That's would be so expensive. ._.

Wow what a Machine. Lovely, yes how much?

14hrs maximum with minimal usage ,browsing ,reading. If its 8 hrs gaming and 3d video rendering that's great too, I may have to start saving for that $2000 + price tag, or did I miss the price somewhere??

That thing will never get close to 14 hour battery life....haswell or not... I'd say more like 4-6. I mean, who are they trying to kid here? Anyway, that's right Samsung! use that windows os - cuz google blows.

It very well could give that much battery life mate. My inspiron 7000 gives close to 9 hours of continuous usage. I dont charge it for 3 days with my regular usage. Ofcourse when i game on it, it discharges sooner, but i am sure i can watch 3 movies back to back on it, cuz one movie on that beautiful FHD screen depleted its battery by just about 20 percent. So 14 hours on this looks plausible.

My ativ 8 is a nice machine. Not as thin as 9 but has quad core, AMD graphics, and a keypad. I installed a Samsung 840 SSD 256gd. I get 6-7 hour battery life.

Still love my Acer S7-392!

I so envy you!! I have a measly Aspire M5 =( but I still love it!

What gpu is that book 9 packing? I now have three laptops to choose from - this and the x1 car in, or the mighty (and heavier) y50! Hmmm.....

Well this is going to be one pricey laptop

Rather than focus on a better battery life for laptops, why don't create better ones for smartphones?

Can someone gift me one of these lol

1028GB SSD?? That sounds amazing... too bad its probably a typo lol

1TB. It's Totally possible.

No, not a typo. Samsung already sells 1TB SSD. But it's to pricey...

Maybe they just wanted to top the list of paltry 1TB drives with their 1.0039TB monster.

What's with all these large screen AIOs that only have 1080p displays?

I'll say my ATIV S last twice as long my Nokia 925

The new Dell XPS with a much higher screen rez is still a better buy imo...

and i just bought an Samsung Series 9 xD unbelievable xD but those would be probably expensive as hell anyways... But damn 14 hours of battery life is crazy.. this is awesome and im searching for a power pack for my series 9 -.-

Looking for a laptop to replace my old gaming rig. Would this do the trick?

With 14 hours battery life, probably not

What? No touch...? Hey Samsung, you know its 2014 now, right...?

I am getting this. dot.
*edit* what? no touch? this is sad.

I like this. I hope Sony releases something similar. I prefer sony products. Cybert shot & Vaio for instance. If there is a Vaio with specs like this, I'll buy it today.