Samsung ATIV S available for £244.99 at Expansys UK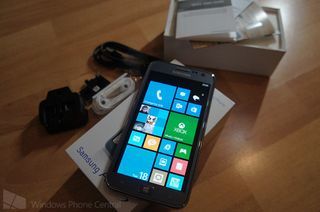 The Samsung ATIV S is currently available for just £244.99 at UK retailer Expansys. With the usual price point of £499, this is a superb deal for anyone looking to purchase a new flagship Windows Phone 8 device.
Expansys currently reports the company has over 100 units in stock, and we could well be witnessing this price alteration due to the upcoming Samsung event in London next month. While we're not expecting the manufacturer to launch a new Windows Phone, this could still be an attempt to ship remaining stock.
Free delivery is available for the Windows Phone to be shipped within 3 to 5 days. You can check out our full review of the Samsung ATIV S before making the purchase, but it's strongly recommended.
Source: Expansys; thanks, Mark, for the tip!
Windows Central Newsletter
Get the best of Windows Central in your inbox, every day!
Rich Edmonds was formerly a Senior Editor of PC hardware at Windows Central, covering everything related to PC components and NAS. He's been involved in technology for more than a decade and knows a thing or two about the magic inside a PC chassis. You can follow him on Twitter at @RichEdmonds.
Does anyone know if this one is compatible with Tmo USA?

No you want the T899M Canadian version. Supports 3G and LTE on TMOUS

Yeah I just followed the link. It directed me to the USA site. The T899M is $689. That sucks.....

Multitronic at finland sells it for 250€ :D

Meh some would go for this me I won't, difference here is micro sd while 920 has other few awsome features tht kills the device ;D But if u need space this might be the phone for u im also about space but since you can only store media related items I don't see the point ;)

What else are you going to put in your phone other than media items? Your apps will fit in the 16GB internal storage just fine. The ATIV S also has a larger screen, larger battery, thinner profile, and is lighter. I just wish one was fully compatible with AT&T or I'd have that over my 920. The Canadian version isn't compatible with AT&T LTE which was a huge bummer when I tried it out since I liked the phone more than my 920.

Why isn't it compatible. Just curious? I have on that uses TELUS lte just fine. 40mbs download and 20mbs upload.

AT&T uses LTE band 17 primarily. They also put band 4 in all of their LTE devices and they do hold some band 4 licenses but as far as I know they haven't deployed LTE on that band or if they have it's just in a very small number of areas. The T899M has only LTE band 4 so it's not compatible with AT&T LTE. TMO US though uses LTE band 4 exclusively and the T899M has pentaband UMTS so it is fully compatible with TMO US.

TMO US is refarming their spectrum geniously. They got the 1900MHz spetrum from AT&T and are moving their 3G onto that because nearly any modren phone with 3G supports 1900MHz. They are then deployoing their LTE on band 4 which they used to run 3G on. AT&T LTE phones all support LTE band 4, all Canadian phones support LTE band 4, and from now on (starting with the Galaxy S4 and I think Lumia 928) all Verizon phones will also support LTE band 4 since Verizon is going to start deploying LTE on band 4. Verizon phones with LTE also usually have global unlocked GSM and UMTS support on 1900MHz (and usually not 1700MHz / Band 4). So now any AT&T or Verizon or Canadian phone will be compatible with T-Mobile's network. Pretty great move.

This is my daily driver, picked it due to built quality and way thinner than 920..it's a damn good deal for such price

Lol 920 also has excellent build quality -.-

Went into the EE store today they are doing a black 920 for 249 + £10 top up on pay as you go, dont know if i should wait for the 925 though? I already have a contrat with Orange, was jsut going to put my sim in the 920.

Also available on Amazon.co.uk for £239. (excluding £9 delivery)

Amazing price! I picked one up a month ago from Expansys for £270.

That's a great deal. If it was compatible with AT&T LTE, I'd be all over this.

Fantastic deal. Since I switched from 920 I appreciate the build quality and flexibility. Not to mention design and weight. At 185 gr 920 is a joke. No excuses to release flagship phone with such design. Good to see that Nokia realized that and are introducing 925. Too little too late? Perhaps since market have moved on.

I bought 2 a few days ago from Expansys for £239 each. The phone is amazing , the company "Expansys" were a joke and totally lied about stock and delivered it 4 days late. Called and spoke to 3 customer service advisors and had nothing but attitude. Amazing phone! Oh and somebody on that site says it comes with a 16gb microsd card, which is incorrect. It doesnt. I bought one of these a while back that was an O2 locked one and it had a 16GB card in that so presume its carrier specific.

http://www.amazon.de/Samsung-GT-I8750ALADBT-Smartphone-Megapixel-Aluminium/dp/B00B090QRM/ref=sr_1_1?ie=UTF8&qid=1369758358&sr=8-1&keywords=Samsung+Ativ+S

267€

I don't like Samsung much just hate their brand image and crap build quality and their phones have way too many bugs

Samsung did a good job on the Ativ S, I like Samsung but I stay clear from their Android phones. The Ativ S is by a wide margin the best of the WP8 devices as long as you accept the average 8mp camera... Great deal at those prices!

Chill people, expansys sucks balls cause their UK site DOES NOT DELIVER TO THE US, what a bunch of fucking morons :( I called them and ordered ATIV S only to get called back later and being redirected to the US expansys site where ATIV S costs much more. Don't bother with these idiots, they'll tell you they do not ship to US, please go to our US site blah blah. Fucking jerks.

These are available in Finland for 229Eur unlocked.
I would say that is a DEAL.