Samsung ATIV S available for preorder in the Netherlands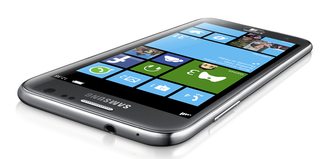 Just a few days ago Samsung announced the new ATIV S Windows Phone and today, we are seeing it available for pre-order. Granted the 4.8" HD Super AMOLED screened Windows Phone is available for pre-order in the Netherlands. But it's a start.
PDAShop.nl is listing the 16GB version of the ATIV S for € 549 (about $690 US) with the delivery date listed as unknown. Subscription services are available through T-Mobile Europe, Vodaphone and other local carriers.
While the € 549 price may seem to be a bit on the high side, the Nokia Lumia 900 is priced at € 489. The pre-order price may be in the ball park but keep in mind that with Windows Phone 8 still a couple months away, things can change.
Update: It appears the listing for the Samsung ATIV S has been updated. The subscription options were T-Mobile (Europe), Vodaphone, Tele 2 and MTV Mobile. Not sure why but now the subscription options for T-Mobile and Vodaphone have been removed.
Source: PDAShop.nl (opens in new tab); Thanks, LivinginaBox, for the tip!
George is the Reviews Editor at Windows Central, concentrating on Windows 10 PC and Mobile apps. He's been a supporter of the platform since the days of Windows CE and uses his current Windows 10 Mobile phone daily to keep up with life and enjoy a game during down time.
So this is coming for tmobile in the us?

Not sure but in this instance, it's T-Mobile Europe

Pretty likely. I think. Depending on t-mobile's frequency

I'm hoping this comes to T-Mo.

Doubt it! Doesn't support the 1700mhz band that T Mobile U.S uses.

I'm getting a Nokia WP 8, not a Samsung one, but I guess this good because of the recognition WP will get from a Samsung phone.

If Nokia doesn't impress me. I will get one of these for sure. Waiting on the Nokias and HTC's to see what they have in store. For now, this is my next WP8.

samsung stated they wanted to beat nokia as the #1 selling windows phone powered device, that's why they are doing a lot of presure to make it available soon.

I notice the colour is listed as black, but previous pictures looked silver. Do we have a choice.

Interesting starting price !!

Prices er insane i'd rather have cool tablet

I read that the brushed aluminum back cover is actually plastic. Hmmm.

Nope, its actually metal.

No its not a metal unless samsung got several versions of this phone. There is another post that shows the video of this phone and its plastic indeed.

This sudden change in Samsung's mind tells me that they are super scared of Apple's court case. Also Google didn't defend Samsung at all so Samsung may reduce Android production significantly. Also, there is nothing new, Samsung phones were already in the market when Nokia launched its Lumia line and beat Samsung. People who own Lumia line are happy with Nokia's platform committment and enormous support for its brand. At least, I wouldn't touch Samsung phone with 10 foot pole even though I am glad that they are backing windows phones with more force than before.

I don't think this is the real price. Maybe more cheaper than the s3.

Just for people wondering.
In holland almost all phones are sold unlocked in electronic stores. 75% of all popular new handsets come to all major carriers. And this prices is around the galaxy s3 and cheaper than the iphone.

Damn that thing is thin..

Will Nokia offer a buyback program for people who bought a lumia 900 a few months back?

I tweeted Chris Weber and Doug Dawson asking them about incentives for those of us that bought a Lumia 900 and they never replied. However there have been rumors that Nokia may do a buy back program or work something out with AT&T so we can upgrade early.

Realisticly they shouldn't do such a program, given their financial condition, if they do then it would be a disaster. Maybe you should tweet to Microsoft to offer an incentive than Nokia, MS got bigger pocket and they are the one who decided not to upgrade Lumia 800/900 to WP8. Maybe AT&T can do something to let people upgrade their phones early but they also wont do such a thing.

how do you know their financial condition? They arent doing good quarterly results indeed but nokia has enough money to bridge the dark time. They're throwing money at marketing and developers like crazy so i guess they are not doing that bad.
i'd love if Lumia 900 owners like myself get some kind of discount on the next flagship. But i don't see any reason why they should do it. They didnt broke any promises. Also, i'll upgrade either way. Next Lumia flagship will be miiiine

Why would they? For that matter, why would HTC offer that for the HTC Titan II, or why would Samsung offer that for the Focus 4G? It simply doesn't make sense for them to do that as those devices were purchaed for what they offered at the time of purchase.

Enjoy!

Now this is how you stop Apple from gaining market share, you put out quality devices before or at the same time so people have choices of beautiful devices. You let them have the stage alone or wait month after the delivered a quality device, by then, consumer have already signed a two year agreement.

its called Vodafone not Vodaphone :D


haha i didnt even see that.
@wpcentral: it's vodaFone

Please come to T-Mobile..

If someone says beautiful one more freaking time......the word is loosing its meaning =/

It's a meticulous crafted phone. So far the best looking phone I've seen from WP, even after NOKIA's leaked images and HTC. So far this one is at the top of my list :-)

well, beautiful can be said as much as they want. The word which clearly is overused by every fanboy and every company is "innovative"

I really like the way the glass seems to follow the flow of the body. reminds me of the seamless transition of the Nokia 800. That was the problem I had with the Nokia 900.
I can't tell if the glass actually has a curve to it or if thats just the way it was polished at the bezzel

Love my lumia 900 but I really want a wp8 :-(
Windows Central Newsletter
Thank you for signing up to Windows Central. You will receive a verification email shortly.
There was a problem. Please refresh the page and try again.