Samsung HMD Odyssey+ vs. Oculus Rift S: Which headset should you buy?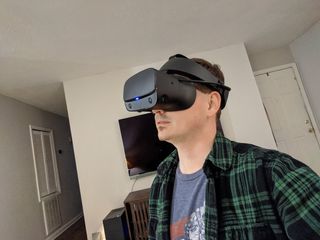 (Image credit: Windows Central)
Premium WMR

The Samsung HMD Odyssey+ is a high-end Windows Mixed Reality (WMR) headset with premium specs. Its AMOLED display offers excellent contrast as well as high field-of-view (FOV), 90Hz refresh rate, and manual interpupillary distance (IPD) adjustments. However, its motion controllers are inferior to Oculus Touch, and you don't get access to Oculus exclusive titles.
For
Higher 90Hz refresh rate
Higher 110-degree FOV
Higher resolution display
Manual IPD adjustments
Easy setup
Against
Motion controllers not as good
Becoming harder/pricier to find
Oculus PC VR

The Oculus Rift S is the latest PC VR from Oculus, bringing inside-out tracking and updated Touch controllers. Its LCD display is a bit lower resolution than the Odyssey+, as is the refresh rate and FOV. However, it still puts out a good VR experience with solid tracking thanks to five built-in sensors. You also get native access to Oculus exclusive titles, of which there are plenty.
For
Access to Oculus exclusives
Five built-in tracking sensors
Oculus Touch controllers are great
Lenses offer great clarity
Against
Lower resolution, FOV, and refresh rate
No manual IPD adjustment
Audio not as good
Samsung HMD Odyssey+ vs. Oculus Rift S tech specs
Swipe to scroll horizontally
Header Cell - Column 0

Samsung HMD Odyssey+
Oculus Rift S
Display
Dual 3.5-inch
AMOLED
Single LCD
Display resolution
2880x1600 (combined)
1440x1600 (per eye)
2560x1440 (combined)
1280x1440 (per eye)
PPI
616
538
Refresh rate
90Hz
80Hz
Field of view
110 degrees
90 degrees
IPD
Manual
Software
Audio
Built-in AKG headphones
Integrated headband
Tracking
Inside-out
Two sensors
Inside-out
Five sensors
Connections
HDMI
USB-A
DisplayPort
USB-A
Weight
1.31 pounds (594g)
1.24 pounds (561g)
Display
One of the biggest draws to the Samsung HMD Odyssey+ is the stellar set of displays. Compared to the Rift S, you get a higher resolution, more pixels per inch (PPI), and almost no SDE for a clear image. The Rift S isn't a slouch, delivering a slightly lower 90-degree FOV and a maximum 80Hz refresh rate. That's lower than the 110-degree FOV and 90Hz refresh rate in the Odyssey+, but still relatively good specs.
If you're interested in a VR headset with the best picture possible, the Odyssey+ no doubt makes more sense than the Rift S. Oculus improved the display in the Rift S quite a bit over the Rift, but it just doesn't quite match up in raw specs. The AMOLED displays in the Samsung headset are going to give you way better contrast and color. However, the Rift S lenses do offer more clarity when not looking directly at the display.
There's also the matter of the Rift S not having the ability to make physical IPD adjustments. If the space between your eyes doesn't fit a common measurement that can be accounted for with software, there's a higher chance you'll experience discomfort during extended play sessions. The Odyssey+, on the other hand, allows for physical IPD adjustments, thus fitting more people more comfortably.
Design and features
The Oculus Rift S has a halo headband that holds the display in place, with an adjustable dial on the back. The display portion hangs more down over your face than it is strapped in, allowing for a more comfortable feel. Built into the side straps are headphones with spatial audio. They allow a user to experience some pretty impressive audio while not missing out on what's going on around them. The Odyssey+, with a similar halo band with a dial on the back, uses AKG headphones that hang down off the sides. Audio quality is excellent and a lot closer to what you'd get with a separator pair of headphones.
Both headsets offer sufficient room for wearing prescription frames, and both generally remain comfortable even when worn for an hour or two. The Odyssey+ is slightly more massive than the Rift S, but not enough that it makes a significant difference.
The Rift S made the jump to using built-in sensors instead of external sensors. Five cameras on the HMD make up Oculus Insight, and it works by scanning the room and combining the data it finds with other internal sensors. The Odyssey+ has a similar inside-out tracking system with no need for external sensors, though the HMD has just two cameras. Tracking isn't quite as good, especially when the controllers are moved behind or above your head, but still good enough that you can enjoy frenetic games with plenty of movement.
VR experience
Oculus has grown its audience thanks to a generous selection of exclusive Rift S titles in the Oculus Store, as well as access to the SteamVR library. If you want to play games (without third-party workarounds) like Robo Recall, Stormland, Lone Echo, and Echo Combat, you'll want to go with the Rift S. The Odyssey+, with titles in the Microsoft Store and with SteamVR integration, does have its fair share of excellent games, but there just isn't quite the same selection of native AAA content.
When it comes to setup, the Odyssey+ and Rift S are both quite easy. All you have to do is install some software, plug in the headset, and connect the included motion controllers. Tracking is handled by cameras in the headset, so you don't need to configure any extra hardware. Note that the Odyssey+ uses HDMI and USB-A to connect, while the Rift S uses DisplayPort and USB-A. Neither HMD has a wireless solution, and you will be tethered to a PC while in use. If you are looking for a wireless VR headset, something like the Oculus Quest is a stellar option. And you can always extend your Rift S cable on the cheap.
Motion controllers are a big part of the overall VR experience, and there the Rift S is a clear winner. Oculus Touch controllers are more comfortable, they track better, and they have capacitive touch for more natural input. The motion controllers that come with the Odyssey+ are a bit different than the standard WMR controllers, but they just don't compare to what Oculus has cooked up.
When it comes to PC hardware for running VR, the better the system is, the better your experience will be. Individual games will have their own recommended hardware to run optimally, but both VR headsets also have some listed specs. Oculus recommends a PC with NVIDIA GTX 1060 or AMD Radeon R9 480 graphics card (GPU) as recommended specs, as well as a 4th Gen Intel Core i5 or AMD Ryzen 5 1500X processor (CPU) and 8GB of RAM.
WMR has two performance tiers. If you want the Ultra performance tier with 90Hz refresh rate and passthrough cameras, you'll want at least a 4th Gen Intel Core i5-4590 or AMD Ryzen 5 1400 CPU, 8GB of RAM, and an NVIDIA GTX 1060 or AMD Radeon RX 470/570 GPU. For the base WMR tier, you're looking at a 7th Gen Intel Core i5-7200U (for its integrated graphics) or AMD Ryzen 5 1400 CPU, 8GB of RAM, and an NVIDIA MX150, NVIDIA GTX 1050, NVIDIA 965M, AMD Radeon RX 460/560 dedicated GPU. It will also run on integrated Intel HD Graphics 620 or better. As mentioned, these are just jumping-off points, and better hardware will only improve your VR experience.
Samsung's Odyssey+ is the best way to get into Windows Mixed Reality
The Samsung HMD Odyssey+ is a great way to get started in WMR. It's a high-quality headset with beautiful displays, comfortable build, and great audio. You might not have native access to a bunch of Oculus exclusives, and the motion controllers aren't as good, but otherwise, this is an excellent pick for just about anyone.
Premium Windows Mixed Reality
The best WMR headset you can buy

AMOLED displays, higher display specs, and manual IPD adjustments make the Odyssey+ a winner.
The Oculus Rift S is still a solid VR system
The Rift S might not quite match up to the Odyssey+ in raw specs, audio, and IPD adjustments, but it's still a great VR system. Oculus Touch controllers are stellar and far more natural feeling than the WMR controllers. And native access to all Oculus exclusives is undoubtedly a bonus.
Oculus PC VR
Better exclusives and motion controllers

The Rift S is slowly being phased out by the Oculus Quest, but it's still a solid VR system with excellent motion controllers and plenty of exclusive titles.
Get the Windows Central Newsletter
All the latest news, reviews, and guides for Windows and Xbox diehards.
Senior Editor, Laptop Reviews
Cale Hunt is formerly a Senior Editor at Windows Central. He focuses mainly on laptop reviews, news, and accessory coverage. He's been reviewing laptops and accessories full-time since 2016, with hundreds of reviews published for Windows Central. He is an avid PC gamer and multi-platform user, and spends most of his time either tinkering with or writing about tech.