Samsung launches speedy new 970 series NVMe SSDs
Samsung's speedy new 970 Pro and Evo solid state drives will be available starting in May.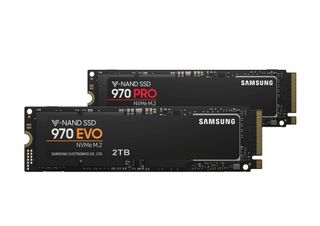 Updated May 7, 2018: Samsung's 970-series SSDs are now available (opens in new tab), and the Pro versions are a bit cheaper than originally anticipated to boot. Instead of starting at $329.99, the Samsung 970 Pro now starts at $249.99 for the 512GB model. The 970 Pro 1TB model is now available for $499.99. Meanwhile, the Evo starts at $109.99 for the 250GB option.
Samsung today unveiled its latest pair of solid state drives (SSD), and they're both as speedy as it gets. As if designed to answer Western Digital's new drives introduced earlier this month, Samsung's new 970 series, which includes the 970 Pro and Evo NVMe SSDs, kick things up a notch by advertising even greater speeds.
Designed on the M.2 form factor, both drives are built for gaming and working quickly with intense workloads, such as 4K video editing and 3D design. The 970 Pro, in particular, can reach sequential read speeds of up to 3,500 MB/s and sequential write speeds of up to 2,700 MB/s. The Evo can also reach sequential read speeds of up to 3,500 MB/s, but it hits a slightly lower sequential write speed of up to 2,500 MB/s.
The faster speeds, Samsung says, are due in large part to its latest V-NAND technology and new Phoenix controller. The 970 Evo takes advantage of "Intelligent TurboWrite technology," which Samsung says provides a buffer size of up to 78GB in order to deliver faster write speeds. Overall, the increased sequential write speeds represent a 30 percent improvement over Samsung's 960 series.
The new 970 Pro and Evo will be up for grabs starting on May 7. The 97- Evo will be available in 250GB, 500GB, 1TB, and 2TB capacities, while the 970 Pro will be available in 512GB and 1TB capacities. Prices start at $329.99 for the Pro and $119.99 for the Evo.
Dan Thorp-Lancaster is the former Editor-in-Chief of Windows Central. He began working with Windows Central, Android Central, and iMore as a news writer in 2014 and is obsessed with tech of all sorts. You can follow Dan on Twitter @DthorpL and Instagram @heyitsdtl.
Source link or it didn't happen. :P

https://www.anandtech.com/show/12670/the-samsung-970-evo-ssd-review

Literally bought a 960 Pro two months ago grrr

960s are great too though

Of course but I always say that any tech you buy is obsolete once you get it home!

I bought a 960 a month ago. I thought about waiting for the 970. However, I needed it and it didn't appear that the 970 would be much of an upgrade anyway. I also couldn't tell when the release date was, if it was even scheduled.

The 960 pretty much hits the limit of PCIe x4 throughput anyway

970 Evo is actually pretty disappointing, it's hardly an upgrade and loses to the 960 in some places.

Interesting. Do you happen to have a source on this?

I'm waiting for an NVMe SSD that uses x8 PCI lanes, not a problem with a Threadripper CPU or an Intel chip with 40+ PCI lanes onboard! Imagine the speeds that could achieve!

Or PCIe gen 4. x4 gen 4 = x8 gen 3

I just bought a new 960 1TB nvme SSD just two weeks ago.. This figures.. I didn't opt for pro as the price doesnt make sense to me. I love the speeds of this thing but I already had SSD Samsung's sata drives so I dont see a big jump even while using it as boot drive. OS seems to load just the same. But transfer and video editing is epic.

I failed to see why all the negative comments here. From price aspect, for 1T, pro 500 vs 630, and evo 400 vs 450, both are much cheaper. From the performance aspect, 3500/2700 vs 3500/2100, and 3400/2500 vs 3200 / 1900, also improvement. I could understand that if you already have 960, you don't need to upgrade, but for anyone who don't have 960 yet, I think 970 is a much better choice.

Well, just noticed that this news was updated and all other comments are based on anticipated price while was much higher before the news update. That explains.

I'll probably end up with a few of these over time (various machines need upgrades). I really wish they'd done a 2TB Pro 970. Perhaps they will get to such a product later. I am quite ok with the 2TB EVO 970 and plan to purchase. Just different devices serve different purposes and I had hoped for the updated pro in a 2TB form.
Other than that I think they did well even if it is a small iteration.

$399 for the 1 TB Evo is a really good price. I may get one. I have a 512GB Sata SSD as my boot drive that is almost full.
Windows Central Newsletter
Thank you for signing up to Windows Central. You will receive a verification email shortly.
There was a problem. Please refresh the page and try again.