Samsung reportedly set to launch a Windows 10 laptop with Exynos and AMD inside
Samsung could place its own ARM chips inside of a Windows 10 laptop.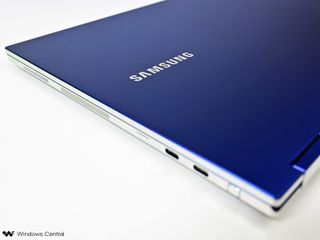 (Image credit: Daniel Rubino / Windows Central)
What you need to know
Samsung will reportedly release a laptop later this year with an Exynos processor and an AMD GPU.
The laptop will reportedly run Windows 10 and arrive in the second half of this year.
Samsung has multiple Windows 10 laptops running Intel or Qualcomm processors, but none running Exynos processors.
Samsung will reportedly launch a Windows 10 laptop running on an Exynos processor and an AMD GPU. A report from ZDNet Korea says that Samsung will release a laptop in the second half of this year that runs on an Exynos processor and an AMD GPU (via Engadget). The rumored laptop will reportedly come out after the release of the next Galaxy Note.
A laptop from Samsung with an Exynos processor inside would be a different approach to Windows 10 on ARM. Samsung's Galaxy Book S and Galaxy Book2 are both Windows 10 on ARM devices, but they each have Qualcomm processors inside.
Samsung unveiled the Exynos 2100 premium mobile processor at Unpacked 2021. That chip is built on a 5nm EUV process and has impressive benchmarks. With the rumored release date of this laptop being the second half of this year, it could house the successor to the Exynos 2100 inside.
Exynos processors often have a problem with heat. They also tend to lag behind on the GPU side of things. Having an Exynos processor inside of a laptop, which would likely dissipate heat better than a smartphone, could overcome a common issue of Exynos chips. Pairing the chip with an AMD processor could address the chips' other biggest weakness.
Windows 10 on ARM is a few years old now, and it's gotten significantly better since its launch. More Windows 10 apps support ARM devices than ever, and Microsoft is even working on x64 emulation to close the gap further. Microsoft also continues to sell its Surface Pro X, which is a Windows 10 on ARM device.
If Samsung does release a laptop with an Exynos processor, it will show a continued investment in the Windows 10 on ARM platform.
Windows Central Newsletter
Get the best of Windows Central in in your inbox, every day!
News Writer and apps editor
Sean Endicott brings nearly a decade of experience covering Microsoft and Windows news to Windows Central. He joined our team in 2017 as an app reviewer and now heads up our day-to-day news coverage. If you have a news tip or an app to review, hit him up at sean.endicott@futurenet.com (opens in new tab).
Let the competition begin 😈

Then I hope these Exynos chips are designed for desktops and aren't just hand-me-downs from their mobile line. I'd love to see something that dwarfs Microsoft's SQ2 while also not costing a small fortune.

Even SD888 and Exynos 2100 would outperform 8cx (both gens) at this point so we'll get better performance anyways. Slight overclock with some passive cooling would be nice if this indeed turns out to be a mobile phone SoC.

Qualcomm, Samsung, Nvidia, maybe AMD, Intel, MediaTek... in the future. WoA is about to get interesting at least in terms of HW, hope NET5.0 and WinUI3.0/WPF come along and give developers the tools necessary to bring their software to the platform. Exciting times ahead. EDIT: Samsung Galaxy Tab S7+ type of device with 12+ inch, 120HZ, oled display, and a bit more RAM would be a killer device, especially with Wacom powered pen that still offers way better experience than MS's N-trig offering.

Let's hope that it is designed from the ground up for laptops, but even if it isn't we need completion quick, the 8cx is bad, it's based on the old snapdragom 855 smartphone SoC, since then we already had the 865 and now the 888. A simple 888 would already have a way stronger CPU then the 8cx. One think to note is that the new leaks of the new exynos SoC shows that the AMD GPU DESTROYS everything, in some benchmarks even reaching 2x the performance of the A14 from the iPhone 12, at that point it's closer to the M1 then it is to the A14.

I'll just say we're hearing VERY impressive things for SQ3. It won't beat M1 (I doubt), but it should be a marked improvement of SQ1/2. Moving to 888/Arm Cortex-A78C and, instead of 4 big/4 little, just 8 big, is the logical (and from what we are hearing) next move.

It doesn't have to beat M1. M1 is a 15W SoC w/o modem made for mostly actively cooled devices (Air being the exception), the problem is 8cx/SQ1/2 are old as Goncalo Duarte1 pointed out which lacks a lot of performance vs today's (A78C/X1) cores. Can't wait to see what they have to show, also, I believe we could see the new-gen SoCs meant for lower-end devices that match or even outperform SQ2.

Power consumption from an 8-big setup could be massive though. Anandtech's review of the SD888 and Exynos 2100 with the new X1 cores showed that Samsung's 5nm process is markedly inferior to TSMC 5nm: both chips run hot, use more space and consume more power than expected, and that's with just one X1 core. The ideal setup would be 2-X1, 2-A78, 4-A57 on TSMC 5nm for a 30% to 40% IPC improvement compared to the SQ. Getting x86 and x64 emulation to 8th gen i5 levels would be good enough for me. Right now, the SQ1 runs x86 programs slightly faster than a Surface Go with a Pentium.

The paring with AMD GPU is what I think will make it remarkably interesting, can't wait.

Let us see, but I doubt it will ever be close to M1 performances, and in the meantime there will be an M2.

Honestly I do not want it to be a M1; M1 requires a soldered SSD which a major PITA if you want to use a device longer than a meager few years (and not only because of upgrading ssd size or performance, but also to replace a broken or deteriorated ssd).

Let's get a phone and there's tablet with windows 10x to and we have all we need.

Interesting match. Looking forward to the gpu power, previous AMD igpu's did rather well too.

Windows 10 is not ready for ARM. Not for general public, power users and corporations. Not until Microsoft 100% invests in it or builds an equally powerful branch of Windows ARM from the ground up with everything they've got and more. ChromeOS on the other hand, is perfect for this chip. Desktop Google Chrome browser that majority of people use for both work and play, PlayStore that is getting more development of professional-quality tablet apps thanks to foldable phones, 8 years of Feature Updates + longer Security Updates unlike Android, and rapid software support for 2-in-1 tablet/laptop hybrid experience. Having said all that, if any OEM can develop a mainstream ARM Windows laptop, it's Samsung.
Windows Central Newsletter
Thank you for signing up to Windows Central. You will receive a verification email shortly.
There was a problem. Please refresh the page and try again.