Samsung will offer PC gamers new 'quantum dot' curved monitors up to 34 inches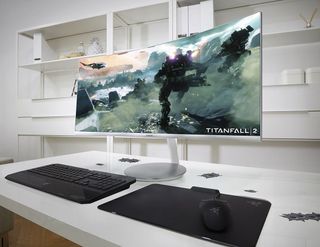 Samsung has announced its new CFG70 and CF791 curved PC monitors in 24-inch, 27-inch and 34-inch sizes. The monitors, made for PC gaming, use Samsung's "quantum dot" technology that is already in the company's UHD televisions.
You may be asking, "What is quantum dot technology, anyway?" Samsung says (opens in new tab) it will make PC games look much better:
The CFG70 24-inch and 27-inch models will have a 1920x1080 resolution and will have a couple of extra features:
The big 34-inch CF791 monitor has a 3440x1440 resolution with a 21:9 ratio. All three monitors use AMD's FreeSync Technology that syncs up their refresh rate with your AMD Radeon graphics card (if you have one installed). Samsung's press release didn't offer a release date or prices for the monitors, but SlashGear reports that they will go on sale in the fourth quarter of 2016. The 24-inch model will sell for $399, the 27-inch will be priced at $499 and the 34-inch monitor will cost $999.
Windows Central Newsletter
Get the best of Windows Central in in your inbox, every day!
I have a 24" 60Hz screen :'D

Holy mother of monitor!!!!!!!!!!!!!!

AMD Freesync included. Definitely the monitor for me. 27inch boom.

27" at 1920x1080, no thanks. Should be minimum 2560x1440 at that size Posted via the Windows Central App for Android

Damn it, just bought the 34 inch curved ultrawide, should have waited a few months.

if I have an Nvidia and attach an AMD as well will I be able to use the freesync feature? I don't know if it's confirmed or not but they said that with DX12 you can combine NVidia and AMD together

By the gods I hope so!
This looks like the future ... DAMN I look forward to the day these kind of screen are the new norm

becuase if they get these Quantom Dot with freesync only this is going to be a wasted year for these monitors (those that have Nvidia) for these reasons: ​-Quantom Dot may increase the color from 16.5M to 1.06B fixing last year VA problem
-Quantom Dot is Samsung only
​-VA = no IPS-Glow/backlight bleeding
​- VA is used only (mostly) by samsung, other companies prefer IPS which leads to IPS Glow

Unfortunately not. nVidia deliberately disables freesync compatibity in their GPU's in order to prop up gsync (their proprietary and very slightly improved version of AMD's freesync). Freesync is nothing more than a marketing/brand name for AMD's implementation of adaptive sync, which is an industry standard which everyone should be supporting, including NVidia. http://www.vesa.org/wp-content/uploads/2014/07/VESA-Adaptive-Sync-Whitep...

Why would anyone want a curved 1920*1080 (16:9) monitor?! Any chance the article misquoted Samsung and actually meant to say 2560*1080? Or that simply only the 34" panel comes with a curve? If so, I'd be intrigued by the medium sized option.

correct me if I'm wrong. If I don't take the advantage of Freesync cause of an Nvdia card do I still have access to the 100Hz?

Yes, you do. Freesync has nothing to do with the maximum refresh rate.

Give me this monitor flat (not curved), thinner, factory calibrated, at 27", with 2560x1440 resolution, and with support for display port 1.4 and gsync and I'll happily plunk down $1000

oh! in that case it's not a problem cause I was mostly worried about the 100Hz and the Quantom Dot. Now the 2nd problem is the wallet........ hmm......... yep -___________-

It's way too early for 21x9 gaming. Combind with many indie PC games don't support 21x9.

Looks nice. They should make a black version.
Windows Central Newsletter
Thank you for signing up to Windows Central. You will receive a verification email shortly.
There was a problem. Please refresh the page and try again.