Samsung's newest SSD drives will offer ultra-fast speeds with up to 2TB of storage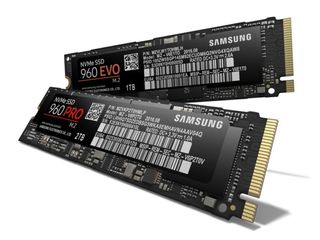 Samsung has announced two new PC SSD drives, the 960 Pro and 960 Evo. The 960 Pro will be available with up to 2TB of storage will have ultra-fast peak sequential read and write transfer speeds of 3,500 MB/s and 2,100 MB/s, respectively.
Here's what Samsung has to say (opens in new tab) about the more expensive 960 Pro (via TechSpot):
The cheaper 960 Evo will offer solid performance as well for a lower price:
The 960 Evo will have a starting price of $129.99, while the 960 Pro will be sold starting at $329.99. Both will be released sometime in October.
Not based on this article. For many home use purposes, bulk transfer rates are not hugely useful to base a purchasing decision on. Where are the latency figures? As a home user, that's what's going to matter most of the time for me.

Hmm.. do I have M.2 slots?

You can buy inexpensive adapters for cheap on Amazon, just be careful though, your BIOS needs to be able to see it to make the drive bootable.

Oh Samsung slowly catching up. SSD battle Seagate vs Samsung.

What? Posted via the Windows Central App for Android

Seagate has reached SSD capacity of 60TB. Samsung just reached 2TB

Do you have any idea what you're talking about? Tell me the IOPS on Seagate's fastest SSD. Samsung is using PCI-E and NVMe. If you don't know what those things mean, then my first question is answered. Show me a Seagate SSD on sale which has read speeds of 3.5GigaBYTES per second and 2.1 GigaBYTES per second read speeds. If you're only talking about storage volume value, then you wouldn't be thinking about an SSD. You would be purchasing mechanical drives.

Actually Samsung had their 15.36TB last year.

There is nothing special about adding more chips to a SSD drive to increase capacity. HDD makers could have 100PB drives, just add more platters. It is about increasing capacity while reducing the cost to a point where it is relatively affordable. Seagate's drive is not currently available, and it is not intended for the consumer but high-end data centers. If you are expecting to go out, spend a few $100 and get a Seagate 60TB SSD for your laptop, then you are fooling yourself.

Tru but give it about 5 to 10 years and we will look back and wonder how we did anything with 2TB of space. :)

You're talking S.H.I.T, Samsung is way ahead of Seagate.

Will the 2TB Pro fit a Dell XPS 15?

If the XPS has M.2 slot with enough PCI-E lanes available and support NVMe, then you could see advertised speeds. If it doesn't support NVMe, then you will need to buy the AHCI version, if they have one. NVMe is huge, its like getting FuisionIO speeds on your home PC.

How do I know if it has enough PCI-E lanes?

Check Dell forums. You'll need more specific model information. For example: http://en.community.dell.com/support-forums/laptop/f/3518/t/19660291

These are awesome! I might finally have to upgrade my 256GB Samsung Pro to one of these and free up a SATA port!

You'd have to clog up some PCI-E lanes and have a mobo that supports NVMe. Thats really the only downside to it. But if you have current gear, then it shouldn't be a problem. I have the samsung sm951, AHCI. My system supports NVMe, however it was not available for sale when I built my rig. The speeds....are...insane... I've never seen the windows file copy dialog copy at 1-2 gigabytes per second. Usually 100-200 megabytes per second with mechanical drives.

i get ~2GB/sec with my samsung evo 850 drive... https://1drv.ms/i/s!AhKdUzgR-A2RiLp6R86noetgrCGUOA​ and https://1drv.ms/i/s!AhKdUzgR-A2RiLp7rtO_6pPCic_XrQ

Sweet, I hope this drives prices down of 1TB solutions by the time I build my next big PC.

Just make sure you got an NVMe supporting board and a processor with extra PCI-E lanes. These new PCI-E SSD's are wicked fast. Its my favorite part in my computer.

Next PC will be a complete rebuild so I'll have plenty of chance to find everything I need. Thank you for the tip though.

so https://www.asus.com/Motherboards/H97ME/specifications/ with i5 4590 can reach maximum speeds on these SSDs?

havarka so https://www.asus.com/Motherboards/H97ME/specifications/ with i5 4590 can reach maximum speeds on these SSDs AFAIK, Z97 and H97 boards that support M.2 are rated at PCI-E 2.0 x2 @ 10 Gb/s, so you won't see the drive run at it's full potential. This doesn't mean the drive isn't worth buying, you will still see speeds faster than a normal SATA SSDs, 10Gb/s vs 6Gb/s. If you later up-grade or build a newer PC. You can use this SSD on MoBo that that supports PCI-E 3.0 M.2 If you want to boot from the 960 Pro/Evo make sure you update your bios to the latest one so it supports NVMe.

I was just going to say, come on down prices! Can't wait till a 2 TB SSD is 60 bucks like hybrid drives are now.

2tb with 3,200 MB/s speeds ? Dam, I want !

Curious, are the prices for the low storage skus?

Yes, the prices are for the smallest capacities. That's what they mean when they use the phrase "starting price" since the higher capacity devices will go up from there.

$129.99 for the 250GB 960 EVO is a pretty cheap deal for those on a budget. Back when I built my system I only put in a small system SSD Drive and I really only run my development tools from it (and ReCore because it's a small 9GB install) I could really do with moving to a larger system drive, either one of the new ones or trying to get a cheaper price on the existing SSD drives out there.

I get 2GB/sec alreay on my Samsung EVO 850... and thats SATA III ... proof is here ... https://1drv.ms/i/s!AhKdUzgR-A2RiLp7rtO_6pPCic_XrQ​ and https://1drv.ms/i/s!AhKdUzgR-A2RiLp6R86noetgrCGUOA
Windows Central Newsletter
Thank you for signing up to Windows Central. You will receive a verification email shortly.
There was a problem. Please refresh the page and try again.