SanDisk announces lightning fast microSD cards, USB Type-C flash drives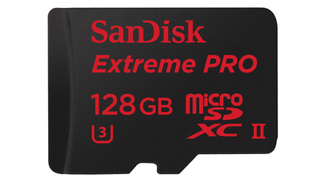 SanDisk has unveiled new USB Type-C flash drives and 128GB microSD cards at Mobile World Congress. The company has taken full advantage of the new generation of USB port to provide an adequate solution for those seeking a way to transfer files between compatible devices. Then you have the new MicroSD, which can achieve transfer speeds of up to 275MB per second, perfect for 4K.
Available in both 64GB and 128GB variants, the SanDisk Extreme Pro microSD cards will be available worldwide in Q2 2016 with a lifetime warranty. Prices will be $179.99 for the 64GB and $299.99 for 128GB.
The new SanDisk Ultra USB Type-C flash drive is available in size configurations up to 128GB, delivering speeds of up to 150MB per second, and is the company's fastest USB Type-C flash drive. You'll be able to plug this new flash drive into tablets, computers and even smartphones.
The storage solution itself is available now in 16GB, 32GB, 64GB and 128GB at $19.99, $29.99, $49.99 and $79.99, respectively.
See at Amazon (opens in new tab)
Rich Edmonds is Senior Editor of PC hardware at Windows Central, covering everything related to PC components and NAS. He's been involved in technology for more than a decade and knows a thing or two about the magic inside a PC chassis. You can follow him over on Twitter at @RichEdmonds.
"275MB per second, perfect for 4K" WTF? H265 encoded videostream will require A LOT less than ~275 megaBYTES (not bits) per second.. C'moon! This is hysteria puff.

275 is the read speed. 100 write. I believe the "transfer" scenario they mean is getting a few hours of 4K video off the card to a workstation for editing. I can't think of a more data-transfer-intensive daily work flow than 4K production work off the top of my head.

Edmonds is all about the journalese nonsense. I wouldn't read too much into it

Pretty sure he means extracting large 4K video files from the SD card to your PC quickly. On older cards, the import can take a little while

All I want is to take an sd card with me to shower ;D

Or u can just take a joke as a joke and not be serious abt it

Or you could enjoy the fact that he was just making a joke

Don't forget to take the external hard drive with ya! Posted from Windows Central for Windows 10

Sure
Posted from Windows Central for Windows 10

But i thought you needed a screen also other than an sd card for the special moments in the shower? ;-P

How are these relatively small storage options at the price of cell phones, tablets and many laptops supposed to be practical for anyone seriously using 4K? I expected the MicroSD prices to be starting with 128 Gigs for under $100 and 200 Gigs for $125, or more like the USB drive prices... This is your chance to take back control from cloud, allow ppl to have the in hand, viable, storage and backup options...think and try harder.

+1 because the new WC beta app STILL isn't available. -_-

The Windows Central BETA universal app has been released a few days ago. What are you talking about?

Oh you wanna read some comments? Crash.

The app is still avalable tho.

Update to Windows 10 first Posted from Windows Central for Windows 10

Have been using it the last three days...

if you're seriously dealing with 4K, you probably have a lot of high-end equipment which costs a lot more than this, so it's not terrible. Moreover, these costs are inline with new releases of storage options. Rarely do they come in at that low of a cost you mentioned. The 128GB microSD cards that are slower than this only very recently have become available for sub-$100 and even then, usually only through sales and discounts.

This is great for type c phone

And also great for usage with Windows Mobile smartphones with USB type-C port

i don't have a type C usb drive, so just wondering... would this actually work if you plugged it into something like the 950XL? able to get data on or off the drive?

That is if this gen of drive is electrically safe unlike their previous generations. Just look at the reviews on amazon about fire

Test Posted from Windows Central for Windows 10

Your test comment showed up in WC on WP8.1 on my phone.

275M - This is freaking Awesome. Virtuals on My Surface Pro3 will be Somking fast. I presently use the 95M MicroSD and it gives good performance. 275M should be awesome. Now I need a Surface Pro 4 i5 with a 16G Ram Option Microsoft, the i7 is not worth it, in terms of Price, speed, and battery life.

I'd love to know how they justify these costs.

My guess is research and development and advertising.

Seems you were faster than me writing this

I knew there was a reason the current microsd cards dropped significantly

I thought that was kinda weird. I can get a 64 gig one for 20$ where I work

Price to high, but hopefully when it falls, this will fix the issue many of us run into when using MicroSD cards with Windows Phone.

Hilarious that the type C will be useless in the Samsung S7, fools have retained Micro usb....
Windows Central Newsletter
Get the best of Windows Central in in your inbox, every day!
Thank you for signing up to Windows Central. You will receive a verification email shortly.
There was a problem. Please refresh the page and try again.