Save up to $700 on Surface Duo 2 with this hidden Best Buy promotion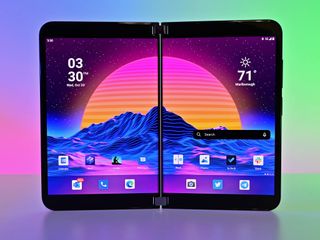 (Image credit: Daniel Rubino / Windows Central)
What you need to know
Surface Duo 2 is a supremely expensive device, clocking in at a minimum of $1,499.
Up until now, it seemed Best Buy was capping out discounts at $450 for trade-ins of a working Duo 1.
However, there is another, far more hidden promotion on the site that'll let you save up to $700.
If you thought Surface Duo 2 was prohibitively expensive, imagine bringing its starting price down from $1,499 to $799. In the event you have a Duo 1 lying around, that could be your final price thanks to a new, not-very-widespread Best Buy promo.
Here's the scoop. Right now, people are getting $450 for their 256GB Surface Duo 1s (and $400 for 128GB models) over at Best Buy when trading toward Surface Duo 2. But you can get more than that if you print out a particular promotional page (opens in new tab) on Best Buy's site and physically visit one of its stores. On the page linked in the previous sentence, you'll find this coupon:
Here's the math: $450 for a 256GB Duo 1, plus $250 from the above coupon, equals $700 in savings. Or $650, if you combine the offer with a 128GB Duo 1. Folks on Reddit have discussed the deal and one claims that in-store employees told them the promo wraps up on December 31, 2021. We've reached out to Best Buy for comment on the promotion's specifics, including its end date, and will update the article when we hear back.
Get the Windows Central Newsletter
All the latest news, reviews, and guides for Windows and Xbox diehards.
Robert Carnevale is the News Editor for Windows Central. He's a big fan of Kinect (it lives on in his heart), Sonic the Hedgehog, and the legendary intersection of those two titans, Sonic Free Riders. He is the author of Cold War 2395. Have a useful tip? Send it to robert.carnevale@futurenet.com.
Can you get the $250 without trading in a device? The Best Buy I went to last Saturday knew nothing about it and the guy I asked saw no promos when he "looked it up".

"Can you get the $250 without trading in a device? The Best Buy I went to last Saturday knew nothing about it and the guy I asked saw no promos when he "looked it up"."

I'm not sure on the first part, going to say no, but on the second question, the look it up thing, that's where it's advised to (gak) print up that promo page with the web address so they can find it.

Yeah, I was going to show him on my phone but they didn't have any in stock and he seemed annoyed I wasn't interested in something Samsung. Plus, even the Duo 2 display was weird. It was tiny, on the end of the phone accessory aisle, across from the big Google Home display, and the SKU/pricing info displayed was for Duo 1. I mentioned it to him, too. He shrugged and said: "I'm not surprised. Best Buy didn't set up the display." I'm assuming he meant MS had some active role in the setup, at least at that one in your old stomping grounds of Marlborough. The BB at Solomon Pond Mall.

Hah, figures. Funny, I was just looking up stock and many other stores have 1 to 3 in stock rn including Milbury, Framingham, Watertown, Danvers, and Salem. It seems like some work to get this deal, but people have been getting it, and seems worth the effort if your really want D2.

This would definitely be more digestible, cost-wise.

Wish we could find these kind of offers in the UK... Not sure if I could part with my Duo though, I've grown quite fond of it... Ha ha...

This is very tempting. However, I'm still enjoying my Duo 1 (bad camera and all). In fact, the thing I would want most from the Duo 2 is something I *should* get on my Duo 1 - less buggy software. I'd hate for this to end up like a Windows 10 mobile situation where it launches buggy, gets less buggy, but is always buggy.

This isn't new. I pre-ordered from Best Buy under this promo and people were posting about it on reddit 3+ weeks ago. I traded in a 256gb duo and got $450 and then got the additional $250 off the duo 2. Only bad part is I had to turn in my duo 1 right then and there, 3 weeks before the duo 2 launched. Probably not an issue now that the phone has released. It only shows up under in store promotions so you'll probably have to hold the best buy employee's hand through the process to help them figure it out.

I just now did it. Works as advertised, but BB employees aren't always motivated or knowledgeable enough to help. Seems tricky on their end, but I had to return my D2, then buy it adhesion to get the rebate.
Traded in my Note 20 ultra and couldn't be happier about it

Nice and congrats! Glad it worked out.

Might as well wait until it gets Android 12L in February or March.

The promotion lists " Excludes phones that are cracked or that lack power." So, if you have cracked plastic around the USB-C port on the Duo 1, this wouldn't apply?

Some on Reddit said as long as screens were good, cracked outer glass was ok & as far as cracked ports, it seems BB employees are more aware of the common defect than MS employees (try filing a Warranty Claim & you'll know what I mean. lol) & they seem to be giving it the OK

Great Info my outside screen has a crack and I have no idea how but everything else is good.

oh wow! I do have a spare SD. Now I can have 2 SD2! Maybe gift it or keep it as a backup

Don't forget me. I'm in need of gifffttinngggs.

Got my Surface Duo 2 today at a Oregon Best Buy location. Brought in my original Surface Duo 128GB which they gave me $400 for. I also brought in the printed promotional page detailing the $250 discount. Took a bit of time, probably around 20 minutes in all, but got a total of $650 off! First impressions of the Duo 2, is it feels great in the hand and really digging the new obsidian color! Looking forward to having some more hands on time with it!

This deal totally works! I just bought the 128 GB glacier. They don't even need anything except the phone itself.