Save the world from rabid llamas in the new 3D shooter for Windows Phone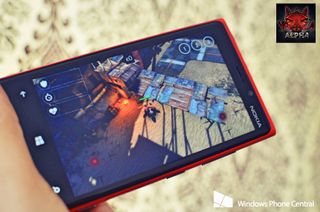 While aliens, monsters, and zombies have attempted to take over the world in several movies and games, a new 3D shooter game for Windows Phone has pegged the doom on hordes of llamas!
Developed by Matt, better known as RogueCode, Vicious Attack Llama Apocalypse: Alpha, or VALA: Alpha is a full 3D top-down shooter for Windows Phone 8 devices where your aim to save the world from rampaging llamas. Matt is a Microsoft MVP for Windows Phone development, a Nokia Developer Champion for Windows Phone and even used to write for us some time ago.
The game is set in post-apocalyptic New York, Rio, and Dubai, where you need to fight for your life across six unique levels. A funny touch is linking to the maps and Wikipedia pages of the three cities showcasing how the cities were before the apocalypse.
You have a gun with unlimited bullets, but only one life, and can move around a playing area where llamas charge you from all directions. You'd want to keep moving as you kill the rabid llamas, since they appear in never-ending waves. Some of the llamas drop energy cubes which you can collect to build various types of sentry towers on three specific locations in every level.
VALA: Alpha is a good-looking game, with an interesting gameplay. You can download the game for free from the Windows Phone Store for free. (Windows Phone 8 only - 69MB - works with 512MB hardware). Give it a spin and try to save to save the world from a llama apocalypse. Let us know how you like it, and how many llamas you manage to kill.
Get the Windows Central Newsletter
All the latest news, reviews, and guides for Windows and Xbox diehards.