Here's a first look at Microsoft's upcoming Flow chat-email hybrid app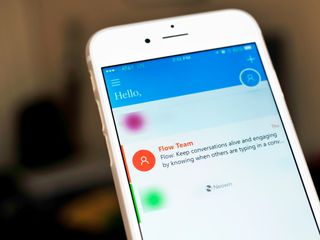 Earlier this week, word got out that Microsoft was working internally on a new email-chat client hybrid for the iPhone called Flow. Now the first screenshots of Flow have been leaked onto the Internet, along with some new information on the app.
The screenshots come from Neowin, via its inside sources at Microsoft, and even though parts of the images have been deliberately blurred, this early version looks more like a chat application than an email client. The report adds that texts from the chat are sent to a regular email program such as Outlook, which allows the chats to be search. The report claims that the message engine itself is being run by Microsoft Exchange.
There's still no word on when, or even if, Flow will be released outside of Microsoft. If it does, the company will most likely offer versions for Windows 10 and Android as well.
Source: Neowin
Windows Central Newsletter
Get the best of Windows Central in your inbox, every day!
Really liked the design shown and thought Apple only, but will be on Android and WP too. Looks like a great design..

I do not get why WP fans get angry about MS delivering to Android and iOS first, the more market share the more Guinea pigs for testing!

but its like they are treating our platform as sloths buddy

Points of view I guess! I think absolutely all of Microsoft programs, apps, software will be available for WP sooner or later, & Windows, & Xbox, etc. Instead of RTMs and the like, MS needs lots more bug fixing, for all OEMS, than Apple with its full line of 3 devices (iPhone, iPad & Macs) and an icon drawer. So start by the simple; Apple (1st Guinea pigs), then open to all sort of hardware; Android (2nd Guinea Pigs)... Get it perfectly flowing; WP!

Its the skinny jeans crowd. They can't help but be mega selfish and super isolationists like that.

Microsoft should stick to release apps only for Windows and iOS. Ditch Android and you will get more customers.

People not reading the last paragraph in 3... 2... 1....

I'm really sick of all of "Complaining begin in..." Or "Hate comments in...", its seriously old and a cliche. Yes, people will complain. NO MATTER an outcome in life, people will complain on both sides. Its no surprise to anyone, it happens, deal with it.

"Really sick of" comments beginning in 3....2....1
Hypocrite

How am I a hypocrite? 1) I didn't tell anyone to stop doing it and 2) I've never done it myself.

Because you're complaining about someone else complaining

He's complaining? I don't think he was. I was complaining about people making those "3...2...1" statements

Not the definition of a hypocrite. Stop using words you don't know or understand.

Or... Learn the definition of a hypocrite yourself lol

No dude, seriously... Just stop. Your being extremely childish man, no one is making fun of you. Next time you try to insult or discriminate someone, make sure you are aware of what a certain word means.

Comments about being sick of other comments in 3... 2.. Oops! (I'm just messing with you ZTN...i generally like your posts but gotta troll this one!) I personally came here to see when the first "Why iOS first?!" was made... Thus post may have preempted and possibly curbed them but I doubt it. Time to read further down, I bet there will be plenty. To your credit, yes thats ok.

Not trying to insult you guy. Simply saying... You're complaining about somebody complaining. Its hypocritical. And if you can't take the criticism, then dont dish it out yourself. Its pretty simple and you probably dont like to hear it. But im not gonna sit by idly and let you speak to others how you want when you're doing the same thing yourself

I'm not complaining about him complaining. This guy was not complaining. I am complaining about people using the "Hate comments in 3...2...1", I don't consider that complaining, you did yourself. Its not a hypocritical action or statement what so ever. I don't care about criticism because critics don't have the power to do anything but criticize. There is nothing significant about you or my comment. Just stop man, seriously. Your being so childish and im the one that's in my teens.

Lol ok. Perhaps you dont see the err in your ways. Just carry on doing what you do. But for the record, I disagree and think you're being a jerk. You feel you can say what bothers you. But if anyone else does it (I.e. The original poster), its wrong. But carry on

Exactly, I can say what I want as long as the 1st amendment exists. Take me to court. I'm not here to be rude or discriminate other commenters, I generally love this community and the people. I'm not trying to give myself a bad reputation, im a developer. I was just saying a few words about this guys comment and to be I think the "3...2...1..." Comments are cliche and they get old. The only reason people comment that is to sound smart, but its just lame. Again, I don't mean any harm on anyone. Friends?

Thank you my friend, sorry for wasting your time and being a jerk. It was kind of childish on my part to continue fighting over such a silly thing. Hope to see you in future comments.

Lol WPnoob, its all good man. Your pretty clever around the comments too xD

It is old and cliche to complain about complaining.

If you consider yourself to be complaining, because I was complaining about your comment.

Could you stop complaining. Gosh!!! :P

Why? Are you complaining?

wow, new design... now I can see two headlines at the same time

Looks like a colorful version of outlook for windows phone 10

But will people use this when we already have fb messenger, whatsapp, line, skype... ?

Kinda. It should be super light weight. And people without the flow app should be able to converse using the system. As a marketing guy, I can't help but feel excited. Hotmail was VIRAL (from 0 to 60 million users in just 6 months). A decade later, it's descendant might go super viral.

I think so. In fact, I think that's the whole point of this messaging app. Every other messaging app suffers from requiring users to create yet another account. This messaging app works for everybody because everybody already has an email address. It's brilliant, and I love it. This I would actually use.

Honestly, right now I'd Microsoft wants something they create to go viral, besides the PC, Apple is the way to go as long as we get it at some point. Looks at it this way, it will just be seen as another great app that's on iPhone also available on windows phone and effectually eventually the app gap thing will dissipate over time as we're seeing a lot of apps on IOS make the jump to WP lately

I think they will integrate it with Skype maybe?

Circles suck. What's wrong with Microsoft.

Circles are the perfect distribution of all things in the universe. Get used to it.

"People are not squares" - Microsoft Windows 10 design team

In America we're close to being circles. :D

Michael, you've just made me chuckle after a hard day... Thank you :)

But it's hip to be square!

Another reason to by apple....

The highlighted words being most likely

For every reason to buy Apple there are about 10 reasons why I dont =).

Buy an apple? What's the reason again?

Buying an apple means you can juice it and have delicious apple juice.

Also, they're tasty and healthy. Unlike lollipops, which ate full of sugar

I would prefer oranges although I don't see the connection between the article and your post :P

I left my apple at home in the fridge, so I'm afraid I cannot sit "by apple" today.

Everyone's been trying to upgrade email for years and failed. Will Microsoft be the one who finally does?

Isnt this like Inbox for email?

Yes, vezycash. Many companies purport to have "redesigned" and "redefined" the mobile email experience to be more efficient & intuitive. See Mailbox, Dropmail, Google Inbox, IBM Verse, Postbox, TypeMail, Nilas, SaneBox, WeMail, Maestro Mail, Spatch, Threads, Tipbit, InboxCube, Unibox, InboxMind, Boxer, MailDeck, FastMail, Acompli, MailPile, and FollowUp. These are alternative mobile email solutions.

Ok wtf, why are they working on making stuff for iPhone?

They are a software company first and foremost. MicroSOFT. Not Microhard.

And what about MicroSOFT Lumia 532? :)

that should MicroWARE, because they shifted into hardware and software development.

Biggest user group to test it on maybe

Of course not. Android marketshare pisses on iOS marketshare. In the real world.

Yeah you're right. Sorry had a mind fart

Yeah, but getting it to work on the majority of phones is more work than getting it to work on a majority of iPhones.

Read the last article maybe

You mean there was an article to read...lol

What about Samsung and their "Flow". Name will have to change.

Failing to see the purpose/utility of this app

Why not make it for Windows and then for others. Create PR Microsoft.

Apps go viral on iOS, not Windows Phone.

I don't get this. And I prefer squares to circles when it comes to contact pics

I prefer circles to squares

I like them both, and circles look good. And I know this is on iOS but the reason why I mentioned that is, that I see circles all over in the people app and other apps for Windows 10, I love my square start screen. And since the start screen design is great as it is already, having circles in apps doesn't even fit the UI

I've always preferred dodecagons.

I'm partial to 4 dimensional containers

But the pictures /are/ square. MS is just arbitrarily cropping them. This is inherently a bad idea.

I like. I hope we get something as good.

I wonder if this will come to Windows 10 as part of the new messaging app.

Chat with mail... Hmmm.. MSN Messenger?

The second coming of Google Wave

So, how is this in any way different than what gtalk was from the beginning?

Microsoft is taking more time developing apps for other platforms than making their own platform better.

They are a Software company first. Still they should've given WP the first priority.

I think Microsoft will have a hard time getting iPhone users to stop using iMessage for this.


So basically it's the saved conversations view in outlook when you use Lync (our Skype for business).

I know that if this sees the light of day, it will eventually come to Windows 10 as well as Android, but developing this for Apple first seems pretty counter-productive. It seems almost as this will be a better iMessage type platform. Apple already has iMessage so adding a few convenient features to a simmilar application probably won't draw a lot of people. However, Windows Phone desparately needs something on par with iMessaging... It is the ONE thing I miss the most after switching from an iPhone to a Lumia. Not all doom and gloom here, I'm excited to see this, I just wish they had their own platform in mind first off.

Agree, but its actually Microsoft!

"There's still no word on when, or even if, Flow will be released outside of Microsoft." ...wait, outside of Microsoft? Did you mean they want to offer this app to the 3rd party service or what? If not, it should be 'outside of iPhone'.

He means there's no word if this reaches the next level of development, i.e. becomes an actual app in the future.

It means outside of MS in terms of users. The app's only available to MS employees at the moment.

Why would it come to Windows? Tell me, Microsoft spent how much of a billion dollars on fantastic calendar and email apps that are not being ported over? But we'll get this? Likely not.

Why doesn't Microsoft just link (kik, iMessages, Snapchat, Instagram, Facebook, and many others) into the messaging app on Windows Phone 10. Like that would be a killer feature. Of course they would have to pay money but hey it would probably attract alot of people to WP10

They had the messaging hub in windows phone 7..it seemed like it would go in the direction you're mentioning until it didn't...

The killer feature is having it powered by/stored on Exchange.

So how does this work? How is it hybrid? Is it accessible from within the outlook app or is it separate completely?

Think of it as a custom view of your Inbox.

I have many friends/family that only e-mail through Facebook, they don't use Outlook or Gmail whatsoever, the only reason I still use Facebook is to stay connected with them via the Facebook Messenger App. So I do believe that the new Flow app has a big potential, especially if I can email from Flow to Facebook, it could bring more to Outlook, perhaps from Facebook. Most of the time we hear the word Email we think of a big amount of text, but that's starting to change more and more (apart from businesses). I see this Flow as a way for Microsoft to battle Facebook Message. If you ask me I love the name, and my best bet is that it will come to Windows 10 as a universal app.

So right now this is internal to Microsoft and it is for iPhone only, at the moment. I wonder what % of Microsoft employees use iPhone vs Windows phone. Especially considering they design for iPhone first.

From what I can see it looks visual appealing.

I don't like the name. Flow. Many companies have products with this name: Samsung, ProQuest, etc. Likely to get confused with those products.

Then the Flow name is a shoo-in from the MS marketing boys :-)

Gee, Microsoft, do you remember that cool ability we use to have on Windows Phone where if you started a conversation in one mode, say, text, you could then continue it in, say, Facebook, and so on? Whatever happened to that? Oh, yes, that's right, you gave your users the middle finger because you just HAD to get rid of integrated social and have your whole damn operating system be a collection of modular crap. Yep. Nice job.

Actually it had to do with Facebook pressuring them to remove it because they were going to create Messenger. A lot of you fail to realize that Microsoft doesn't own Kik, WhatsApp or Facebook Messenger.

I always thought that hotmail should be social, and not separated into messenger, Skype, outlook, groupme,

Slack competitor incoming in 3, 2, 1...

So shameful Microsoft showing a demo on iPhone.

Will all you complaining about complainers... PLEASE SHOOT YOURSELF IN THE FOOT BEFORE YOU TRY PUTTING it IN OUR MOUTHS' at least then you'd have something to bitch and moan about.
OmF'ingGod :-\

How many communication apps can we possibly manage and use at the same time?

millions of WP users are there ,then why don't they test these services on WPs first?

For everyone crying that MS made it for iOS, yet not Windows Phone, remember that iOS is currently out, Windows 10 is not.

So not only are we not getting a flagship because of windows 10 we aren't getting apps either? That being said the windows 10 thing has nothing to do with it it's an internal test.

I want that this time the developers bother to create something proactive, not reactive. We're fed up with the same model to nearly 40 years. But if I have to, I'm here to help. facebook - Antispam.P2T

Maybe it's on iphone because no one at Microsoft uses Windows Phone's?