Seasons - a multi-player, infinity runner game for Windows Phone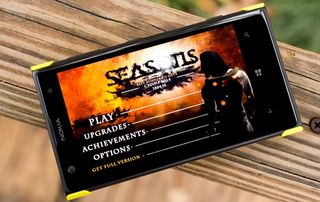 Seasons is a relatively new infinite runner game for our Windows Phones. You play the role of Ezra, a warrior who is in the middle of a heated battle with his brother Aton. You have to help Ezra race across the land, navigating him past various obstacles along the way.
Game play is not unlike other running games and graphics are well done. The storyline does get lost after the title scenes but is replaced by a fast paced, challenging game. You jump, slide and punch your way through obstacles to see how far you can run.
Add magic attacks, power-ups, multi-player support and the ability to fly and Seasons comes across as an attractive Windows Phone game, well worth a try.
The main menu for Seasons has options to play the game, purchase upgrades for your character, view your gaming achievements and access the game's options. Gaming options allow you to set your screen name, mute the sounds and turn on the multiplayer mode. With multiplayer mode turned on your Windows Phone will be detectable for the local, multiplayer game.
When you first hop into the game, Seasons will walk you through a brief tutorial covering gaming controls. Your player will be constantly running and you control his avoidance maneuvers by a series of swipes; swipe up to jump, swipe down to slide and slide forward to punch.
As you avoid obstacles and progress through the game, you can collect leaves that can be used to purchase upgrades and magical items to help your character survive longer on his run. Items such as a magnet that will draw all the leaves to your position or the snatcher that is used in the multi-player game to rob your opponent of leaves.
The game screen has your distance and leaf count displayed in the upper right corner. Any magical items in your inventory will be displayed along the right side and bottom of the screen. A fly button rests in the bottom right corner of the screen.
Once you have traveled a set distance, your character will get the ability to fly. The flight mode will transition your character between the game's different environments. As you soar through the clouds you'll need to dodge boulders that are mysteriously flying the friendly skies as well. You control your flight elevation through swipes as well and after a short distance of flight, Ezra will gently glide back to the ground with a new environment to race across.
The multi-player mode is done over local Wi-Fi and has you racing against your opponent to see how far you can survive. Your player is running in the foreground while your opponent can be seen in the background running the course.
You also have a combat aspect to the multi-player mode in that you can use your magic to foul up your opponent. Your available magical items will be displayed along the bottom of the screen. The multi-player mode tests your multi-tasking skills in that you have to avoid all the obstacles as well as handle the combat aspects of the game.
The downside to the multi-player game is that game play doesn't give you enough time to search, host and settle into the two player game before tossing obstacles your way. It would be nice if once both players are connected, a countdown would sound and then you start game play.
Seasons is a decent infinity runner game and while graphics are nice, the game screen is zoomed in fairly close. This minimizes your reaction time to obstacles making it rather difficult to keep up with the pace of the game. This isn't a major issue when you first start your run when the pace is more gingerly. However, the longer your run, the quicker the game pace becomes and reaction time gets tight. If you look away for just an instance you may find Ezra running head on into a boulder. I wouldn't mind seeing the game view zoomed out just a little bit to give players a fighting chance.
Graphics are nice, game play challenging and the multi-player modes lets Seasons stand out a little from the other infinite runner games in the Store. There is a free trial version available with the full version of Seasons running $.99. You can find Seasons here in the (opens in new tab) Windows Phone Store. It's available for both Windows Phone 8 and 7.x devices.
Update: While the game is listed and will load on Windows Phone 7.x devices, the game does not run properly. As noted by the developer in the comments below, an update to enable the Windows Phone 7.x version of the game is in the works and should be available next week.
Windows Central Newsletter
Get the best of Windows Central in your inbox, every day!
George is the Reviews Editor at Windows Central, concentrating on Windows 10 PC and Mobile apps. He's been a supporter of the platform since the days of Windows CE and uses his current Windows 10 Mobile phone daily to keep up with life and enjoy a game during down time.
On sentence number one... "Window Phone"

It's Window Phone 8 only too.

Store listing is showing that it works with both versions of Windows Phone and it loads on my Nokia Lumia 900.

Hi George, currently, this is due the fact that the game is based on XNA. Seasons was developed primarily for WP8. There was no way to opt out Seasons from the WP7 Store since the WP7 phone's hardware is to weak. But we are working on an update to enable the game for WP7 users as well. Stay tuned :)
So you might want to update the article saying that the WP7 version is on its way next week! Thanks for the review!

Hey!! Can you please make this game available here in Brazil? You can now use PEGI/ESRB certificates to publish in here. I can help with the process.

Hey, please contact us via general@areon-development.de and we will try to make it possible! :) Thanks.

"Graphics are well done"? Wtf game graphics look like 20 years ago. They are bad.

...the game can run on my 620. Without any FPS loss. That's good enough graphics. Even then, maybe he's just talking about the menus.

They are called endless runners, not infinity runners.

And it's infinite, not infinity.

I love the fact that developers still support WP7

A duplicate of fruit ninja ...with same everything available in store ... Is ms allowing pirated apps in store?

i had the back in beta its a good game.

Its available but doesn't work !

Again for everybody, we developed the game primarily for WP8 due to WP7's weak hardware. Since it is written on our own graphics engine based on XNA, the game is visibile in the WP7 store as well. Here's the good news: We are working on a WP7 version that is going to be slightly reduced (graphics wise), but it will be playable good enough. The update should be available next week or so - depending on Microsofts certification process. Hope this is good news for all the WP7 users out there,
Cheers.

We've just submitted the first update of Seasons. This update comes with 11 fixes to the bugs you can see below: - WP7-Devices now supported (with compatibility mode)
- PwUps: Magnet didn't appear during gameplay
- PwUps: You can't upgrade DoubleLeaf
- PwUps: After RunMode, obstacles coming too early
- PwUps: Ezras shadow had a problem during Runmode
- Magic: You couldn't upgrade ReGen of Snatcher
- Winter: SlideObstacle was too high
- Death: Occasional jump/dash after death
- FlyMode: PathDust was coming in too early (during landing)
- Achievements/Stats: Total Leaves count wasn't correct
- Main Menu: Highscore alignment was not centered Update 1.1 will be released next week.