Secure your passwords and critical information with Enpass Password Manager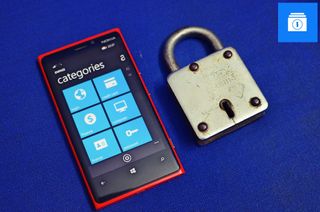 Enpass is a popular cross-platform app for storing and backing up your passwords and other important information securely as well as syncing the information across devices. The Windows Phone app also offers a customizable password generator that you can use to create strong passwords to use online.
The Enpass Password Manager & Information Keeper app has been recently bumped to v4.0.0.0 and adds a bunch of new features apart from some UI improvements and bug fixes.
Enpass uses military-grade AES-256 encryption to ensure highest level of security. While all your data is stored locally on your device rather than the company's servers, the app offers cloud sync through Dropbox and OneDrive. There's also the built-in secure browser that auto-fills the login details without leaving app.
The latest update adds several abilities to add and modify items and folders, and customize the sidebar. The launcher icon has changed and there are new square colorful icons for items. The OneDrive sync option has also been added with this update.
While Enpass has native apps for all smartphone platforms, the company has now introduced a fully-featured Windows desktop version, free for a limited period. The desktop app can import data from 17 other popular password managers like 1Password, LastPass, RoboForm, Keepass, and others as well as from a custom CSV.
The roadmap of the app includes bringing browser plugins for Firefox, Chrome, and Internet Explorer as well as introducing a Windows Store app for Windows RT and Windows 8 devices. The future versions might include quick pin and pattern unlocking instead of the master password and the ability to securely share items.
Enpass Password Manager is not cheap at $4.99 but with cross-platform support and an impressive user experience, it's a pretty neat app to have. Not just for managing your online credentials passwords, it's also a useful app to store critical information like your bank and credit card information. The trial version allows storing up to 10 items, so give it a whirl and let us know how you like it.
You can download Enpass for Windows Phone 8 devices from the Windows Phone Store.
Windows Central Newsletter
Get the best of Windows Central in your inbox, every day!
But is it really that great? Doesn't that mean I would have to pay for it on multiple OSes???

I have no idea about multiple OS... :(

Yes, I had to pay for my 1520 and my iPad Mini -- $5 each. But since I have like a hundred passwords, it was worth it for me.

I don't know any app that you pay once and can use it on different OS platforms.

SkyWallet. WP and Windows.

Splash ID is on Everything, (but getting the file in to WebOs is not automatic) I'm pretty sure one price pays for all as I'm not paying again for new devices. The full service is expensive if you consider $20/year expensive though.

I don't see how this is better than the already established products such as RoboForm. Can anyone enlighten me?

Enpass has better apps for all the platforms and better support.

Fell in love with LastPass eversince I heard about it in Steve Gibson's podcast: Security Now!

Agreed. I love LastPass. Would take something pretty special to get me to move off of it.

Yup, love LastPass. And it already has plugins for all the major browsers, a Windows 8 app, and apps for Windows Phone, Android, and iOS. No reason to switch.

Another lastpass adopter here....been years....

Their new redesign is great, but the Windows Phone app didn't get updated for it. The Enpass app looks so much nicer.

Prefer one time fee over scrip.

Glad that that the quick pin and pattern unlock is on their product roadmap. That has been my biggest pet peeve with the app. The developers have been great about adding features and listening to user feedback (e.g. adding OneDrive support, etc.).

I'll keep these in mind. At the moment I use Password Padlock and continue to be happy with it.

Me too! I love Password Padlock for its simplicity and integration with Windows 8.1 through OneDrive. Besides, it's totally free.

LastPass ftw. I gladly pay the premium subscription fee for that app every year.

Well m looking exactly opposite free! Are there any such app which or where it allows me to store my passwords and have inbuild private browsing experience.

7pass is free. I use Keepass on the desktop and 7pass on the phone, haven't had any issues.

Think it's worth a try...

Are all our passwords safe with these password storing apps?

As long as your private information is encrypted within the app and you're not told to sync with company server or to share with ANYONE, it's safe. I'd recommend not to use dropbox or OneDrive sync in this app as well. There are rumors Microsoft looks into private data but we never know. I maybe wrong but who wants to take a chance?

Even if MS looks into your data (I don't think so, but well), what can they do with your info if it is encrypted?

Something or someone at Microsoft looks into the accounts for sure. I had pictures of my new born right after he came out of his cave and Microsoft posted message on the image saying there might be child pornography on my account. It was my new born baby, no clothes on. So someone or something at Microsoft looked at that imag.

MS may look into your data (I'm not sure) but the guy above me (blackhawk556) looks like another evident for that! He did say he was suspected for child pornography while it wasn't anything like that actually. Yes, after encryption data is encoded and can't be read unless its again decoded but lets not forget its Microsoft. They can do anything if they ever suspect any user. My point is simple, lets not take any chance.

I love enpass. It works great. Plus its free, mostly.

Can you describe how you accomplish this? I'm very interested.

Password Padlock is working for me. This app does seem to be more polished, ill give it a try :)

Waiting for this to go on sale someday. It's great but 4.99$ is a little stretched. Awesome app though. 256-bit AES encryption FTW.

Great app, using it for sometime on several devices. Sadly on last update it crashes on my lm 1520 as soon as i start the dropbox sync, when crashed it simple cannot be restarted anymore. On each new startup it crashes immidiatly again. Only complete remove and reinstall works, after reinstall choosing onedrive sync give no problem, choosing dropbox sync again results again in crash. Until last version dropbox sync worked fine, problem occurred since last update.

Hi Robert, I am really sorry that you are facing problem in syncing your database with dropbox. We have fixed the issue and already submitted a new version 4.0.1 to Windows Phone store and it will be available soon.

thx, would be great.. I do love the app, bought it for my wp and android tablet ofcourse i use the desktop version on all my pc's :)

I always wonder how these things work on WP. I use last pass at home but how will they work on a phone?

Last Pass works fine on the phone, it has a built in browser as well or you could always copy and paste your user ID's and passwords from the app. Although Last Pass is free for Desktop and the Windows 8/RT App the WP App requires yearly services subscription.

You can't copy paste with these others? How is it useful if you can't do that?

LastPass FTW. Been using it for almost 2 yrs.

Been using this since it showed up on wp and very happy with it. Really glad they've been improving it in a timely manner, and I'm happy they may go with an easier entry method: Entering a pin everytime the screen blanks out can be a pain when it's 15 characters long!

Interesting you guys ran this article as I've just been trying to decide which password manager to switch to, and it's between this one and LastPass. I've been using Skywallet ever since WP7 but there is no attempt at all to update that or bring an app to WinRT. It works, but just looking for something that's more advanced and will be supported. I don't necessarily have a problem paying a subscription, especially only $12 a year, but this app definitely looks good since the recent update, and I like how it has a desktop app as opposed to Lastpass. Thanks for the article as always!

I was sold on Last Pass after listening to this transcript https://www.grc.com/sn/sn-256.htm, Steve Gibson is pretty knowledable when it comes to security, I'd be curious on his thoughts on Enpass but there is nothing on his site about it.

Thanks for the link, that's quite a bit of info! I read through a lot of it, as much as I could really. I ended up deciding to use Enpass mostly because I had already started to migrate my data to it and didn't want to start over again. The new update made it really nice.

I tried lastpass and I stay with enpass. This was "walletx" before, with symbian.. is very complete and simple at the same time.

I wonder where they found that lock lol

Just download Password Padlock from gkcSoft.

My favorite is KeyRing: http://www.windowsphone.com/en-us/store/app/keyring/1d031e0b-6ee9-471b-9... You can write your code to an NFC Tag to start and unlock the app, so no manual password input is necessary.

Good stuff, I've been looking for an offline password manager

No mention of skywallet. That's what I use.

Yes me too. But he hasn't done many changes you the app. Hopefully he makes it into a universal app.

I use 1Password across all my devices; android, osx, windows, windows phone, ios.

Me too but 1password WP app is awful. I'm gonna give this a try.

Yes, the WP app is awful.

I will wait till it becomes a universal app

For the record. There is a reason to using something like Enpass.
That reason is, the DB's are store locally, not one their servers, and only on a cloud service if you want to. Not mandatory. There are also App's that use KeePass DB's so that you can just update KeePass and upload to OneDrive, or wherever and they also allow you to use a KeyFile, I find that far more essential than simply a Master Password. So, I did download Enpass, and took a look, it's interesting, and I do like a lot of the templates they have.
This does make for a very useful over all database. I will not use anything like LastPass, where all your data is stored on their servers.
can you really be so sure they don't have access to all your data?
I would rather not have that. Nor pay some yearly subscription fee for it. I will gladly pay for an app that get's regular support and updates, one that does not require me to save all my data to someone else's servers. I will do that myself thanks. Let that be my choice. As in, for now, I use KeePass along with 7pass for WP8.1 and PassKeep for W8.x
I can then store my database on one cloud service and a keyfile on a different one.
You can not open that file without the keyfile, so, this is far more secure.
Passkeep, I hope will eventually have a WP App, or 7pass get a W8.x app
And whichever one is more promising, is the one I will go with. For now there are some minor issues with that setup, but they are not horrible.
Edit the database in KeePass and re-upload to cloud, then you can reopen on other devices. IF, Enpass provides a feature to include a keyfile that can be stored elsewhere (Locally, Network, or Cloud services), I may reconsider. Till then, I will stick with the setup I have. For now, Enpass will stay installed so that I can follow it more easily, but will mostly be un-used till KeyFiles are allowed.

Looks great. I'm gonna try it and maybe switch from 1password if the desktop app works good.

Which one is better, Enpass or SplashID? I have been using SplashID since Palm Pilot Era. I found that Splashdata doesn't care about Windows Phone platform too much. To sync SplashID database between my desktop and my Windows Phone, I have to enter the Desktop IP address on my phone every time.. that's pretty stupid design....

Hi Sam, I was also a SplashId user but when I saw this post I also thought to try this app offers free trail version. I visited their website and from there I came to know that Enapss can also import data from SplashId. Now I decided to use Enpass as their desktop version is also free. Then I started to import my database from splashid and it's so easy that I have migrated all the data easily. So I would really recommend Enpass to you.

I had a quick trial of the Windows desktop version. Imported all my records from SplashID. Seems there is no way to move entry from one group to another. Haven't tried the mobile version yet. Does cloud sync run automatically in the background?

Hi Sam, the option to change the category of item is available at the time of item import. Watch Enpass import help video as it also helped me in importing and editing the database.
When the information of an item is showed then, click on "Add as" to change the category of an item. Also you will be given freedom to change the icon and field type of item before saving it.

This app is awsome. The fact that I can use a desktop client to imput all my data as well as import or export to all those file fromats including basic text file is a deal breaker. I've been using Sky Wallet since it was first launched. It has the ability to backup to onedrive but it's not as feature rich as Enpass. BOUGHT!

[quote]The roadmap of the app includes bringing browser plugins for Firefox[/quote>] Where can i find these addons for firefox? I searched the addon section of firefox on 'enpass' but cannot find any addons.

Roadmap means they don't have one yet but will in the future...

You pay for ladtpass once and can use on multiple platforms

crossplatform???? but not for Win8 or Win8RT ??? What is the definition of crossplatform

Their Native App is for Android, iPhone/iPad, Blackberry, WP and MAC. This is why its crossplatform. Enpass is there for Windows 8 too and I downloaded it from http://enpass.sinew.in/apps/windowspc/

Do you really think syncing to the cloud is secure?

before using it I confirmed with the devs and read their technology and FAQ section. All the data is encrypted offline on the device and then synced to my own OneDrive and Dropbox accounts. Awesome thing is my data is not synced with their server so data is not shared. Isn;t it more safe because my strongly encrypted data is stored on Dropbox which also protects my data. So Double Security!!

And on the way? Undoubtedly if the passwords never left the phone it`d be more secure...

They claim that it is always stays encrypted at every point of time. Only the required data is decrypted in the real time. This is what they say. http://enpass.sinew.in/support/faqs/is-enpass-developer-able-to-access-m... http://enpass.sinew.in/support/faqs/if-someone-steals-my-device-how-secu... http://enpass.sinew.in/support/faqs/why-should-i-enable-sync-on-my-devic... and http://enpass.sinew.in/blog/security-in-enpass/

I think the chances of someone breaking into your Dropbox or Onedrive account and getting your password file and then breaking the master password is much less likely than someone stealing your phone and accessing your file that is on your phone.

I use an online password manager called "Intuitive Password". It's completely web-based and works on all browsers running on any device including mobile phones, tablets, laptops and PCs. Worth to take a look!