Seeing an error when updating to Windows 10 Mobile build 14955? Here's a workaround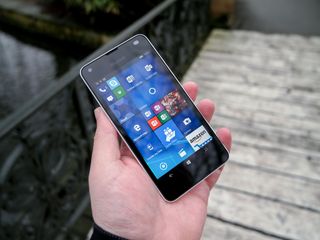 It appears that some Windows Insiders are running into an error — specifically referred to as error 80242006 — when trying to install the latest Windows 10 Mobile Fast ring build 14955. You may also just see it as "no update available". Thankfully, there's a quick and dirty workaround that should get things back into shape and allow you to install the latest build.
As posted by a Microsoft support engineer on the answers forum (opens in new tab), error 80242006 can be circumvented via the following steps:
Switch your device to the Slow ring
Change device date to 7 days in the future
Check for updates (should say "no updates available")
Change device date back to current date
Change device back to Fast ring
Check for updates
This is the same error that was affecting a previous build, and Microsoft offered the same workaround in that case as well. After going through the steps above, you should be off to the races. If you've been encountering this error, let us know in the comments if you have any success with the above workaround!
Windows Central Newsletter
Get the best of Windows Central in in your inbox, every day!
Dan Thorp-Lancaster is the former Editor-in-Chief of Windows Central. He began working with Windows Central, Android Central, and iMore as a news writer in 2014 and is obsessed with tech of all sorts. You can follow Dan on Twitter @DthorpL and Instagram @heyitsdtl.
I thought the issue had been fixed

For most people, yes. But it takes a week for the update configuration on your phone to time out. So if you weren't one of the people who checked for updates immediately the previous build was released, and your phone first saw the new update in the last week, then as I understand it the issue would still be showing for you.

Update status still at 0% from previous build. I hope that time out time of one week is not starting again because i checked again.

Yes, the 6 simple steps listed in this article.

But first you have to wait for timeout. Or am i wrong. And then... Is this fix also for the 0 % issue? Not mentioned explicitly

I think this messed up Cortana. It's been stuck on the day I changed the date.

When the last update had the 0% stuck issue, I did a reset. The phone updated straight from 1511 to 14951. And now to 14955 without an issue. I guess when it's fixed through reset once, it doesn't happen again. But if you used work-around once, you may be doing it this time around as well.

It seems that last update timed out for me and went straight to this update.

I am not getting notifications from apps like WhatsApp and Facebook messenger . Will this update fix this error ?

That's what they said but....

Haha didn't we all. It's shocking

I had to try it twice, but it did work for me.

I try everything I try twice.

I have try to check for for update button but it always showing no update .

Use the work around listed

I hit 0x8024800a on my 950 XL. The listed work around is precisely what I did to fix it.

I think you mean build 14955. Not 14995. Will try when I get home today

Stucked again on 0%, really this **** ...

Yep. Come on MS sort this **** out.

It is the same codebase as PC Windows, so all developers working on that is working on this.

Did you actually follow all of the steps of the workaround? And if you did, please see BBJoe2011's comment further below about accidentally setting the time to October 1 instead of November 1 when setting the date to 7 days in the future.

two of my devices updated without a hitch. on my SP4 there is one problem: The app "mail &; calendar" will not update. I had this problem since the previous update. error code: 0x800700b7

I have this problem as well. And for the past few builds. Can't find a solution anywhere. It used to be just waiting for the next build or running some PowerShell commands, but nothing so far.

"No update available" shown in three devices. Worked fine on one... but the second time around. Installing as I write. Will try it on the other two.

Mobile is a bit of a mess.

Tried this work around a handful of times, still nothing on my 950 XL

Workaround work with my l930 downloading now

HOw was ur L930 after the update?? I've got so many issues with mine.

Would this also work on 14951 build?
After all it is the same bug!

Unlocked dual sim US 950xl no updates available. Had same issue on last update, same result after workaround. Downloading update 14955.

Not work for me. Lumia 535

Had the "No Updates Available" problem - again. Workaround fixed the issue - again. 950XL DS.

I had the issue where no Update was showing. Following the article workaround (but I rebooted my phone after checking for update the first time), and that worked for me on Lumia 950 XL (dual SIM).

working after workaround.... anyone on fast with hp elite x3 ? anyone who received the new hp firmware update?

You may have to switch out of the insider rings to get firmware

Ok, its working now. When i was going 7 days in the future, it landed on the 1st, which is Nov. I was thinking in my head it would change the month automatically, but I left it in Oct...dumb, I know, so I caught my mistake and the work around works on my 950 XL 2sim.

I'm so embarrassed that I didn't realize I was doing this lol.

Trust me, I don't think we are the only ones, lol

Actually, this is one of my own pet peeves with the date selector. Please could you provide feedback on this and upvote others who have submitted similar feedback to have this work in a more natural manner?

You want it to change months if you change dates?

I justed change month Oct->Nov without changing the date - still works.

I use a lumia 1520 for windows insider program updates (use a 950xl for day to day, no insider updates) and have always liked windows mobile, but the wheels are coming off the train. I have not been able to update the last two releases 14955 or 14951. Really! The work-arounds do not work! Will the last microsoft employee still working on windows mobile please just end this pathetic program and turn off the lights.

How about you just leave insider? Seems pretty simple and logical to me...

Best, and easiest, solution. ;-)

The best workaround: Suspend yourself from the insider program and wait for the next (stable) release :P

Be warned, the calendar live tile will be stuck on that future date. I did this with build 14951 and I had heard this would happen and it did.

After the update, my calendar tile is fine. Seems to me, the live tile issue might also affect only a subset.

I faced the error with my Lumia 640XL and the work around worked fine. I did completed the update successfully.

Problem yes work around worked no problem. Please guys stop crying about fast ring bugs, drop to slow ring.

A lot won't though. They just HAVE to use the latest shiny release, like magpies. I also wonder exactly how many actually report issues. MS show all types of warning BEFORE you sign up to insider. They have no reason to complain about bugs etc, although I do concur that the D/L one is a bugger, but easy workaround

Mine doesn't even see this update. Set to fast with previous build installed using work around

My phone won't let me sign in to get the new build. Any help

Did you have the previous insider installed? If you signed out or HR you were stuffed. WDRT called for.

Yeah i did. But signed out and now nothing will let me sign in. So now I can't get updates. Do I need yo hard reset? Hope not. Only cause it takes days for my messages and contacts to come back

Lumia 950 after work around stuck at 1% anyone else..?

Tried the mentioned work around, yet the problem exists

Does your calendar live tile correctly show the current date after you followed this process?

Thanks for responding. Yes it does

Hello. My phone was saying it was up to date even though it didn't download and install this build so I didn't get an error message, yet doing this trick enabled my phone to download the update.

This is why I switched to release preview instead.

I'm stuck at 0% again for this update. Sigh...

On build 14951, I searched for the latest update, and I kept seeing "Your device is up-to-date" until I changed the time and date on my Lumia 640XL to 9th of November, 2016, and the time from 12:16am to 2:16am. I changed my region from Nigeria to United Kingdom and switched the phone off. Before I could get back to search for updates, it was already at 22% downloading. I am at 93% now.

I only had to restart the phone, started updating again and worked.

How you guinea pigs doing today?

Still better than the Apple sheep.

Are you picking on people testing things in their free will?

I keep getting error 0x80070057. What does it mean and how can I solved this? I'm still in build 14946. Thanks.

I am getting same error. Have gone through all steps explained in article. Also did a Hard reset before trying the procedure again. Keep getting error80070057. Anybody have any ideas. Lumia Icon

same. Now all of a sudden its not finding any update at all and apparently is very happy with 14926. I skipped the previous update with the MS account logging in issues and planned on resuming with this one. I was getting the same error as you and tried all the steps in every forum and walkthrough I could find. Now my phone is like a child with its fingers in his ears....lalalala....i can't hear you....no updates....lalalala ;)

I had this problem, and I changed to another liveid.. then the update showed up. Then I went back to my other liveid, and it wanted to "fix me" on the id. Had to stop all preview builds and re-join to fix the id.

Just got it installed onto my desktop computer, but not my 950XL. It says my phone is up to date. Either the update still being rolled out, or they found an issue and pulled it in some markets.

These last few builds: 3 steps forward, 2 steps back. This workaround didn't work this time.

Try few times it worked for me ...

Lumia 535 Updating procees from build 10.0.14951.1000 to 10.0.14955.1000 comleted without problems. But impossible to install check-spell modules for additional languages.

I am getting this error case. 0x80070057?

I am as well on my Icon. I tried the fix above a few times and still no luck. It tries to download and within a few seconds it gives that error 0x80070057

Any luck? I'm still having this problem.... Verizon Icon, 14946, 0x80070057. Tried all preview ring changes and date changes, to no avail.

I'm still stuck with this .. getting 0x80070057 from 14946 on my Verizon Icon.

Don't get no error. Windows Update just doesn't find the update. Maybe southern California is too far away from Redmont, WA.

My phone wasn't seeing the update either, went through the work around and the new update is downloading.

My phone got stuck at 0%of the previous build 951.I did a factory reset and it installed smoothly.This new build installed like a breeze.No problem here.l 950 fast.

Tried few time the work around and it worked, dont know if work around is related but I did it for last 2 build and my 950 work far better than after previous build

Update for me, I did the jump ahead manually date change to a week ahead. No restart. Checked for update and it began download. Immediately changed date back to automatic and it reset to today's date. And my live calendar tile reset back to proper date. It had been stuck since the 14951 update.

I tot they siad they fixed that issue

950XL...This worked for me. So weird that if you switch this and change that, then reverse it, it works. That is some Dr. Seuss Sh!% right there...

Done all work around but...☹

try again and again it worked for me after several time

The fix works for my L1520. Did not even go back to fast ring

Update.
Is work on mobile data?

It's best to do the download over WiFi. Mobile data is charged by your carrier where WiFi is Free.

My phone don't see the update :(

Go through the steps of the work around, I had the same problem, went through the steps and it's now downloading. Mine is at 58% now downloaded.

I did. Did you follow these steps or thr ones in the original article?

Workaround on this build frees up the stuck date on the calendar app from the last update.

New error: 0x800703f1 My 950 on Fast Ring indicated it was up to date so did the same 'trick' as for previous update (from Fast to Soft Ring and setting date +7 days, restart and change date to today and back to Fast Ring and update) and the update is coming through. Part way through the update process I get the error 0x800703f1. I've tried a couple of times to redo the update and same occurs - downloads update, then starts to install and error. Any thoughts?

I'm still having this problem with the latest fast ring update as well.

I stopped preview builds then resumed preview builds (fast ring) and the I got 10.14955

Im not sure if any update can be download with mobile data ? or wifi only ?

It's best to do it over WiFi, mobile data may cause charges that you don't want.

I restart my 950xl dual sim but then I can't get to slow or fast ring ...it said my phone dont have internet connection, help me please

You need to check WiFi connection, I also have the same phone and have to check the WiFi connection and fix it. Usually rebooting the phone will fix the connection, unless your gateway (AT&T) isn't working. Rebooting the gateway may fix your problem, you'll need to wait untill the gateway is completely online, before rebooting the phone.

I wasn't seeing the error, but each time I checked for the update, the phone showed up to date. A co-worker mentioned that he received the update, which let me know it was available. I went through the steps of the work around, and it's now downloading. on the phone.

Sir, I am not getting notifications unless I open the app like WhatsApp and Facebook messenger. Will this update fix this error ?

I can't believe it. I'm downloading the update on my 640 FOR A THIRD TIME!!!! Yeah, I know, "fast ring," Best Effort Try Again, et al... But come on, we've (Microsoft) have been at this for a while now, we know that they can deliver excellent code.

Perhaps the fourth time is a charm. I know, I know... "Definition of insanity..."

It works like a champ in my two Lumia 640.

It's kind of sluggish on my L640!

Out of curiosity, where do you have your apps installed?

It's good to know that it can be installed on a 640.

I hope this fixes issues like not being able to play youtube videos via edge (constant page reloads) and apss crashing (took me ten attempts to open the windows central app to allow me to post this message) all this on a Lumia 830

Thanks, worked on my Lumia 1520.

I did the work around and the update showed up, started downloading, and got stuck at 74%. I rebooted, same thing, stuck at 74%. Reset phone, same thing. Connected it to the computer to use the recovery tool, and it didn't go through the process. First time that's happened. It just will not budge from the state it's in. This Alcatel is done lol. Glad to have a backup.

Do a soft reset and or use a different wifi

My 14951 would not find 14955, CHECK UPDATE would never say that there was a download available.. I followed the steps above but that didn't work. Instead it just sat at 0% and never progressed. I then found the 32 +10 step procedure to upload 14951 from 14946 and followed those procedures. It only took the first 24 step to get 14955 to start downloading. I find it hard to understant Microsoft putting out download even beta (fast ring) that were not first tested on the current release to see if the download would even work.

Error 0x80188302. Will download but fails when it's preparing install.

Does it fail at 7% during the preparation stage? Also what type of phone?

7% for me on a Lumia 950. It fails there repeatedly with 80188302 for this build.

Supposedly, that error means "image is already installed". This comes from MS website.

My Lumia 950 has downloaded the update, and says 'Install now'. But it doesn't install, it just stays like that. Anyone else have this problem? I've tried the work around, and I cant sign into feedback hub to communicate it.

I can't sign into my insider. It says fix me and I try it and it just looks me back over and over again? Do I really need to hard reset? I've literally tried every single step 3 times!! Please help

had to do the work around again for this build.

Daylight saving in UK today - clocks gone back - 14955 now installed OK on 650 and 950xl without any workaround.

I tried all the work arounds and I am still stuck on this build 14946. nothing is working and it says I do not have any updates available. I am on the fast ring. Don't know what to do

When setting the date to 7 days in the future, ensure that you also change the month to November. If you haven't, you'll have set the date back to the beginning of October. The same applies when reseting the date back to todays date. Change both date and month.

error (.x800750057) my nokia 1520 insider 14946 what should i do

I have the same problem with Windows Phone 10 version 10.0.14946.1000. No matter what I try, I cannot update this version to a newer one (15007). I always get the same error x800750057. Also, some apps, such as my banking app and the Whatsapp app do not work. They get stuck in the 'loading...' screen forever. Is there a way to manually install another Windows 10 Mobile version? In my tablet, when a similar problem ocurred, I simply downloaded the latestes available Insiders version in an ISO format and installed it from scratch, effectively solving the problem. I tried every suggested solution I could find in the Internet, including hard resetting the phone (Nokia 1520), but, alas, to no avail. I have lots of available memory on the device, so it is not a factor. My WinPhone is almost useless as it is now. Please help me here! Thanks in advance, Eduardo Quintana

I have the Lumia Icon and I have the exact same problem. I'm not quite sure what to do other than buying a new phone. Ugh.
Windows Central Newsletter
Thank you for signing up to Windows Central. You will receive a verification email shortly.
There was a problem. Please refresh the page and try again.