Selfie aficionados can grab the Lumia 735 in Australia for 399 AUD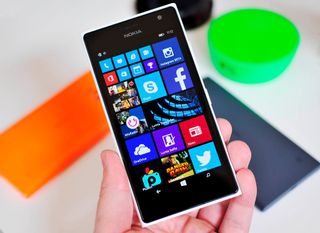 Like what you see with the Lumia 735, the LTE-enabled sibling of the Lumia 730? Well then, we have good news for you, as the device is officially launched in Australia. The Lumia 735 will be available from October 1 from retailers like Dick Smith, Harvey Norman and JB Hi-fi for 399 AUD ($356) outright.
If you're looking to go the carrier route, Vodafone will be offering the Windows Phone 8.1 toting device for $30 a month. In terms of specs, the Lumia 735 offers a 4.7-inch 720p ClearBlack display backed by Gorilla Glass 3, 1.4 GHz quad-core Snapdragon 400 CPU, 1 GB RAM, 8 GB internal storage, microSD slot up to 128 GB, 6.7 MP camera at the back, 5 MP shooter up front, Wi-Fi 802.11 b/g/n, LTE Category 4 connectivity, Bluetooth 4.0, NFC and a 2,200 mAh battery.
Aussie readers, what are your thoughts on the Lumia 735? Would you be interested in picking this up over the Lumia 830? Share your thoughts in the comments.
Thanks for the heads up Sam!
Windows Central Newsletter
Get the best of Windows Central in in your inbox, every day!
Harish Jonnalagadda is a Senior Editor overseeing Asia for Android Central, Windows Central's sister site. When not reviewing phones, he's testing PC hardware, including video cards, motherboards, gaming accessories, and keyboards.
Look like Aussies are not readers of WPCentral

Okay, if I am Right you lose and if you're right I win. Done?

Oh you tipped them. Great

Looks like u tipped them just before me.

Aussie reader here. I don't comment here much but I almost religiously follow WPC via RSS daily. ------------------------- Moving on, I'm currently sporting a Nokia Lumia 520 and it's definitely time to upgrade. I'm not really interested in the 730/735 so I'm hanging out for pricing of the 830, which is essentially a cheaper version of the 930.

Aussie with a 930 updated from a 920 right here

OH yes we are indeed. WPCentral is my best Windows Phone go to. Not all of us sit on our computers in the evenings though..

Now I feel like an idiot being commented first on this post. My mailbox is bombarded by all yours valuable opinions. -_-

Aussie here and an owner of a 1520. :)

Please! I beg of you Sir. --__--

Hehehehe looks like I won the bet muahahahaha

Don't mind me asking but, are you drunk (*_*)

Read it carefully I said I am right you lose and you're right I win. In both scenario I am the winner. Thank you :P

There are more of us then you think... Aussies pass you every day with out you realising... we are everywhere. Especially WPCentral... We just don't open our mouthes... the "strewwwth maaaate" gives us away.

Another Australian here, wpcentral is the first app I open each morning ;)

I'm glad that the first thing I open in morning is my eyes. =_=

When are we getting some hands on vids?

When they start to sell. Isn't october yet.

The cost is stupid....phones great though

Agreed. Is Microsoft serious... I love Windows phones but this L735 is overprised by a mile.

I was looking to buy this as a change for my 520 but with that pricing....i guess im not...

Aficionados (notice the typo) ;)

I don't think it's a typo... Kinda like futbol aficionados...

It was a typo, they had written "aficianados". Now the post has been edited and it's ok!

When in India and what price in ₹

Let's calm down, shall we? Indian availability will be announced soon.

You get it Portuguese? '-'

Porra here in Brazil is "Fuck". LOL

Watch enough football and you learn most swear words from around the world :)

American football or international football (soccer) :P?

Its the sport of kings better than diamond rings. Football. Wildcat Football. Wildcat Football

The price is a high outright but the Vodafone plan is reasonable.

It won't sell for that much, that's just the RRP, it'll be much less in stores.

thats pretty cheap mite pick one up for the old man unless the 830 is more compeling

I'm an Aussie and all the other wp users i know say we are all waiting for a proper replacement to the 1020..

Same with me. I'm on WP for the camera prowess of the Lumia hardware....i simply cannot go back to a phone with a worse camera or no xenon flash.

Spot on. Upgraded to the 930 and wife using 1020. She absolutely loves it. Miss that damn camera.

Same here. Well, my contract is up in March so there may be something new then. Hopefully a 1030. But if I lose / kill my current 620 then this one is a good option.

I'm an Aussie and I'm saying the 930 is where its at. I'll think about the 1020 replacement when it gets here.

Not really interested in this device but its pretty good mid range. I am waiting for 1520 successor that could compete with note 4 and iphone 6plus. Fingers crossed that will be released this year not the next.

Please dont say iphone6 cuz iphone6 specs r way old lol

I know, but its a flagship device that sold 10 millions units in a week. So Nokia/MS should look and learn. Launch a device and ship fast not like the terrible release of 930.

The iPhone 6+ may have sold 10M units, still doesn't make it better than the 1520. The number of units sold just proves that Apple has a lot more core users for their iPhone than Microsoft for their 1520. It has nothing to do with being better at all because the 1520 is still better!

L1520 beats the 6 Plus on nearly all fronts. It only has a slightly smaller ppi density because of that extra 1/2" of screen real estate. Still its an amazing HD display nonetheless. Yet news shows up saying 6 plus has the best screen. I'm like dafuq have you not heard of the 1520? Or are you a bunch of blind people with wallets on a death wish?

The main point is... MS must release new updates to 1520/1020 line. Its been a year since they released 1520 and the screen issue plus poor cellular reception made me sell the device and now I am waiting for a successor that HOPEFULLY doesn't have hardware flaws like 1520. NOTE: Nokia until now didn't fix screen issue because its hardware related.

I guess the only way to open their eyes is to mandate that anyone who says the 6+ has THE best screen ever gets sentenced to death immediately :P. Honestly my so called friends who I now class as fanatics have been raving about it since it went up for sale -.-.

The main point is... MS must release new updates to 1520/1020 line. Its been a year since they released 1520 and the screen issue plus poor cellular reception made me sell the device and now I am waiting for a successor that HOPEFULLY doesn't have hardware flaws like 1520. NOTE: Nokia until now didn't fix screen issue because its hardware related

Hopefully these hop the ditch to NZ as well. Looking forward to the 735 and 830.

It would be awesome if this will be priced close to Moto G's(2nd gen). Might give some serious competition here in India.

+730 if it is priced ₹13000

I guess 735' won't be coming to India!

735 is basically more for us lte bands. Dual sim isn't something us customers really ever use.

Waiting this beauty be launched on Brazil and become more cheap at the end of the year. Unfortunatelly, me dear 520 has been stolen from me few hours ago, so i'll have to wait until that to have money again to buy a new one :/

Will hold out for the 830. Simply a better phone

830 is just a bigger (IPS) screen with a supposedly better camera. They have the same specs.
The 730 have the battery and frontal better still.

No. 10MP with OIS, 16Gb storage, LTE, NFC, Dolby, Glance, hardware camera button... what did I miss?

Processor and full hd display.

Both have the same resolution and processor.

I mean, RAM and processor still the same.... And 735 have LTE. And NFC too....

None of the features is important for me. I would expand memory anyway and the glance screen is nice when it works on an amoled display. All the other ones just don't matter for me either... Posted via the Windows Phone Central App for Android

Don't know why MS always a late comer to indian market. No release of 930, 830 and 730 till now. Many friends on the wall are jumping towards android(RIP). Because waiting seems very painful when we have money in our pockets.

If money bothers you. Donate it for J&K relief work. Much better use of money by saving human lives than craving for a smartphone.

Why are there so many heavily accented Indians here x.x

The biggest reason comes to mind is that "Indians" and "Chinese" jointly makes up almost 33% of worlds population. Secondly Chinese don't love Microsoft, so on we heavily accented Indians loves Microsoft and Windows phone more than any other market.

I'm in Australia. Will be buying a 735 outright to replace my 620.

$399 is just rrp here. But it looks good! Not sure on the 830 as no announcements have been made!! 5mp front facing is great for all those selfies! Instagram will love it! Wireless charging built in with a free coloured case in the box!!

Damn you Vodaphone... Just signed up for a 24 month plan only 2 weeks ago and asked if they were getting either the 830 or 735 and they didn't know... Still I ended up getting the 1320 on a $30 plan for 24 months. This gave me 12 months with an extra 500mb plus the first 2 months free with unlimited data because I was off contract... So total for 24 months with the extras was $660 = BARGAIN!!!! Considering the 1320 costs around $300 outright in Oz I was stoked with this offering and I am now deeply in love ❤ with this monster of a phone.

I'm with Optus and they got no idea as well. They probably will not stock the 735 but I'm hoping the 830 will be picked up by them.

I have had the Samsung Omnia 7 Lumia 820 - 920 and now 1520 in Australia. I think the 735 is a really nice spec device for this market. They won't sell a lot of them for 399 but they will sell bucket loads at Vodaphone on the $30 plan, it might just be the sleeper Windows Phone needs in Australia like the 520 was in India

Agree... Just need the staff at Vodafone to understand how good Windows phones really are. The sales staff member I was dealing with was shocked when I showed him what I could do on my Nokia 625 running the 8.1 update 1 OS... Hopefully it has helped open his eyes up to the Windows system.

Agreed. They really need to up the sales staff knowledge around just how much Windows Phone has to offer.
PS: Another Aussie reader here

Why not global release???

I just bought a 930 in Germany for €299 - http://www.base.de/base/Marke/Nokia/Nokia-Lumia-930-Black/p/90022838?hw_... :) :)

Microsoft had better work out that in Aussie we don't give a f#ck about "affordable flagships" we want true flagships! Why do u think iPhone does so well? We're not a third world country!!!

F@&k yeah!!!!!!!!! Thanks for the laugh boxa. MS and their marketing BS will fail miserably once again in Oz

That just don't get it, do they??

IPhone does well because Australia has a strong focus on plans, Microsoft need to pull their fingers out of their arses and get their phones on ALL networks.

In Australia we don't care how much a phone costs coz we're used to being robbed! So Microsoft give us flagships!!!

iPhone does well because Apple do such a good job at marketing that bimbos dream about it taking over the world in their sleep. True story!!!!

I do not think it has a good price in AU, right now is in amazon France at the price of 229 € (295$) and the 830 349€(450$) ...

True!! Will be very interseting to see how quickly the outright price falls at the retailers. MS don't seem to have a clue but hey whats new about that.

When in Indonesia? Oh come on Microsoft...!!!

http://m.timesofindia.com/tech/mobiles/Jolla-smartphone-comes-to-India-a...

Why its 356$?? That's too much , it was said to be priced at 280 without taxes and subsidies but that's too much !

"Without taxes and subsidies." Sent from somewhere. Don't worry I ain't illegal.

The clock speed is 1.2 GHz bot 1.4

Yahh i was also wondering...

Hoping kogan get a hold of this phone and sell it for $300 as $399 is pretty expensive. Price needs to drop in time for Christmas season Posted via the Windows Phone Central App for Android

Having issues with Kogan warranty, not sure I would like to purchase anything from them. This phone has less redundancies to wake, was saved by the camera button after the switch fell off. No more soft starts. N625

399 dollars. I'd rather dine at vue de mon and buy a Lumia 520!
Kidding phone is great, but people still won't buy it cuz Windows. I don't know what people have against Windows. My brother says that the interface isn't good. I try explaining him that it's different but he wont listen. So Moto G will sell more (as usual)

Yeah don't worry my dumbass brother was under the impression I had to pay to get office on my 820. Android muppets

That's the sort of shit MS has to tell peeps and then they might buy it

Yep I could not agree more.

Will give one a go at work - so retired the Lumia 800 & 900 - Just drowned the Lumia 720 Using Lumia 620, 625, 820, multiple 920's , a 925 (not enough memory) rocking 4 x 1020's (they are awesome) and got one 930 So will give the 735 a run Really love the 930 but cannot jump from a 1020 without Glance

That's a lot (and lots) of devices. Sent from somewhere. Don't worry I ain't illegal.

Article doesn't mention wireless charging, but that adds icing to the cake if included. I'd get one for the Mrs if she needs to replace her 625, so she can use my wireless charging gear at home and in car.

$356!!
Imagine the price in India. Not going tp sell much then.

Yahh they will need to price this below 15000. Otherwise Moto G is there.

Converted it using Cortana, 21,480.40 rupees

That's still a lot.
And if the Australian price includes taxes than here the price will increase more as taxes are higher.
So yes could be well over 20k. Sent from somewhere. Don't worry I ain't illegal.

It's expensive cuz of Australian warranty and 14 days no words money back. All devices are expensive in Australia. But grey market stock will be cheaper.

Let's hope that it will be less than 20, 000.
It will definitely (i think) be more than the 720s launch price. So I am guessing somewhere near 25, 0000. But well, I am just speculating. Sent from somewhere. Don't worry I ain't illegal.

What will denim helps for 730?

Not much.
Read by searching WPCental the features of denim. But it will bring a whole new Lumia Camera (rebranded Nokia Camera) with some niche features. Sent from somewhere. Don't worry I ain't illegal.

Would be better to get 1520 or 1020 grey stock if don't mind warranty issues. Kogan was selling 1520 for 509 aud and 1020 for 419 aud. But they are out of stock for sometime now.

Well asked a retailer today, 2nd October is the release date for India. 730 and 830. 735 won't be available.

400 AUD is still cheaper than the Lumia 720 when it launched in Romania ( ~510 aud)

Microsoft has been really pushing the 930 and office 365 hard in Sydney CBD, ads everywhere. Hope they continue this push for the 735. Also hope the retailers undercut each other early and get to around $350 outright

Aussie here... Ridiculous price. I got my 1520 in perfect condition second hand for 450. It's not a fair comparison, but it really should be priced closer to $300... Microsoft should be aiming for market share over profits at this point in the WP platform. The more people who buy these things, the more apps there is and... The more people who buy them! I love windows phone but I've just started a new business which has no banking app (well no banks have one except Commonwealth Bank) which is making me really push for an iPhone as my next phone which I really don't want to do.. I email my bank just about monthly (Suncorp) and they've told me they're barely have 3% of active users visiting the website on a WP which is why they're not making one as they just push to use the website instead for us folks and this is due to Microsoft and their ridiculous prices. They should be beating their main competitors on price so they can eventually build an app ecosystem that's just as good.

Couldn't agree more with you. Apple really have their stuff together when promoting anything new, whereas Windows seems like a blip in the ocean... eg you hardly notice it.

Microsoft should be selling their phones at cost price, they make a ton of profit from other areas and building a strong marketshare is worth way more than making a few dollars on every phone.

I just got my wife the 930 and I have to say it is beautiful in the hand. Even my kids who have iphone htc one and GS3 say its the nicest looking/feeling phone out right now (even after seeing the iphone 6 today) Now with 8.1 people can really see the UI is not behind and will then find the great backend features like the superior camera and office with OneDrive. I feel like this next year will be the best yet for the platform.

That's an encouraging story.

Priced the same as the Nexus 5? What a rip, it's like Microsoft wants its market share to dwindle.

Try to read between the lines you kiillerXorg. OMG, sorry boy, I think you don't know what's meant by reading between the lines. And its very funny to see someone with username 'killer' xorg advising to save human lives. I pity you.

idk how i read that as lumia 830 and 399 USD i went to go pre order it and was so confused for like 15 mins before i came back here to find what store to get it from feel so dumb right now

Aussie or not Aussie or anywhere else, I don't understand why Microsoft not coming up with a complete phone. I am waiting for a phone with a screen of 930, body of 830. 800 + Snapdragon processor, 2GB ram, 32GB storage with EXPANSION PLEASE PLEASE. 3000 mha battery. Can I challenge MS to make such a phone. Why are they acting like a mediocre company when they have all the resources in the world

Aficionados!! Hearing the word first time.. Gonna learn it !!

Eash, I'm aware that tech costs a fair bit in Australia but that is too much lol. They need to be more competitive!

On pricing, it's normal for the outright pricing to be way out of line with regular retail. At the moment at Dick Smith the 630 unlocked is $218, while a Vodafone pre-paid one is just $99. So I certainly expect it to be readily available closer to $300 or even lower, especially once there's some discounting of it.
Windows Central Newsletter
Thank you for signing up to Windows Central. You will receive a verification email shortly.
There was a problem. Please refresh the page and try again.