SendPro for Windows 10 PCs makes it easier to ship packages using multiple carriers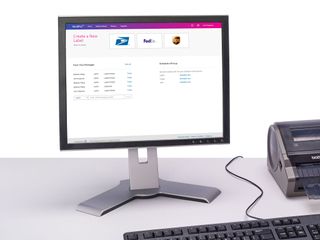 Pitney Bowes has launched a new business app for Windows 10 PCs called SendPro. It allows small and medium-sized companies to ship and track their packages while using multiple carriers such as FedEx, UPS and the U.S. Postal Service.
The Windows 10 app has a number of specific features as well
Let Cortana do the work for you via voice activated, hands-free shipping.
Easily access contact information from multiple sources including Outlook, Gmail and LinkedIn via the People App.
Print labels from any Windows-configured printer.
Scale integration eliminates the need for additional software downloads. Improve your business processes.
Consolidate expense management leveraging a single set of cost accounts.
Manage multiple user access and permissions.
Track spending with user level reporting.
While this version is just for Windows 10 PCs, the press release indicates that a version of SendPro for Windows 10 Mobile is in the works.
I take it this isn't a universal app? Would be damn cool if it was - just hook up phone to some minotor or dock and ship my products. Would make life for vendors at conventions extremely convenient.

Oh man... At least RTFA, dammit. :/ Send from Bikini Bottom via my ShellPhone 950 XL

I read the article, sparky, and it said that there was a W10 app, with a W10Mobile app in the works. That doesn't mean it's a universal app.

I know what you meant by your comment, but all W10 apps are Universal. If a developer has not optimized the layout for mobile, holo, xbox etc..., than they will just release it for the PC, but they only need to optimize the app later to release it on other form factors.

Vernon, This is a Universal App, but the layout is not optimized for small form-factor devices yet. Coming soon...

Ah - I didn't see that in the article. But it's good to know. Thanks!

It is technically a Windows 10 UWP, however as of now it is not supported on phones due to processor restraints (only works on x86 and x64).
Windows Central Newsletter
Get the best of Windows Central in in your inbox, every day!
Thank you for signing up to Windows Central. You will receive a verification email shortly.
There was a problem. Please refresh the page and try again.