Service Announcement: Outlook and SkyDrive experiencing downtime for some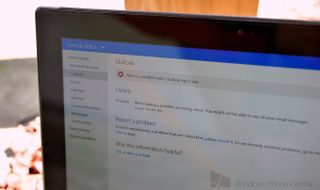 If you are experiencing issues with Microsoft's Outlook.com or SkyDrive virtual cloud service – you are not alone. Microsoft's service status webpage is currently showing downtime for Outlook, People, and SkyDrive.
Outlook.com's issue notice was posted about an hour ago (https://status.live.com/) and states that some users might have issue accessing their email and might not be able to see all email messages. The current service outage may not affect all users, but for those experiencing the issue – we expect Microsoft to resolve the problem within the next few hours.
A similar statement has been posted for People, stating that "there are problems accessing people information" and that "you might not be able to see all your contacts."
Finally Microsoft has stated that "services such as Hotmail, Messenger, and SkyDrive are experiencing technical difficulties."
Let us know if you are currently experiencing issues accessing the above services, and if you are – let us know when you get reconnected.
Windows Central Newsletter
Get the best of Windows Central in in your inbox, every day!
Count me in on this issue. :(

I tried to email WPC, then realized, email is down. LOL

Not working with since last 4 hrs.. :-( Hope they fix it soon

They must changing the skydrive name in all the URLs and queries :P
Here comes WindowsDrive :D

Lol - although they need to drop the word Windows if they want to go mainstream. I go for X-Drive

X-Drive is owned by BMW. Just another patent in the way.

Mazda has SkyActive, they should be BSkyB's next target, there's also a phone card company called GTalk.

Anyone also having an issue with their outlook calendar? I don't know if the calendar included in this, but mine sure isn't working right

Yup, my Outlook has been giving me sync errors with the web-based Outlook for the last few days. Only affects my calendar:

Task 'xxx' reported error (0x8004102A) : 'Error with Send/Receive. There was an error synchronizing your folder hierarchy. Error : 800cce05.'

Hey p51mustang (I like that aircraft) thanks for checking...Its nice to know its not just my account.

I can't access windows live email or outlook.com email or people or skydrive, but calendar is working fine for me.

Let me clarify -- I can access my calendar online, but any changes I've made on my Windows phone and on my Win 8 slate doesn't show up online...so, it's not syncing

I lost access about 3 hours ago, service status at the time was all up but I knew this was a bigger problem and turns out it is. Hopefully not out for much longer, I need access to my mail! To be honest, I've had a Hotmail account for at least 10 years and this is the first time an outage has affected me so no complaints from my side, as long as it's not extended as I'm currently in discussions to start a new job, so I can't afford an extended outage.

Negotiating jobs too! Really don't need this, it's a horrible coincidence

Haha, hopefully it's back up very soon, for both of our cases.

Just when I'm waiting for an important email, outlook goes down. That's just great. If it was a scheduled downtime, that was stupid of them to do it in the morning. If not, still stupid.

It wasn't scheduled, it was unexpected.

Maybe they installed windows updates and the servers are sitting at the spinning dots like my windows 8 laptop here...

here is on and off for at least 2 hours....
thought it was something wrong with authentication , refreshed everything here LOL

WPCentral, you guys are the best!!! I was just trying to bing and google to see if this was a problem only I was experiencing and just then I get a tweet from wpcentral answering my question...AWESOME!

My Outlook is down, but not Skydrive

Figures. I just went to Outlook because I wanted to start using it more instead of Gmail. Nope, can't access anything. Guess I'm sticking with Gmail. Reliability is really important to me.

Because Gmail's never had an outage, right?

I've never experienced a Gmail outage during the many years I've been using it. I'm sure it's happened at some point though. It's just that Outlook having issues the first time I try to really use it leaves a pretty strong first impression.

Sorry things have given you a sour taste from the start. I can honestly say I've been using Hotmail >Windows Live>Outlook mail for years and have never been affected by any lengthy downtime-I have found it to be highly reliable thus far. Hopefully this issue gets resolved quickly and you get to see how great it really is.

This is the first time I have ever heard of this; normally it is completely reliable. Hopefully Outlook can win you over once they get back online.

This is definately not their first downtime. I use Outlook and Gmail and I feel that Gmail is more reliable.

Completely anecdotal, but I feel the opposite from my history.

I have had really good success with it but today's outage seemed to last forever. Mine is finally back up.

As a hotmail user of over 10 years this is the first time I've noticed an outage, and I use my email frequently.

From UK - no probs for me ... for now

Any chance this effecting office365?

Had to send an important email and was unable to access my hotmail. Had to use GMail instead. SkyDrive is also not working. My 920 has said that it's having issues with Hotmail for the last 3 hours or so.

I have two hotmail accounts, unfortunately the most important one has been DOA since 9:29am EST.

inb4 all the "SEE!?!?! THIS IS WHY THE CLOUD WILL NEVER WORK!!!" comments...

This is why the Cloud will never work! Microsoft are stupid for making Outlook! (sarcastic comment)

Dаmn you Harry Popper!!!!

Same here.....hotmail down

Im suffering from email withdrawal. I havent seen an issue with SkyDrive

Works perfect in switzerland :)

People, Outlook and Skydrive all up and running for me here (NW Arkansas).

My email has been fine, but when I try to buy an app (Chaos Rings) on the marketplace I repeatedly get an error.

Nevermind, I forgot the game doesn't work on WP8, only 7.8

It's crazy how this happened to coincide with me looking for a email someone was suppose to send. You end up hitting the refresh a lot with probably just makes things worse for the people trying to get things going again.

Overall, Outlook has been pretty reliable. I guess this is just part of the growing pains with so many people (including myself) switching from Gmail.

Not working on my smartphone...los angeles, ca


My outlook, people and SkyDrive still out after a few hours....down here in south florida....as far as reliability is concerned, anything can happen anytime to any service....what's important is how fast its fixed, no?

I say that's reasonable, but apparently others don't see it that way.

Well, it's going on four hours now. For a service as critical as email, that's a very long time.

Not working for me online or via mobile. This is so frustrating as this is (sadly) my primary email. Also, very disappointing because there have been so many problems with accessing my email as of late.

outlook, skydrive, people - down for over 3 hours here

Mine is working through the office outlook software, and the Windows 8 and Windows Phone 8 app. If I log into the outlook website for access, that is where the problem seems to be.

I am only having trouble reaching Outlook. When trying to go from SkyDrive to Outlook, I can see I have six emails waiting for me.

Outlook down, but when logging on, it says an update will be provided at 2am (Australian WST).

Thats what I got too, except mine is in Central Time.

Updates We're working on the problem and will provide an update by Aug 14 1:00 PM. Thank you for your patience. Aug 14 11:01 AM

Iam out too L920 hope is up soon I dont want to use the gcraqp again


I've been unable to access Hotmail for the past three hours.

man still down for me.. need an urgent access to it..uhhh

Outlook is now working for me... NYC.

Check that... I received mail, then it went out again.

Am now seeing this text: We're working on the problem and will provide an update by Aug 14 11:00 AM. Thank you for your patience.Aug 14 9:01 AM
I am in the Pacific time zone, down the street from Microsoft. Tee hee.

"We're working on the problem and will provide an update by 15 August 1:00. Thank you for your patience."
I hope it will be fixed by then.

Is this what happens after patch Tuesday? lol

Yep. I had just finished typing an email at around 9 this morning, then it wouldn't send. Wouldn't save as a draft either, so I had to send it from a different address. I've been checking periodically since then, and can't log in.

I signed out, and then signed back in and it is working now. I see my messages.
Stay tuned!

MIne appears to be working again.

Mine is working now. Signed out and back in.

I just got a Lumia 520 to match my ThinkPad and was wondering why the calendars weren't syncing!

These Microsost outages are increasing and becoming really annoying!!! WTF!!!

I can sign in on Outlook.com, but when i sync my phone it s last updated 5 hours ago...

You can sign in, but the service hasn't been completely fixed, as you can't recieve emails yet and get an error in mail apps.

They are updating SkyDrive storage because anniversary

Now logged in, and can see the list of e-mail messages, but saw a Service message at the top, and then the system logged me out and the standard service message appeard again!!! It's been more than six hours here in PT without e-mail! This is pathetic.

My mobile email has been out for the past 3 hours. I haven't tried the web client yet.

I have been down hard for 4 hours now. :-(

Everything was fine until this moment , now i can't see my email via mobile or website

I can see my email on outlook.com but cannot access my email on my 920 I get the error code 86000c09

Back up and running as of about an hour ago.

Can't anyone tell the truth anymore....small amount, right! Everyone I know/do business with in multiple states, that is on outlook/skydrive is out and we are scrambling to connect via other feeds.

Same for me. Fine up to 21:00 and now, no more Outlook.com / from Switzerland.

I can get on the outlook.com web but not through my WindowsPhone or through Outlook desktop app, this applies to skydrive, people, mail and calendar

Still down here on the east coast of US!

Still down here in AUS! :(

I haven't been able to access Outlook in thee months while People, Calendar, and Skydrive still work! I can still get mail through my phone and mail apps, though. It has something to do with non-Microsoft domain Microsoft Accounts (non-Outlook, Hotmail, Live, etc.). It keeps thinking that I am an Office 365 user. The first report of this that I can find for other people goes all the way back to January!

Do you have those non-microsft domain accounts linked to your outlook account? Have you tried logging into your outlook account via IE10 in private mode?

My non-microsoft account is my account - I had it long before I ever even turned email on for it - so it's not linked to anything that I am aware of. However, now I'm thinking I should try to log on as the guid in the 'sent on behalf of' text, but I may have tried that once before. Anyway, when using private mode it tells me that "This account cannot log into Outlook.com. Log out and try again with a non Office 365 account"

Still down here to, live, outlook down and no emails in US.
Come on Microsoft get it together

Looks like everything's back to normal here! Synced and up to date!

Still down on East Coast.

Working on a computer, but still can't sync on the phone.

Still can't sync new email on outlook client.

Still down on my 920. Had to check my email via the PC.

Weird. Still getting the sync error (12-16 hrs depending on which account) on the phone, but do get new messages and can send out from phone just fine. Went on web to double check. On east coast.

Still down on my Lumia 1020, getting different error codes now: hotmail error 85010017 and hotmail error 85010014.

Outlook down on Lumia 920. Error states blu-m hotmail.com down when trying to sync. Seems to work accessing outlook.com on WP IE.

Same here on Lumia 925. It works when I go to the website but neither my tab nor my phone will sync.

My email is still down :'(

Yep, my email has been down since when I woke up this morning and is still not working. Very annoying!

Hey guys need a little help. I chose the worst day to reset my lumia. Initially the service status showed that both the 'people' and 'outlook' were down and so none of my contacts, backup messages or mails synced back to my phone. Every time i tried to manually sync, got an error: 86000C09.
After some time the service status shows that the people service is up and running while outlook is still down. I still havent got my contacts back in the phone.
What I want to know is, once everything is up and running will my contacts and all, hopefully, sync back or will i need to reset my device and start over again?
Thanks.

Still down. The oddity is, it seems app specific. The website is working fine for me, but calendar and email sync within the metro apps on PC and WP are both not working.

This is funny, I check this website all the time, but I just woke up and can't sync my e-mail, so I googled the error code and found this xD
Anyways, let's hope it'll be fixed soon!

Yeap... +1 here for about 12 hours now... Terrible... :-(

Mobile device email sync still not working...completely unacceptable.

Mobile access on my Z10 is obsolete!! I can't even reconnect my hotmail account and I have no access via my playbook or laptop either. This has me very worried and frustrated! I hope I don't lose all my information!
Worried in Northern Ontario Canada

Update: looks like back to normal now for me here in AUS - both web and Lumia 920 emails are now syncing...whew!

Not working here, either. Meh.

This service has been flaky since we were forced to start using the awful Skype, and hotmail in spite of any promise to keep it was nevertheless dumped (which I'm sure constitutes breach of service agreement). Whilst I'm not interested in having all my e-mails scanned to please advertising corporations, thus will never go near gmail, this is extremely poor service after forcing us all to migrate.

What a pain. Finally have some syncing.....but stuff on my desktop is not showing in Outlook.co.nz on my WP8 (Lumia 720) - and stuff in my Live.com account is not showing in the Outlook account (an alias)either.

Took all night of syncing just to get some info back into the Outlook account!!

Poor performance, but great data usage with almost continuous syncing!!

I still have issues on my Windows Phone with syncing my Outlook.com account. While status page claims Outllook is running normally. Is it just me?! =(

No. Im having the same problem. Says it having trouble connecting to blu-m.hotmail.com Error 86000C09

Same error message I have. Frustrating =(

Hey,
I am able to login to my account on web, however it is not able to sync on my 920 or outlook desktop application.
Any Idea? whats happening?



Still not syncing on my metro mail, calendar, people apps on windows 8. Windows phone and the web are working fine for me.

Still not syncing on my Apple devices (iPad & iPhone), but working on my PC w/Windows 8
Windows Central Newsletter
Thank you for signing up to Windows Central. You will receive a verification email shortly.
There was a problem. Please refresh the page and try again.