Grab a bunch of Disney games for free for Windows Phone and Windows 8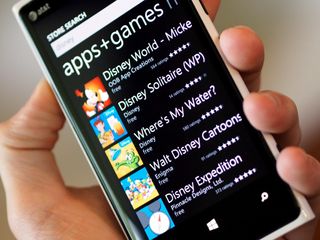 If you have heard good things about the many Disney published games for Windows Phone but have never downloaded them, today's your lucky day. A number of the games are currently free to download for Windows Phone and Windows 8.
The Windows Store listings all show that this is a temporary promotion but that it will last at least another 13 days, so that's plenty of time to grab these games before they revert back to their normal prices.
Does this change in pricing make you want to jump in and download these games for your Windows Phone or Windows 8 device?
Thanks to Rushab Chopra for the tip!
Thank you Disney and thank you Windows Phone Central!!!

Thanks a ton Disney and thanks WPCentral for the tip. :)

just finished setting up my RT so my son can use it and this will be great to have full version of these games on it for him.

338mb for a solitaire game??? LMAO.

Exactly what I was just thinking! :)

It's not solitaire, it's different, I payed for it :-o

In windows phone..games consume too much space after installing...ex. Downloading shows 5mb & game shows 40 mb in storage...i have problem with it...android users don't ave this much large size installation space,,,,,can anyone help me>>>i'm using wp8..is it same in wp8.1 dev preview....

Many of the Disney games will store game data in the cloud (OneDrive) saving on storage space and allowing Universalness.

would please explease explain in deatail how...?

Not really. The reason I don't install Disney games doesn't have to do with price but with lack of Xbox Live features. If it's not an Xbox game it's not worth my time.

Seriously? You need reinforcement that badly? I mean sure, I wish all games were Xbox live, but not even willing to look at anything without achievements? Very bizarre...

Yep I'm with you on this one. No live thus not worth the time

+1, the only game i have on my phone thats not XBOX enabled is 2048

I'd have liked lost light and the other recently released car game for free too. But anyway, always good to see Disney giving attention to WP.

I'm getting some of them. I got some when they were free before

I doubt to clear if you start download and cancelled the download... after some days if we want to download once again will the app will be free that time also...heard that once downloaded app will be seen in our Ms account...

It says not available for my 920

John@ please edit in post most of the disney games are also updated today.. ....

The good ones say not available for your device.. A 512 thing again?

Any recommendations on which are best? It's to save me downloading them all! Looking for which ones (if any) a 3-year-old might enjoy. Thanks!

These games have social network links, unlimited in app payments, and advertising. So none of them are suitable for a 3 year old.

Try the Cbeebies Playtime game. Absolutely free and educational. My girls like it.

Waste of money, all in app purchases that are expensive, in fact over priced! Don't be fooled these games ARE free to download but NOT free to FULLY complete.

Also the graphics suck rocks. WAY too fussy for a phone screen. Text is too small and the font is illegible.

Gonna need a memory card asap!!!!

Thank you Disney, awesome to see you supporting WP! Thanks WPC for the awesome tip. Downloaded what I can although the 630 lacks features that some games require!

And wheres Castle of Illusion ?? One of the beat!!

Thank you so much
.........

I am so tired reading in the comments about someone having a problem the way this or that works and android or iPhone does not do it that way. 1) This is not the place to post this, go to the forums. 2) Who cares if you do not like it, leave the platform. 3) stop being whiny little Biatches and find something to do with your life.

I am 25 years old.. What are some fun disney game to download?

WMW? XYY isn't available for my 1020 with 8.1DP

But they never make temple run oz free

I reckon that's because they let the makers of temple run use the Oz name and thus Disney has no control over price (same with Brave).

thanks a lot ... i must try toy story first .. :D

OH MY GOD THANK YOU DISNEY thank you WPcentral!