Sharknado begins terrorizing Xbox One owners with Syfy app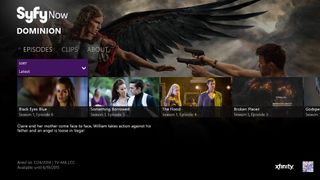 Syfy is capitalizing on the launch of Sharknado 2 with a new TV Everywhere app that will allow Xbox One owners to watch full episodes from Syfy's network. Additionally, for a limited time, Syfy subscribers will be able to watch both Sharknado and Sharknado 2: The Second One inside the app, though it's unclear how long that special viewing promotion is good for.
Not a Sharknado fan? Syfy says that its Syfy Now app will support current shows like Defiance, Dominion, Face Off, and The Wil Wheaton Project.
To view the content, you'll need to enter your cable, satellite, or fiber subscriber credentials into the app, so unfortunately it's not quite good for cord cutters.
Source: Xbox (opens in new tab)
Windows Central Newsletter
Get the best of Windows Central in your inbox, every day!
Chuong's passion for gadgets began with the humble PDA. Since then, he has covered a range of consumer and enterprise devices, raning from smartphones to tablets, laptops to desktops and everything in between for publications like Pocketnow, Digital Trends, Wareable, Paste Magazine, and TechRadar in the past before joining the awesome team at Windows Central. Based in the San Francisco Bay Area, when not working, he likes exploring the diverse and eclectic food scene, taking short jaunts to wine country, soaking in the sun along California's coast, consuming news, and finding new hiking trails.
Umm...the Syfy app isn't new.

They're coming out with too much good stuff. Give me something to complain about, please.

How can you not be a fan of sharknado

+925 Sharknado 2 restored the respect I had for Wil Wheaton before I made the mistake of watching The Wil Wheaton Project.

I watched 37 minutes of Sharknado 2 last night...37 minutes of my life wasted. What a load of tornado-infused shark sh*t that movie was yo.

The worst part is there was enough interest in the original garbage for there to be that sequel.

Already announced there will be a third.

They're making a third? You've got to be kidding me :(

It was badly fun. I loved all the cameos

+925 Not to mention all the movie and TV show scene references and reenactments. Great job on the Twilight Zone scene.

What's worse is the people that dont understand that ITS SUPPOSED TO BE BAD. THATS THE POINT.

Hell I got something to complain about Xbox. Xbox one is down every other day I don't even kno what's going on but its sad when I have to go back to 360 just to play a game but syfy is rocking it but I still wouldn't trade my xobx for a playstation

The only thing that terrified me about Sharknado is that it might never have ended

The only thing that terrified me is that people watch this crap

What terrifies me is that my chainsaw won't start in time to defend against a shark.

Sharknado is worldwide baby! A plethora of sharks riding in a tornado, ready to wreak havoc away from the ocean, should be a galactic experience...

I just don't get the whole Sharknado thing. In the long list of totally ridiculous, poorly written, directed and acted movies that have been created or sanctioned by Syfy, this idea was the worst. How on earth has it spawned a sequel and all the hype? How far down the toilet has our society gone?

But will they offer the RIFFTRAX LIVE of Sharknado? :)

If only Piranhaconda had taken off like sharknado

First one was good. Just downloaded #2 to my phone and transferred to the comp for larger viewing.

Benji Bronk is in #2, hey now!! Posted via Windows Phone Central App

DLNA client app pls. Xbox one media hub? Bullshit!

Facepalm. Society, please stop encouraging bad things. Justin Bieber, Paris Hilton, US Congressional representatives, sock hats, skinny carpis for men, and Sharknado! :)

Sharknado 2!
the only thing I know about it it's the studio uses Lightwave, which is nice. Never watched it though, but in siggraph I saw guys from the studio talking about it. assets look nice!