Shazam for Windows Phone gets a big update with a new design and more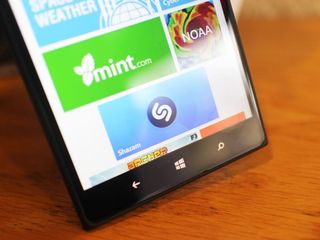 Today, Shazam joined the many Windows Phone apps that have been receiving big updates with a new 4.0 version that includes a new user interface along with other features and improvements.
The bullet point list of new and improved features in the Shazam app is as follows
A new recognition engine with faster and more accurate Shazaming
Quicker app startup so you can get Shazaming sooner
Brand new interface, designed specifically for Windows Phone 8.1
New song pages with lyrics, videos and links to Xbox Music
In addition, the app page says, "This is only the beginning and you can expect many more updates through 2015…" That should be very encouraging news for fans of Shazam. The update applies to both the free, ad-supported, Shazam app as well as the $5.99 ad free version, Shazam Encore.
Get the Windows Central Newsletter
All the latest news, reviews, and guides for Windows and Xbox diehards.
Loving the updates and attention WP getting .!! December is lucky for WP .!! ;). But also need snapchat official for WP received mail from snapchat today too stop using third party again :/

I sent them a nasty email to them since they said they were going to shut down my account for using a 3rd party app.

We would love to see that nasty email you send, can you post it here? :) Maybe we all can follow your way :)

Haha they didn't send me a copy, it's thru their website.

Ah damn it, stupid company :)

What's the difference between a normal version and the encore?

It's right there in the article... Yup.

@SammyD97:
Trend is nice...
But I don't like THAT update.
Still have to check the promise of the improved recognition engine...
But visually it's a nightmare, because this is the next app that lost it's gorgeous design. Why is "everybody" scrapping panoramic experiences these days?!
These were what made Windows Phone beautiful for me.

In my opinion, design is pointless if functionality takes a hit. Shazam had very limited functionality until now. My only qualm is that the chart is gone, although it may return in one of the promised 2015 updates.

Oho! Wp picking up some momentum!!

All these updates!! I love it!

What happened to Windows Phone.... These much attention now a days :) LOVE WP LOVE MSFT.. :)

It must be the "everybody is excited about Windows 10" effect. BTW, I'm pretty excited too.

WP is on fire. It is indeed Christmas

Kik retired support for WP

Waiting for an instagram update

Really waiting for an instagram update...

but, it much better than waiting for a vine update

I don't use vine, but we do need an update. I feel that will never come... But we truly need an instagram update more than anything...

Waiting for an IMDB update!

@em1ke:
What would you want in an IMDB update?
Yes, it has it's shortcomings, but if I need anything more than the app offers (which is rare), I visit the website. I love the app's visuals and I'm afraid, if they update it, they break it, just like "Weather flow" and now "Shazam".

Login/rate movies from the app.

@em1ke:
Okay. That is indeed a lack of features.
I didn't miss it, because I usually use the app for discovery only.

Me too are you listening Nokia we need denim and fast..

Waiting for the 'wait' update

@2258mmm
Nokia??
Lol, they aren't making phones anymore. However if they change their minds and they can only get back into smartphones in 2016. Microsoft is now responsible for updates as they bought the d & s division from Nokia earlier this year.

Well, just hope he doesn't get stuck in a chimney somewhere :P.

The end of 2014 is good for WP apps folks ! Updates and new apps are coming at a fast pace

I hope this continues next year

Those updates are good
But we need major updates
Like calling in messenger
Video calling in viber
Tango
Good facebook app

Honestly facebook is excellent just annoyed about a) the actual facebook terms changes (nothing we can control) and b) I cant view close friends and family to see what they like on the phone when I chose to add them to that list. If that's there I'm perfectly happy then

I hope this trend keeps going

What's the difference between paid an free in this app

There are ads in the free version.

No ads in the paid version.

Its looks great now.. Between ANGRY BIRD STELLA is available in store for free :)

YES! http://www.windowsphone.com/en-us/store/app/angry-birds-stella/4d1a2f37-...

With XBOX Live. No wonder it took a while.

I'm loving this trend of apps being updated, I hope it continues!

It's amazing!! Just one problem - I lost all of my music tags... :( Any idea how to restore them?

That's weird I still have all my tags

same here.. lost all of them.. would like to get them back...

Cool. And Angry Birds Stella is now available on WP

here http://www.windowsphone.com/en-us/store/app/angry-birds-stella/4d1a2f37-...

Love that there is a Shazam update. :) Can anyone tell me if I tag something on my WP, will I be able to see the tag on the website?

So much for Shazam not supporting WP any more.

Sorry for asking but didn't they drop support? They changed their minds?

I'm assuming Microsoft tossed a bag of money Shazam's way.


Changelog suggests that they changed their mind, "Shazam is back on Windows Phone "

Nice one! Windows Phone is looking up again! :D

Maybe devs know something we don't. Seems like support has increased dramatically across the board.

Windows 10 with universal apps, maybe?

It's a universal app now :)

You do not change your mind just like that. IMO the reason for this sudden change in mind and "strategy" is Windows 10. One would be pretty dumb to abandon a platform which could, if it takes off, increase your userbase rapidly. As Windows 10 allows Apps to run on Phone, Tablet, PC and hell even XBox. All this without doing a single change to the underlying code. Just take a look at the leaked Lumia Camera Beta which is running on a Windows 10 PC. This app has never been adapted to be a full blown Tablet app, its the same WP app just adapting its UI to a bigger screen. I am really sure will we see more annoucements and app releases of big name companies pop out of nowhere over the coming months.
Microsoft is onto something here and this could be a huge for them and devs of this platform.

Your words would have carried more bite without the lol

This is great but why would anyone need Shazam when music reconition is built into Cortana?

Maybe because only 1% of earth has Cortana?

Windows Phones without Cortana have it built into Bing so Shazam would still be pointless.

I don't have it this feature supported in some regions so no Cortana and no Bing music recognition

I was wondering the same thing.

So you can have a list of the songs you tagged, and purchase later if desired. Cortana is good, but won't save your music searches...unless you tell her to make a not. But I would much rather them update Cortana with the ability to create an email for me, or allow me to choose what calendar I want an event added to.

Cortana saves the music searches, only tap the hamburger button and tap again on music searches, and if you click on any song, it will open Xbox music to purchase it or listen a bit of the song.

Thanks, I didn't know that. Do you know if the searches are just saved on the device, or the web? Just asking, cause I'll tag a song with Shazam that I like, but after having to do a wipe I lost everything because their old WP app did not sync with anything.

Actually cortana saves your music searches. Press search-->hamburger button on top right-->music searches. And the songs link directly to xbox music.

Apparently musiXmatch has Cortana integration so you can just tell cortana "musiXmatch identify" or something like that. I forget the exact wording.

@Silent Night:
"I forget the exact wording."
Which shouldn't be a problem, because Cortana is about natural language recognition. Or doesn't that factor in when using third-party-apps. Do these interactions require exact wording?

Sweet!
Hope the boys at Soundhound are taking notes.

I am loving this big wave of news updates but FOR ME this will not be complete without an Instagram update.
And they just announced five more filters and another features... :(

We know. Every article about every app has to have some off topic Instagram comment. Everyone knows IG isn't updated. No need to keep it on repeat. I'm guessing InstaGram doesn't peruse the comments section of a Shazam article. Try Tweeting them or posting to their Facebook page or emailing them.

Go check the hashtag on Twitter #InstagramWPIsAlive and will se how many tweets asking for a update and they don't answer

Now I don't know whether to use this our Musixmatch.

I must be dreaming. Shazam and the word "update" are worlds apart... Huh. Well, glad to see this finally happening. Hope they added the Shazam account. It's a pain loosing all those tags after app updates, phone updates or when switching phones.

Seriously updating 5 apps daily.. This is insane... And good for WP ecosystem...!!

UI hate it. too Androidish. mailed shazam that change the UI again to make it perfect for wp.

Get out of here you don't appreciate when apps actually get support on windows phone

I do appreciate. i frequently chat with shazam devs. about the UI, about features of the app. ppl too reacted when OneDrive had the android ish UI. so what's the problem?

They are just making the app more pretty. LOL

There is nothing Android about it Android copying windows phone it's windows phone UI not Android

I'D LOVE INSTAGRAM AND TWITTER TO GET UPDATED! That'd make not only December, but whole 2015 great haha.

Nice update though currently gives you a link to buy music on Google Play rather than Xbox music like the screenshot shows. I'm guessing it might be something to do with the user agent string on IE in 8.1.1.

Me too, i hope for new update to fix that

I only use Cortana's music search to find out what the song is playing. That's why I deleted Shazam and I do not need it anymore.

Omg. Thanks to some you who have reported that angry birds Stella is now available for download from Windows Phone store. The year 2014 has been very good for our platform.

The store just shows an error whenever I try to update the app

Go to storage sense and move the app from your SD card to your phone and you'll be able to update.

So the app is no longer installable to the SD card? Sadly, I'll have to uninstall this app from my phone

Finally!!!! Been waiting for an update for ages

Waiting for wynk music from airtel

Its good seen many apps and updates coming.

Vine and Instagram should go through the update procedure!!

Thanks Microsoft for all of these apps and updates (:

Microsoft didn't make this update...

They're the reason behind these updates. If they would have given up on Windows phone and stopped updating their phones then the company's wouldn't have a reason to update and port apps.

So Tom Warren was holding us down. I knew it.

Nice I'll download it again.

YESSSSSSS!!!! Finally. I love how it recognize not just american pop but also caribbean soca and indian music. There database is incomparable!

Start-up is so fast. Developers, take notes.

@Tafsern, you have the creepiest profile pic ever. lol.

Now if only we could buy songs on Xbox music instead of google store....

so many updates recently; we live for the update!

Woah
Woah
Woah
!!!!!!!! They took away the tag now pinable tile for start! Where are you hidden at?

Just long press the shazam sign in the app and the option is there

One major problem, it provides a link to download the song through the Google Play store only. Obviously not possible. I have emailed support re this silly oversight. Was it not previously linked to Xbox Music?

OK so, it's been updated. But did anyone notice it's also been gimped? You can't pin Shazam Now! anymore, no more live lyrics, and what's this I'm seeing? Google play music store? No new features as I see it.

You can, just long press the shazam sign in the app and the option shows up

Thanks! Wow that looks hideous.

Maybe I'm wrong, but I don't see where I can log into shazam, or pin the 'tag' tile to start like the old version had. Can someone please confirm that I''m not just over looking these things? Thanks

It's a bit hidden but if you hold the big Shazam logo in the middle it lets you do it.

Not relative but Nokia Chat beta have update too :))

I love the updated version!!

I'm so happy they've done it. All I want now is: smoother (Facebook) Messenger; Facebook app to have "I'm feeling"; Official Vine update; Official Snapchat;

For snapchat go to snapchat.com->support->device request and select windows phone then the app might come sooner

I voted. I will let more ppl know. TY

Then tell them to actually make a freaking app lazy snap chat bums.

I've got the Encore version, and for some reason it only ever links to the Play or Amazon stores after the update! They've also removed the charts. Why make such steps back?! Useless. Looks a bit nicer though...

Wow, brand new shinny app for the holidays. It looks and feels like new.
Welcome back Shazam, we missed you! PS....Please don't forget to update you're earlier app ratings & comments in the Windows Phone Store.

What!!!!!!!!!size is only 1 MB. amazing work

Videos don't play, show tags as available on Google Play !!!

"expect many more updates in 2015" YES!!! Shazam finally showing support!

Now I just wait the LIVE LOCK SCREEN BETA is OFFICIAL and FIX DELAY BUG. I want that for my Christmas gift this year.

I love this flood of big names updating their WP apps! Now I just need IMDb to update their almost 3 year old crappy app....have you guys also mailed them asking for an update already at mobileweb@imdb.com? :)

Needs Cortana integration

Well I updated Shazam as well, but I am on 930 and app is s bit lagging when swipe from main page to tags...

Why can't this be the free app of the month?

Does new update mean that app will stop supporting 512 MB devices? I don't see any need to display that 512 MB banner for this article.

This happened last year too! It's a great feeling!

Whats the use of this app?

None. Cortana is faster to use.

Shazam identify TV Shows too.

This update destroy my tag history... Sniff...

Yay Posted via Windows Phone Central App

I hope spotify joins this new updating trend ^^

Good to see more updates. I emailed GasBuddy and they said they're working on an update for their app which hasn't been updated in almost 2 years.

My shazzam started to get slow hopefully this update will fix.

Haven't had a need for apps like this since its built into Cortana.

All the apps are losing the Windows phone design !! Why ?? :(

I cant search in mix radio like befre. What to do

Oh yeah,its Christmas already!

So don't use Cortana to find music

App won't load after update on my 920. Tried reinstalling and still doesn't load

Funny, I feel the Application downgraded after this update, earlier it would allow me to choose the application to open to download the music like the mix radio, music + etc... now it forces me to use just the X BOX.. WTF... this is not fair... :(