Protecting the Universe with Shooty Sky Heroes, a fast-paced Windows Phone arcade game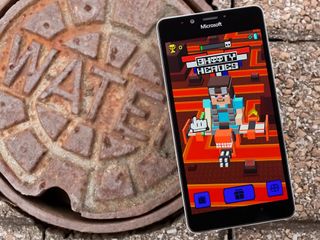 Shooty Sky Heroes is a fast-paced arcade style game that is available from the Windows Phone Store where you take to the sky to defend the Universe against an endless wave of enemy ships and creatures.
The overhead shooter is reminiscent of Impossible Shoota with its frantic pace and Minecraft with its boxy, pixelated graphics. You have boosters for your weapons and almost thirty pilots to unlock ranging from Superman to Star Wars' characters.
Shooty Sky Heroes is a fun, colorful gaming option to have tucked away on your Windows Phone when you need to fill that arcade gaming itch.
Shooty Sky Heroes primary menu will detail your gaming stats that includes your high score and gem count across the top of the display and menu options running across the bottom of the screen. Menu options include unlocking or choosing your hero, play the slot machine for gifts and choose your weapon configuration.
The hero selection offers about thirty characters to pilot your fighter plane and includes the likes of the Hulk, Batman, Superman, R2-D2 and more. Each hero will have a unique special attack, ship and gaming background. For example, the Jedi character flies an X-Wing styled fighter while the Hulk's special attack includes what appears to be giant hulk fists bashing the enemy.
You begin game play as the generic character "Steve" and can purchase other characters via in-app purchase or play the slots with the gems you earn to unlock them.
Weapons configurations include six different weapon styles that are unlocked by watching an advertisement video. The weapons range from straightforward cannons to multi-directional cannons that can be more destructive. It is worth enduring the 30-second advertisement video to give your ship a boost in firepower.
To jump into gameplay, tap the center area of the primary menu for Shooty Sky Heroes. There will be a slight pause as your ship moves into view on the gaming screen and then you will experience chaos. Tap/hold the screen to shoot your ship's weapon and to pilot the ship around the screen. Enemy ships will enter the screen from the top and sides of the gaming screen, much like you would find in the classic arcade game Galaga.
Your job is to blast the enemies into smithereens while avoiding being shot or crashing into the enemy. You do have a weapon's burst option but releasing your hold on the screen. You will see your ship begin to shake and glimmer and when you tap the screen to resume fire, your ship will launch a healthy barrage of rounds across the screen.
The longer you survive, the more intense the enemy attack and you will have some periods of inactivity to rest your finger. Enemy ships range from ships resembling a Star Wars Tie Fighter to Transformer looking characters. Shooty Sky Heroes isn't very forgiving in that one hit by a ship and the game ends.
You do have bonus items that drift down the gaming screen that can be shot to unlock power-ups and then there are gems to be collected. When the game ends, you will have the option to resume gameplay by spending some of those gems or move on to start another game from the beginning.
Shooty Sky Heroes also has free gifts that will appear on occasion that will reward you with a few bonus gems. These gifts are a great chance to build your gem count and play the slots to unlock new heroes.
Overall Impression
Shooty Sky Heroes is a fun, colorful Windows Phone game to spend a little time with. Gameplay is quick and challenging and the graphics are full of color and pop. Being a Star Wars fan, the hero selection is appealing, but wish there were other means of unlocking them other than cash purchase or the slot machine.
There is a slight addictive pull to Shooty Sky Heroes and while I don't know if the game can hold up to marathon gaming sessions, it plays out nicely for shorter gaming spurts. Especially when you begin to unlock the other heroes and give "Steve" a break.
Download Shooty Sky Heroes for Windows Phone (Free) (opens in new tab)
George is the Reviews Editor at Windows Central, concentrating on Windows 10 PC and Mobile apps. He's been a supporter of the platform since the days of Windows CE and uses his current Windows 10 Mobile phone daily to keep up with life and enjoy a game during down time.
The character is the same as in Minecraft.Downloading now... Posted from Windows Central for Windows 10 Mobile!

That's definitely not going to attract a C&D from Mojang.

Not sure Mojang has a copyright on crappy 8-bit videograme characters, you know, the one's they parody. So long as there is no mention of 'Minecraft' or 'Mojang' they should be fine. Hell, if anything you can say Dire Straits did it first and Mojang owes them money (for nothing).

Very well played sir, damn. Winning the internet for the day would be like a consolation prize.

My point is that they used Steve as a character. Unless there's something I'm missing, such as the game's main purpose as parodying other content.

It's just a foolish copy from xamarin's sample called SamplyGame.. Google it.. Fun that anyone could have downloaded made it wpp and then launched to the store..

That's too bad. At least it's free to download, but that's still no excuse for earning money from stolen work with the IAPs in the sample game.

I thought the same but well.. MS appear to don't care since they don't "verify" in right way..

Isn't this pretty much what it is anymore? "Lol this is ok because it has no malware and it's appropriate for the age group they say it is. Let's put it on the server now!"

We apologize about your review and invite you to play our game to prove that this is not true.
If you have knowledge of reverse ingenery, you could try to decompile our game and check that our code is authentically ours and we have not copied or used any project you mentioned.
We have done a remake or parody of Shooty Skies which in turn is another parody of the classic shoot'em up.
Perhaps we have too much imitated certain behaviors, but we have limited ourselves to imitate, not copy, since we have invested many hours of work.
We have modeled our whole project from scratch.(Gustavo Schrehyer artist)
We have scheduled our entire project from scratch, with the support of some asset as Localization for translations.
We have ported the game on Amazon, Google, Applestore and now WindowsPhone.
We have developed features like the energy shield and co-pilot drones.
We have developed an original soundtrack by giant Sergio Gonzalez:
https://twitter.com/oblidivm?lang=es
We have other products that do not have a similiar name unnoticed some success but not lower quality are:
https://www.youtube.com/watch?v=V-bf9gMyJSc
Unfortunately for some indie studios we are not other ways to get on the wave of trends in games, if we want to survive. But then to be classified as mere thieves code is far way.
We invite you to download our game and can properly appreciate the effort that we have invested.
Without acrimony receive this message, and we hope we can entertain more people and receive ratings that encourage us to continue working in the right direction.
Also, thank you very much windows central for this awesome review!

Đã test trên Lumia 640 . Game có đồ họa đẹp . Nội dung đơn giản, dễ chơi . Good Game :)

Do you know that is a "SimplyGame tutorial" in xamarin that reaaaaallly looks like this one.. Just go to xamarin developer site and look at samples "A Simple Game (SamplyGame) is a homage to the ShootySkies games" or just google for SamplyGame xamarin... SAD

Looks like a nice clone, but I'm still waiting for Shooty Skies to come to Windows.
Windows Central Newsletter
Get the best of Windows Central in in your inbox, every day!
Thank you for signing up to Windows Central. You will receive a verification email shortly.
There was a problem. Please refresh the page and try again.