Should you buy an AMD Ryzen powered laptop?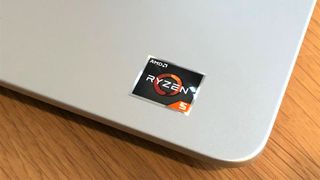 (Image credit: Windows Central)
Should you buy an AMD Ryzen powered laptop?
Best answer: Yes. In many cases buying a laptop with Ryzen will cost less while still delivering high performance for everyday tasks and more demanding workloads such as video editing or gaming..Budget Ultrabook: Huawei MateBook D

(opens in new tab)

($712 at Amazon)Ryzen gaming: ASUS TUF FX505

(opens in new tab)

(From $729 at Amazon)
Great performance for everyone
It's easy to get wrapped up in specs when you're shopping for a laptop, and for the average user, it's not necessarily being directed in the best way. An Intel Core i9 sounds awesome, and it is. But it's not for everyone.
In general, you will see more laptops on sale with Intel processors, and that's not without reason. In an outright comparison of performance, and battery life in particular, Intel still comes out on top in the laptops category.
But that doesn't mean Ryzen is terrible, far from it. The Ryzen mobile chips you find in an increasing number of laptops are good in their own right. You can get four cores with hyperthreading, which means they're perfectly capable of handling intensive workloads.
But in most cases, you're going to be looking at a cash saving when buying a Ryzen laptop over an Intel one. There are some excellent budget laptops powered by Ryzen that deliver better performance than similarly priced budget Intel laptops. And that's where Ryzen often comes into its own.
I've been using a Huawei MateBook D with a Ryzen 5 2500U inside as my primary laptop for several months. Not once has it ever felt sluggish, or lacking in any way. And at the time of purchase, it cost less than the Intel version with a Core i3 inside. Battery life stretches to up to 7 hours; it's got an all-metal chassis, beautiful display and is powered by USB-C.
In the past, buying a laptop powered by AMD would have been a poor choice unless you were specifically going for the cheapest notebook you could get. That's not the case anymore, and while AMD still isn't as good inside a laptop as Intel overall, there's absolutely no reason to avoid anymore.
Powerful integrated graphics
The Ryzen mobile chips aren't just about the CPU cores either. While good, perhaps the standout feature is the integrated Vega GPU. AMD's integrated graphics are so good that Intel even did the unthinkable and partnered to get it on some of their chips, such as that found in the Hades Canyon NUC (opens in new tab).
Intel has recently upped its game and come to join the party with the all-new Iris Plus, but that iGPU is only found on the more expensive of its 10th Gen lineup. Vega is found on all Ryzen mobile chips, albeit in different forms.
At the lowest end, you'll see Vega 3, which has three GPU cores, similar to the equally outstanding Athlon 200GE desktop APU. In the middle, you'll find Vega 8 and at the upper-tier Vega 10, with eight and ten GPU cores respectively. They're the same cores on each, you just get more, which in turn means the performance goes up on the higher-end.
And while you're not going to be looking at these for a gaming laptop (dedicated GPUs are still what you want there), you can certainly have a good time with some games. Even on the lowest end Vega 3. The middle of the road Vega 8 found on the Ryzen 5 is superb. It's perfectly capable of playing older, lighter titles, and even the likes of Borderlands 2 can be enjoyed at over 50FPS average.
It all adds to the value proposition of a Ryzen laptop. You get excellent CPU performance, but outstanding GPU performance, and often at a very attractive price.
The best Ryzen laptops
There are some fantastic laptops powered by Ryzen processors, and there's something for everyone. Whether you're shopping on a budget, chasing a convertible or looking for an outright gaming laptop, there's something worth buying.
We've compiled a list of the best of the best but a couple worth highlighting are the Huawei MateBook D and the ASUS TUF FX505. Both are similarly priced, and comfortably below $800 at that. But one is a sleek Ultrabook, and the other is a full-on gaming machine, both with Ryzen at their heart.
Best mates
(opens in new tab)
Incredible value UItrabook

This 14-inch laptop is beautifully made, has a great looking screen, solid battery life, and heaps of power from its Ryzen 5 2500U.
Additionally, you can save a good chunk by buying the MateBook D from Amazon's Renewed program for $539 (opens in new tab).
Budget gaming
(opens in new tab)
The FX505DY comes with the new second-generation Ryzen Mobile inside in the form of the Ryzen 5 3550H or Ryzen 7 3750H with NVIDIA or AMD dedicated GPU options for top-class gaming.
Richard Devine is an Editor at Windows Central. A former Project Manager and long-term tech addict, he joined Mobile Nations in 2011 and has been found on Android Central and iMore as well as Windows Central. Currently you'll find him covering all manner of PC hardware and gaming, and you can follow him on Twitter and Instagram.
Windows Central Newsletter
Thank you for signing up to Windows Central. You will receive a verification email shortly.
There was a problem. Please refresh the page and try again.