Should you buy the HP Spectre x360?
Is the HP Spectre x360 the right convertible laptop for me?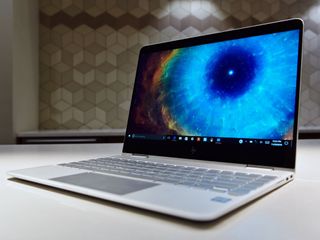 Update 17 January 2017: There's a wholly updated HP Spectre x360 with Intel's 7th-generation Kaby Lake processors, so we've wholly updated this article!
There are a few things the HP Spectre x360 does really well: it's stylish, powerful, and versatile. But is it right for you? We run down the features of the 13t and 15t models that could make the difference between you picking one up and you looking in another direction.
See at HP (opens in new tab)
Design
The HP Spectre x360 truly looks like it costs a fortune. The 13.3-inch model's slim, aluminum body is available in silver metal color, which hides scratches and smudges. The 15.6-inch Spectre x360 is available in dark ash silver that is accented with copper along the edges. Either color option is very fetching on the slim body.
When the 13t is sitting closed, it's only 0.54 inches (13.7mm) thick — the 15t is 0.7 inches (17.78mm) thick. Don't let the size fool you; the durable body is crafted with the same process that's used in the aerospace industry. This is no flimsy plastic chassis.
Versatility and strong body do not necessarily mean a lot of weight. The 15t weighs 4.42 pounds (2 kilograms), and the 13t weighs 2.85 pounds (1.29 kilograms). Yes, this might seem a bit heavy for a tablet, but don't forget this is first and foremost a notebook, and a 15-inch one at that.
Overall, the Spectre x360's design is sleek and attractive while remaining functional. If you want a laptop that turns heads, this is it.
Function
Want a device that can be as versatile as you are? Fold the screen all the way back to enter tablet mode for compact web browsing, fold the keyboard back to act as a stand for watching movies, or set it up as a tent for maximum stability. The geared hinge system is firm enough to hold each configuration in place, yet moves smoothly when you apply pressure. Like the rest of the laptop, the hinges on the HP Spectre x360 are built to last for a long time. There is, of course, the standard notebook mode for when you need to put your head down and get work done with the keyboard.
If you're thinking about security, you'll be happy to know there is now a built-in IR camera above the display that is fully compatible with Windows Hello. All you have to do is open the lid, smile at your laptop, and you'll be logged in.
For ports, the 13t has two USB Type-C ports and one USB 3.1 port, whereas the 15t has an HDMI, a Thunderbolt 3, one USB 3.1, and one USB Type-C. If you don't mind having a limited amount of ports — the current trend among many laptops — the Spectre x360 will be fine.
All things considered when it comes to function, if you're in the market for a convertible laptop, the HP Spectre x360 should be near the top of your list. If you want a notebook that doesn't change shape, you might want to look elsewhere.
Display
Both 13t and 15t Spectre x360 models have one display option available. Grab either a 13.3-inch 1080p WLED touch display, or a 15.6-inch 4K WLED touch display. Both models have significantly reduced bezel for that edge-to-edge look, but if you want the absolute least bezel, Dell's XPS display (opens in new tab) is still the best in that regard.
Despite the 13t being capped at 1080p, it's still a great option that Daniel Rubino calls "one of the nicest displays" he's seen so far. Plus a 1080p display uses less power than a 4K one, so you'll get longer battery life out of it than you would with a more-dense display.
Performance
Hardware configurations range to give you what you want. In the 13t, choose from 8GB or 16GB of DDR3 RAM, and choose from a 256GB, 512GB or 1TB M.2 SSD. For processors, you can get either a 7th-generation Intel Core i5-7200U with a clock speed up to 3.1GHz, or a 7th-generation Intel Core i7-7500U with a clock speed up to 3.5GHz.
All 13t models come with Intel HD Graphics 620, which is good for some light gaming. The 15t has been upped to a capable NVIDIA GeForce 940MX GPU with 2GB of GDDR5 VRAM, but if you're looking for a dedicated gaming laptop, you'd do better to look elsewhere.
No matter your workload, you'll be able to put together a laptop with the hardware that suits your needs. Throw in a battery that realistically lasts somewhere around eight hours at high usage, and you have a powerful, versatile tool at your disposal.
Should you buy it?
We Like
Great convertible design
Beautiful display
Lots of laptop for the price
We Don't Like
Less customization options than last-gen models
If you're looking for a convertible laptop that looks and feels like it cost a lot of money, this is it. In his review, Daniel Rubino calls it "the new best 13-inch laptop." Best part? No one has to know that the price is actually pretty low considering what you're getting.
Configurations start at about $900 (opens in new tab) for a 13.3-inch laptop with a 7th-gen Core i5 processor, 8GB of DDR3 RAM, and a 256GB SSD. HP's customization menus make upgrading individual parts easy, so you won't feel like you're spending money in the wrong place.
HP currently has one 15t model available for pre-order, and it will make your wallet about $1500 (opens in new tab) lighter. It has an Intel Core i7-7500U processor, an NVIDIA GeForce 940MX GPU, 16GB of DDR4 RAM, a 512GB PCIe SSD, and a 4K touch display.
See at HP (opens in new tab)
Windows Central Newsletter
Get the best of Windows Central in your inbox, every day!
Senior Editor, Laptop Reviews
Cale Hunt is formerly a Senior Editor at Windows Central. He focuses mainly on laptop reviews, news, and accessory coverage. He's been reviewing laptops and accessories full-time since 2016, with hundreds of reviews published for Windows Central. He is an avid PC gamer and multi-platform user, and spends most of his time either tinkering with or writing about tech.
Meh, rather wait for Surface 4. Correction: My daughter now has the copper one.

The Surface is not a real laptop. It is just not. Jack of all trades and master of none. A laptop does not comprise of a mediocre keyboard flopping in the wind.

Seriously, flopping in the wind! I'll bet that you have not even used the Surface Pro 3 and keyboard. I have, and although the typing experience was not outstanding, it was much better than I had anticipated. As for the x360, it appears to be another solid offering from the Windows' OEMs.

I have. Keyboard was so disappointing. Keyboard for surface 2 is soo much better.

It's a master of the Pen experience though. I can't live without it.

@Manish you should try the latest Surface keyboards. They not at all like you describe. If the Surface 4 is a cheaper, and bar the CPU, similar to the SP4, then it will be a very desirable machine.

Idiotic statement. But whatever.

Baaaahahahahahahahaha!!! Hahahahahah! Haahahahahah *deep breath* BAAAAAHAHAHAHAHAHAHAHAHAH. dude u crack me up *wipes tear from eye*

SPECTRE? Like the upcoming BOND movie?
James has a new PC! Hell yeah :D

I like that the Dell XPS has a smaller footprint... but I like the convertible nature of the HP. I'd like to buy one or the other for my mom later this year. I think a Surface would be too complicated for her.

What's the processor? Core M or i series??

it's normal core i series (like i5 and i7)

Impressive and beautiful, i will get it. But i live in Europe and it is more expensive here.

Been tossing this around in my head, think this is the nudge I needed. Went to Best Buy over the weekend to see/feel it live, it is pretty awesome. Don't think I need the QHD, but maybe upgrade the SSD.

Is there any idea about when they are going to have the $999 model?

The screen hinge was a huge let down for me. Everything was so beautifully designed. Very good keyboard

These have to be the laziest 'reviews' I've ever read!
Seriously WC - stick to your strengths. Product reviews are clearly not one of them.

Except this isn't a review. This is a review, and this is a review. Our "should you buy" series is only trying to be a quick look at a product, namely by rounding up popular opinions.

Reviews have "review" in the title.

Had a chance to go hands on with one in person at Best Buy the other day... They have an exclusive on the Core i7 model with 8Gb RAM which is only $1149, an insane value I think. This laptop is the real deal. The keyboard is *wonderful*, as is the trackpad. The 1080p touchscreen display is an IPS panel with great brightness and viewing angles and good looking colors (not bluish or yellowish). Text was quite sharp at a desktop scaling factor of 125%. (There is a higher res panel available, but I find this one more than nice enough.) Very nice build quality. I own a Surface Pro 3, a Razer Blade 14, and a Retina Macbook Pro 13, so I have plenty of experience with high quality hardware. I quite liked this new Spectre, more than the new XPS 13, which has a stiffer keyboard and a matte screen (which is not to my taste). Definitley consider this one if you are in the market for a new Windows machine.

Hey which Razer blade do you have? Is it as good as they say it is?

No offense, but that is a ton of money to be sinking into computers. Makes me think that you claim to own products you've only played with in the store...

Some people here have more "resources" than others, you know... And by the way he may be living in a cheap flat, keeping money for other "priorities" :-/

I have a lawyer neighbor who has a Ferrari California, Bentley Continental, Cadillac Escalade, Range Rover (don't know the model), Mercedes S550 and a Dodge Ram 1500 truck. Does he need them all? No. Does he have them all, yes. And he lives in a 350-400k house, which on his standards is cheap living.
Not everyone is as poor as you and I. Maybe this guy can afford the computers/devices he claims he has.

I just bought one of these. I don't think I've ever purchased a consumer HP PC/laptop device before. I had a chance to briefly handle one and I was convinced. I typically have not been fond of the smaller ultra book, convertible, 2n1 lines. I've tended much more to the "desktop" replacement side of laptops. I've already purchased a couple of pure tablets and not been happy with them filling in the mobile end of my tech spectrum needs. The scope of a tablet for me is too limited and few and far between. However I certainly prefer that mode when that mode makes sense, over say a small smartphone screen. The Spectre x360 has been perfect across this whole spectrum for me. Its a reasonably powered laptop (and keyboard) when I need it too be and a readily available tablet when I need/want that as well. The keyboard feels very nice to me, I tend to be a bit of a keyboard snob. The trackpad is a little large but its palm detection seems to be very good. I've not had a problem with that on the x360. I don't see the "weight" issue. I can maybe see that from the tablet side. However I've looked a a couple other 2 in 1's and I though the x360 was definitely on the low end of that. I also am coming from a big laptop habit so "heavy" seems like a relative thing depending on your usage and perception. The heat thing I could agree with but it is using the iSeries so life's always a trade off, power translates to heat, etc. I've also been happy with the speakers. The laptop I was coming from the speakers were terrible and had zero dynamic range. Audiophile types are still going to want to use their favorite headphones but I was happy to see how good they were for such a small package. I wish I had stayed on Windows 8.1 maybe a little longer. I've been running it on the latest and greatest Windows 10 builds and it been working great but it has made it hard to determine if some of the glitches (trackpad lags) I have had are Windows related or hardware related. I've gotten pretty respectable batter life, over 7 hours on a charge. I suspect I could probably get more back on stable 8.1 drivers. Bottom line I have been very happy and very impressed with the HP Spectre x360. It's quickly become my take and go PC.

Trackpad is probably win 10, I am experiencing this on a business latitude that is normally perfect in regards to the track pad. Most times it is OK, but every once in awhile it will lag a bit. Posted via the Windows Central App for Android

"Bottom can get warm." I suppose that's good. My old HP laptop would get down right hot. 35W TDP my butt.

I have the HP Spectre 13t that I bought last summer. It's keyboard, trackpad, and overall design is very similar to the x360, except it is not a convertible. A wonderful, well built laptop! But the x360 has me jealous, I have to say...

Just bought this last weekend. Got the 256gb, i7, 1080p screen. Been really great so far. Still getting used to the whole windows scene since this is my first ever laptop. To me, the hardware is as sexy as any laptop out there. One thing I'm a little hung up on is what I believe is the WiFi performance. Web pages and video load times, especially in HD, lag a bit and take more time than I expect. And doing a wifi speed test and comparing to my phone, I'm only getting about half the up/download speed as I am on my phone. Otherwise performance has been good so far. Hoping this computer will last me for a long long time. Posted via the Windows Central App for Android

The Wifi with the extended antennas was actually supposed to be one of the main selling points of the machine.

Huh I didn't know about the extended WiFi antennas. Posted via the Windows Central App for Android

we did go for the surface, haven't regret it. Very well build, and nice custom decals, for publicity

I bought one. My thoughts thus far are all positive, apart from it not working well with the win10 tech preview. I havent had a new laptop in about 10 years though. I have consistently updated my desktop and I have used a couple of old laptops sparingly. The latest laptop I used prior to this one is my wife's 2011 mbp. I did have a lenovo thinkpad tablet2 for a while, but sold that. Design, it is a beautiful machine, i could have had better contrast with the keyboard, but no complaints really. the machined edges area nice touch and add a lot to the design to really make the device look top quality. I know I dont have the latest devices laying around, but for anyone to call this thing heavy, they need to take a step back into the real world. Like i said the most common laptop for me to use at home was my wifes 2011 mbp which probably weighs 5lb, and at work i have a dell precision m6800 which may as well be a cinder block. So reading the reviews that call the spectre heavy is a joke. Its light. Also, thinness. The pictures that i looked at prior to buying it compare it to a mba a lot. Yes is it thicker than a mba, but looking at the pictures really made me think it was going to be a fairly thick device, and i was suprised at how thin it is. Again, compared to what i have been using recently, its probably 10mm thinner than the mbp and probably 1/3 the thickness of the Dell precision.... it may be thicker than an mba, but its a thin and light device for sure. Operation. Power button placement is a bit annoying, but i understand the need for it to be over there. Tablet mode dictates that it is in an odd location on the side. Same with the lock button that i accidentally push once or twice and the hardware volume rocker on the side. Speaking of the volume rocker, they need to figure out a way to differentiate between stand and tent mode because in tent mode the volume rocker functions upside down. Trackpad is good and fairly responsive. I have tweaked the settings to make it more to my liking, i get a few missed taps here and there and 2 finger scrolling will never be as good as the mbp. I am a diehard MS guy but that mbp trackpad is a work of art. The keyboard is great, only has 1 level of brightness ont he backlighting but im not too bothered with that (note that when the backlight is off the key to activate it is lit all the time) Windows 10 tech preview, did not work well for me. I used an ISO of 10041 to install it on the spectre last week, iti didnt go well. After some initial issues with apps loading I did a reboot which kinda fixed them, but not completely. I also noticed that cortana couldnt hear me, and then the sound recorder couldnt either. Trying to fix this i opened the recording devices panel of the audio settings app which quickly froze and crashed. So, they still have some work to do on the drivers for the device. Overall I would recommend this device. My needs were very specific, I wanted a thin light laptop, I wanted it to be able to be used as an entertainment device in the kitchen while im cooking, and I wanted to be able to "ink" on it to make some sketches of various ideas that I get from time to time. I didnt want a detachable because i didnt want to have to keep track of multiple peices. I didnt want a laptop and a tablet because i dont want to have to carry that many things. So it came to a yoga 12.5 or this new guy. yoga 12.5 has some issues with the screens, and this guy is a handsome device. I am happy with my choice... just need to go buy the pen.

I just picked up the i7 256gb model for approximately $963. Yes, it is a little heavy-- but remember this is an ultrabook before it's a tablet. But it serves both functions remarkably well. Heat dissipation is an area of concern--- the bottom of the device gets a little toasty under load. No lag though. Excellent screen. Very fashionable. I prefer my surface pro 3 for work and productivitty. This little spectre will be a media consumption device.

Hey, I was planning on buying this laptop and all the sites I visited had a price quotation of $1150 for the exact same configurations, ie., i7, with 8gb ram and 256 ssd. I wanted to know if you could tell me where you bought your laptop from as there is quite a huge price difference. Thank you!

Bought my x360 off a guy from ebay that used it to test linux on.

When you look for the Spectre X360 on the uk mobile site it shows an i5 Spectre with a 500gb drive for 499 dollars and an i7 with 750gb drive for 799 dollars. You cant expand the details. Further down the page it has the SSD Spectres 8gb 256 SSD i5 £899, 8gb 512 SSD i7 £1099. Ate they going to launch the ones with hard drives. I've taken a screenshot but don't know how to attach it

Beware, build quality issues with the Spectre x360 are normal apparently. I purchased the 4109na version of this laptop because it has excellent specifications. Unfortunately, it started to emit a strange electrical sputtering sound from the keyboard over the CPU area. The sound was very faint, but noticeable in a quiet room. It's not the fan because it's constant from the start even when the machine is cold. I sent it back to HP twice to fix the issue and they sent it back to me stating it is normal and within specification - in other words, it makes a faint, but constant noise as normal. I wasn't happy because I know that solid state devices (excluding the fan) do not make any noise at all. HP refused to refund the product because I had owned it for 6 weeks longer than the prescribed one month return period. They refused to change any of the components either to see if that might have made a difference and told me there was nothing they could do. I asked HP to confirm if it was normal for HP products to make strange electrical noises as part of their specification, but they refused to comment on this. The (outsourced) repairer however, did confirm that it makes a faint noise and compared it to another machine of the same specification confirming that the noise was the same indicating that this is normal. To put into context, imagine if your iPad or MacBook Pro made faint, but constant electrical sputtering noises from the CPU area. You would automatically think that your machine was defective. The Apple build quality is very high and this would never be acceptable. HP are essentially saying this noise is acceptable. Nice specifications, nice-looking machine, but beware of the build quality. HP have never really had a great reputation for build quality and I suppose this proves it. I naively thought they might have improved over the years, but I was wrong. Do your research first. I'm now stuck with this machine and HP have dug their heals in by refusing to acknowledge they might have build quality issues. They continue to quote 'it is within specification'.

I find hp are perfectly built!

What's wrong with flimsy plastics? 800$ hp phone is proudly flimsy.

Some good advice in this article. Good job!

When I read the last sentence I couldn't stop laughing. The touch screen of this device is breaking without user's fault and HP is still denying to repair it under warranty just read all the threads in the HP forum about this piece of ****. We completely stopped selling HP devices to our customers.

Why has this article been republished?

I didn't noticed it initially.

We regularly review our older content and update it to be sure anyone who visits Mobile Nations sites receives the absolute best information that's presently available.

Then please indicate that it has been updated/republished etc. Make it absolutely clear to your readers that it is not a new article but highlight that it has been updated. And do so every time it has been updated without deleting any previous republished dates so that it is possible to keep track of how things have changed. It makes it clear it is not reused content but may also be advantageous for readers to spot if an opinion has changed in the days/months since original publication. Otherwise the fair question to ask is has it been republished to provide the "absolute best information that's presently available" or is is a play to reuse the same content for more clicks and ad impressions. It's something I've only really noticed in the last few weeks but it is unfair not to highlight that it is republised content or to, arguably, take advantage of your readership.

Looks like too much bezel

Hp website doesn't let you upgrade the screen. Hmmm

No you should not buy anything HP, got screwed once already with zero driver support from HP, best to stay away if you want proper support after purchase.

Sounds like your are taking about Dell.

I have an HP Spectre X360 that is just shy of a year old. At the 4-6 month mark I started having issues with it - crackling speakers, HDMI freezing when streaming (only fix was a hard restart) and intermittent overheating on the bottom left corner. After several calls to update the bios, drivers, etc. the problems persisted and only got worse until the overheating was to a level of where it was too hot to even put it on my lap. It became a consistent problem. I just received my laptop back today after sending it to the repair center twice. It seems as though the speaker issue and freezing HDMI issue have been solved, but it's too soon to tell since I've not had the laptop long in between the two repairs. The overheating issue has not been fixed. They claim to have replaced the motherboard, sound card and fan. The overheating issue is still present all the time, running very hot and now the fan just runs constantly. The customer service during this situation has been poor even elevating two people above the first who answered in customer service. They are not helpful and just keep repeating themselves and trying to pressure me into sending it for repair where they assure me it will be fixed this time. I have had an extremely frustrating experience and at this point I have no faith that they even know how to fix this issue. I love the design of this laptop, but it is a poor quality/design, and HP customer service is awful. My advice is go elsewhere for a laptop. Don't buy the HP Spectre X360. I regret this purchase and hope that they'll provide me with a prorated refund at this point so that I can get a different brand.

I just ordered the 2017 15t and looking forward to putting it to the test. I had a Yoga 910 that I ordered in November but it had trackpad issues (very loud to just tap it...loose trackpad). They sent out a tech to repair it and he broke the machine completely. Sent back got it replaced outright. New machine arrived last week and it had the same issues and a broken "A" key to boot. I demanded a refund after 2 months of waiting to get a new laptop. Never going to do a Lenovo. I have been a Surface guy for years but wanted to try something new. Hope this HP does not disappoint. One funny thing though when ordering the 15t. I did it last Friday (before MLK day) and the machine was listed as pre-order. But later in the day on my other machine running Chrome, noticed it was available for 1 Business day! So I ordered. Turns out their website cant handle ad-blocks. Now it says January 27th for shipping. Sigh.

NO!. I has a very bad experiencie con this machine: HP Spectre x360. Fail before a year. Neve wil be the same. From Chile.

No!. I has a very bad experiencie con this machine: HP Spectre x360. Fail before a year. Neve wil be the same. From Chile.