Gameloft unleashes fantasy raiding game Siegefall on Windows Phone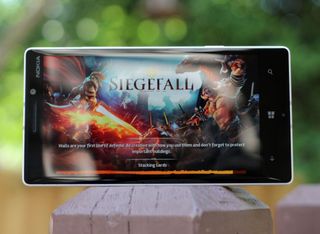 Clash of Clans has been one of the most popular mobile games in the world for the last couple of years. Seeing as how Windows Phone still doesn't have Clash after all this time, it's up to other game publishers to pick up the slack. Gameloft, one of the largest publishers of Windows Phone games, already has a fair Clash clone called Age of Sparta.
Today, Gameloft has released another game in that mold called Siegefall. This one tasks players with building a fantasy kingdom, training armies, and doing battle across a campaign and against other players. Siegefall mixes things up a bit by giving players direct control of their powerful hero characters during battle.
Read on for quick Siegefall impressions and our exclusive hands-on video with Mandy Paez from Gameloft!
Preparing for the fall
The Siegefall tutorial starts players right in the thick of battle. Your first goal is to destroy an enemy fortress. You've got several groups of troops with which to do it.
One big difference between Siegefall and other Clash-style games is how you control your troops. Instead of spawning dozens of troops individually, players start out with several clusters of troops already on the map. These soldiers stay clustered together, making them relatively easy to direct and track. You don't have a ton of control over them – just point them in the direction you want to attack and they'll head off to cause mischief.
It doesn't take long before you get a hero under your command. Siegefall currently offers three distinct heroes to unlock, including a brave knight and a towering troll. Unlike regular units, players get to control these hero units directly. Throughout the battle, you can send your hero wherever you want him to go. If your troops need support, pull the big guy away from what he's doing and send him to help.
In most Clash-likes, players can't do anything but watch after sending their units into the fray. Siegefall's heroes add a fair bit of strategy (and entertainment) by keeping the player engaged throughout the entire battle.
Another twist is the food system. As your units destroy structures, they'll discover food. You can spend this food during that same battle to summon reinforcements. The better the unit, the more food it costs to call more of them into battle.
Will Siegefall ever get Xbox Achievements?
Although Siegefall has launched as a non-Xbox title, it remains a strong contender for an Xbox Live update in the future. If you want that upgrade to happen, be sure to support the game with downloads and maybe even in-app purchases. The Xbox Live certification process for Windows Phone remains relatively time consuming and expensive. Gameloft decides which titles to upgrade based on their popularity, so not playing Siegefall won't help anybody.
Build your kingdom and conquer
Between fights, players will build up their bases. You can erect walls, defense towers, and barracks – all the standard stuff. Everything takes time to build. But Siegefall does have a nice little mechanic in which building times of one minute or less can be skipped at no cost.
Multiplayer raiding games have become fairly common on Windows Phone, even if the one that started it all remains elusive. Siegefall makes a name for itself by adding more dynamic and interactive combat. Plus the production values can't be beat. Stay tuned for the Windows 8 and RT versions, which should be arriving soon as well.
How does Siegefall compare to your favorite raiding games? Give it a try and let us know!
Paul Acevedo is the Games Editor at Windows Central. A lifelong gamer, he has written about videogames for over 15 years and reviewed over 350 games for our site. Follow him on Twitter @PaulRAcevedo. Don't hate. Appreciate!
I have a Lumia 625 but i cant istall it :( It shows that i need 1 gb of RAM :( WHY?!

it really is time to move on.
even the lowest end lumias now have a gig of ram.

Just move on Lumia 638. Bought at around $90

U still can play Age of Empire if you want game like this..

You can play Age of Empires, Total Conquest or Cloud Raiders. All fall under the same category.

because new phones are better.

Seriously why own a phone with such limited specs? then think complaining about it that anyone will care.

Xbox live or cross platform/vs? What's more important? Can it be both?

I'm shocked too. Neither AOE or clash of clans got that much size.

AoE cs : Is around 160mb !

This one has better graphics and animation, and some voice acting.

I'm at 900mb+ storage and it shows not enough space..! WTF

Looks fun, will give it a try!

N not available for 512mb ram

Which is highlighted in the post.

Aha, so this is an aoe clone :D

No,more of a ROYAL REVOLT clone

Age of Empires and Royal Revolt 2 are both Clash of Clans clones. Well, Royal Revolt 2 changes things up enough that you might not consider it a clone. Siegefall looks at Clash and makes some changes of its own, but it's still more similar to Clash than Royal Revolt 2.

Paul, please make a list of best offline city building games(for windows phones) and post it. Almost all the city building and farming games I tried requires internet connection.

They do that to prevent people from changing the dates on their phones to finish objectives early

Downloading it now. Wish people would grow up and stop crying about the RAM requirements and lack of LIVE.

Just started I yesterday...or the day before, interesting...

Can't download with windows mobile 10136 :(

Download and Install Manually using PC, put installer to phone (Downloads Folder), Open old store and click 3 dot and select "Install Local Apps".

Can't install... Unsupported

Restart phone and immediately open store and install local apps,

I did all that and installed but I can't open the game. Think that is not supported for lumia 930 :/

Same issue with the 10149 build

Game loft day. Now we need kabam or else with windows 10 I expect solid games like forza on wp. Y not Forza if Halo can be there on windows phone.

On android play store it's only 26 mb but here it's 400+ mb!!???

What? Are you sure its the same game?

That's just the installer. After you get the installer, it downloads the remaining files based on your Android device's hardware.

I'll continue my Gameloft boycott until the Spider-Man Unlimited fiasco is properly addressed. They've always been scumbags, but that was rock bottom for me... I'm sure they enjoyed their month of IAPs before shutting down support without notice, with PLENTY of opportunities to be forthcoming when asked point blank on the forums.

Sheesh that sucks. Hope you've got your money back.

I'm a fan of Gameloft. I have several of their games installed and I've tried several more. However...from what I've seen they're buggy. This game won't even run, as I apparently "Don't have internet connection." Psst...guess what...I do. And 4G LTE. So shut up, haha.

The mass size of the game will be a pain in the S when comes to updating. I'm sure there will be a lot of updates coming

This looks pretty cool with decent shader quality but right now i'm really enjoying Age of Empires Castle Seige, i went from keep age 1 to age five in less than two weeks! But you need quite a bit of strategy to win especially as you age up. You guys should totally check it out.

It's not a universal app so its a no go.

Of course it's universal. The Windows 8 version just hasn't come out yet.

COC rules the Android/ios & occupies 49mb instead of 498mb ~

As I explained in another comment, it actually downloads more files on Android after you get the installer.

All large sized android games require additional data download(obb file)

just the same thing like another clash of clans game all over again... srsly gameloft??? if you will just-rip off a summoners war game ill be more than happy.. LOL

They lost me at 'Clash-style'

looks like tower defense/strategy games are now IN! and endless runner games are now OUT! LOLz

Definitely downloading this .
Done with AoE , and its annoying disconnection errors

Why no 512 MB ram support. DH 5 and now this

As a developer for another game I can vouch...that its super hard to make games with many textures/content without passing the 180mb ram limit of 512mb ram devices.

if gameloft wants people to play so we can all have xbox live features supporting 512 RAM is a good strategy. Besides if we compare SOs, games being launched in ios all run in ipad with 512 mb ram.

512 Mb even in iPad is history. Try installing IOS 8 on 4s the phone will lag even on iPhone 5 it will lag. 5s is performing well with IOS 8

looks nice i will have to think about picking this one up now that i have a lumia 640 with a bigger screen for game play.
Windows Central Newsletter
Thank you for signing up to Windows Central. You will receive a verification email shortly.
There was a problem. Please refresh the page and try again.