Sign up to learn more about Alexa for Windows PCs
If you're stoked for Alexa on Windows 10 PCs, you can now sign up to get a notification when the app is available.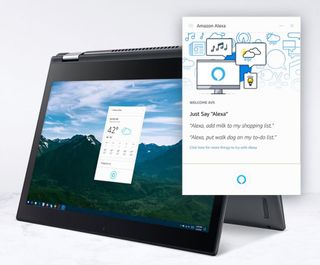 During CES 2018, we learned that Amazon is working to bring its Alexa voice assistant to Windows 10 PCs. Alexa for PCs isn't available just yet, but if you're stoked about the app, you can now sign up to be notified when it is.
As initially spotted by ZDNet's Mary Jo Foley, Amazon has launched a landing page (opens in new tab) on which you can learn more about Alexa on PCs and sign up to be notified when it's available.
Outside of learning that PCs from companies like ASUS, HP, Lenovo, and Acer will be among the first to feature Alexa, initial news of the integration was fairly light on details. Amazon's landing page fills in a few more details, offering a look at some of the specific voice actions you'll be able to use it for, as well as the services it will support. Curiously, Amazon says that Alexa for PC will only support playing music from Amazon Music, SiriusXM, and iHeartRadio. Missing from that list are Spotify, Pandora, and TuneIn, each of which is available on Amazon's own Echo devices.
According to Amazon, the Alexa app should be available for select Windows 10 PCs from Acer, Lenovo, and HP starting in Q1 2018. At least initially, the app will only be available in the U.S. For more, you can sign up to receive updates at Amazon.
Sign up for updates at Amazon (opens in new tab)
Windows Central Newsletter
Get the best of Windows Central in your inbox, every day!
Dan Thorp-Lancaster is the former Editor-in-Chief of Windows Central. He began working with Windows Central, Android Central, and iMore as a news writer in 2014 and is obsessed with tech of all sorts. You can follow Dan on Twitter @DthorpL and Instagram @heyitsdtl.
Windows is the gateway for all technology. We must remember that.... Windows is a tool for all things technology driven. It's not just a platform in itself, rather a universal extension for the world to use. That's what sets Windows apart from other OS's...
.............
With that being said.... It also doesn't make sense for MS to not finish what they start, or to not follow through to perfection. If MS is gonna do anything they should always try their absolute best to make product, and services, successful, not just put fourth the bare minimum, and hope things work out. MS should see the things they do as important as the things they see others do.

How is that different than any of the other modern computing platform? I mean, you basically described the definition of platform and tried to insinuate that only Microsoft has that capability!

Why do you ask so many damn questions, and the same questions over, and over?.... Why don't you go do some damn research of your own instead of always letting the world know how ignorant you are?
Give us a break.

There it is their fault line, only if they'd just notice. They need to run things at home thoroughly from the very first thing they announce to its fruition.

IDK... I think the situation is as follows. Now, I could be wrong, but this is my idea, so don't kill me.
Satya Nadella isn't very popular with fans, and for many understandable reasons. What fans have experienced is frustrating, and it's actually kinda embarrassing for us. Lol. But, if we step back, and relieve the situation of our emotions, we might be able to see the situation, and what MS has done under Satya's watch, for what it really is.. Personally, I have been annoyed by the way MS has been so abrut with hitting refresh. BUT, I have grown to believe that what us fans see as Satya not caring, or hating consumers, is more the fact that Satya doesn't think failure is acceptable. I believe that in the long run fans will begin to see this as MS becomes more stable with consumers, and more successful with consumer products. But, this will take time. If you think about it, "Satya" hasn't canceled, or given up on, anything that has been started under his term.. And, MS also hasn't had any major failures under Satya, at least not yet.. I also believe that trimming the fat (as bad for fans as it may seem) is, and was necessary as to not perpetuate the same mistakes over, and over, in the future.. I believe that's MS focus right now, but we, as fans, either can't see that yet, or are not willing to see this,,, yet. Nevertheless, we as MS fans shouldn't want MS to have second rate products, or products with tainted names... WP had a tainted history linked to it. Satya is not interested in fixing failed things, rather he like to start with nice things, and make them work. Lastly, we need to understand that changing the perspective of yourself to the world doesn't happened overnight. It can take years. It can take decades. Most of the time it takes generations, and for current generations influence to die off. The best example I can give of this is Hyundai/Kia motors... Back in the 90's the brand was laughed at by Americans, it was not popular, and nobody wanted one.. In the 2000's Hyundai spent the entire decade changing the way they did things, and shook up their structure big time. They knew the cars they wanted to build wouldn't be possible overnight. Could they have built the cars they do today? Yes, but it would've been a waste of time because their image was not yet changed, and the perception of older generations still had major influence, although now, not as bad as in the 80's, and 90's.. Now that the newer generations don't have as many negative views of Hyundai/Kia they are able to make a very nice car (like the new Kia Stinger GT), get people excited about it, and actually sell them to newer generations that get it. Let's be honest, MS doesn't need us older generation fans rooting for them. They don't.
At the 2017 international auto show, this past March, in Dallas, a Kia was the talk of the show. The Stinger GT's stand attracted more onlookers than the GTR, Corvette, Mercedes AMG GT, and even Ferrari's booth... That change in perception didn't happen overnight...
As frustrating as these times are for fans of MS products, we should be looking at the bigger picture, and looking towards the future, instead of crying about the past...... Hopefully MS is thinking like Hyundai did in the late 90's. You can learn a lot from looking at the dynamics of the automotive industry. The past century of the auto industry should be a lesson in the ups, downs, and the overall dynamics of business, for anyone. The fact is that unlike most pessimist views that MS will eventually fade into irrelevance, MS has a chance to turn things around. Will they actually pull it off is something I can't admit to being sure about, and I think everyone probably feels the same way.

So it will be missing the three music services that are available on Cortana.....

I wonder if we could sideload the Alexa program on other devices.

I wonder what we can gain from the Alexa for Windows PC. If you need Alexa service, getting Echo devices may be a better choice. I purchased 3 Echo Dots and 1 Echo Spot during the holidays. There is no conflict with Cortana on my PCs. - The Wake Word is simple and brief on Echo devices. With "Hey Cortana Open Alexa" Wake Word, your tongue would hurt. - I use Cortana to control Spotify daily. I have a set of Bose speakers connected to PC. It is far better than any Echo speakers. - With an Echo Connect, you can use Alexa to control landline phone calls. I also use Echos for intercom. Alexa for Windows PC doesn't support that. - Cortana is deeply integrated with OS and Edge. I use Cortana/Edge integration feature a lot and Alexa doesn't support. - Cortana and Alexa can coexist and each plays to its own strength. Cortana for productivity and Spotify control, Alexa for Skills. - Cortana can coexist with Google Assistant devices as well. With different Wake Word can be a benefit.