The SIM-unlocked Alcatel IDOL 4S quietly goes on sale through the Microsoft Store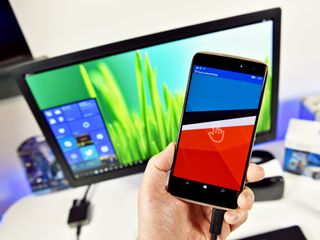 Looks like speculation that Alcatel's Idol 4S running Windows 10 Mobile going carrier-unlocked (GSM) after a T-Mobile exclusivity ended were true. As spotted on MSPU Microsoft has begun to make the rather powerful – and impressive – Windows 10 Mobile phone available for purchase in the US through their store.
Asking price is still the same $470, which includes the VR goggle package and 21MP rear camera.
Alcatel Idol 4S with Windows 10 Specs
Category
Features
CPU
Snapdragon 820 | Quad Core CPU @2.15 GHz
Display
5.5-inch FHD AMOLED
Dragontrail 2.5D Glass
Memory
64GB ROM
4GB RAM
microSD
Camera
21 MP rear camera
8 MP front-facing camera
Battery
3,000 mAh
Quick Charge 3.0
420Hrs Standby
15Hrs Talk
Continuum
Yes
VR
Yes
Windows Hello
Yes (Fingerprint)
Audio
Dual speakers with Hi-Fi surround sound
Dimensions
153.9 x 75.4 x 6.99 mm
Weight
152g
HD Voice
Yes
VoLTE
Yes
Wi-Fi
802.11 a/b/g/n/ac
Wi-Fi Calling 1.0
Bluetooth
BT 4.1
A2DP, OPP, HFP, AVRCP, PBAP
The rest of the specifications and color ('Halo Gold') are all the same as well. In fact, it's likely the same device as our review unit, which was unlocked as well and worked brilliantly on AT&T with no issue.
Microsoft notes that the unlocked version should work on AT&T, T-Mobile, H20, Straight Talk, Cricket Wireless, MetroPCS, and select prepaid carriers.
Supporting Continuum, VR, and a handy fingerprint reader the Idol 4S is also one of the slimmest and nicest looking Windows phones we have seen.
In my full review of the Idol 4S, I had nothing but outstanding things to say about the hardware, design, execution, and price. While the Windows 10 Mobile ecosystem and app situation are well known and the Idol 4s's camera pales to a high-end Lumia, it is still the best option for the Microsoft fan who see little value in going to iOS and Android.
See the IDOL 4S at Microsoft (opens in new tab)
It's unclear if the Idol 4S will go on sale internationally, but we'll keep an eye out for any signs of more general availability. Let us know in comments if you plan to get one or jump into our IDOL 4S forums for more discussion!
Daniel Rubino is the Executive Editor of Windows Central, head reviewer, podcast co-host, and analyst. He has been covering Microsoft here since 2007, back when this site was called WMExperts (and later Windows Phone Central). His interests include Windows, Microsoft Surface, laptops, next-gen computing, and arguing with people on the internet.
One step closer to international availability! (I hope)

This! Some moron smashed the screen on my XL yesterday, so I'm suddenly in acute need of a new phone a bit sooner than planned... I'm afraid this might be the moment I jump ship to Android, at least until MS get around to releasing a Surface Phone.

Haha same situation here, exact same!!!

Don't be scared... the grass is greener ;)

Yea but there is a problem with the grass being greener. It looks great from the fence but as soon as you jump you real it's so green because of all the horseshit!

When my L950 contract runs out, I am probably going to wind up going iPhone because I want a small device and I hate Google (thus, the SE is very tempting). That said, if you have nothing particularly against Google, I can assure you that the Android grass is greener. I do have an Android device (PRIV) right now. Download the Microsoft Applications app, which will show you everything they make for the platform, and you'll be pleasantly surprised. Then, download the awesome Arrow launcher (a MS product), set Cortana to be your circle-button long press, set OneDrive to be your camera backup, and you have a More-Tightly-Integrated-With-MS-Than-Windows-Phone Android experience. And you have a much more customizable, much less buggy, platform, and all the apps you can eat (including browsers that actually work!).

The grass is greener on the other side....but somebody still has to mow it!

I think you mistakenly posted in the wrong forum. This is what you are looking for: http://androidforums.com/ :)

how the heck did it screen get smashed? he should pay something on it

There is no good reason to go to Android.

Check the Play store. There are literally millions.

I did jump the ship... Thou I was always using 3 phones main Lumia 950 S7 edge and iPhone 5..
Now I sold s7 edge and got Axon 7 6gb ram version sold Lumia 950 as I have Lumia 1020 lying around and also brought blu life one x2 as 2nd phone 64gb with 4gb ram... Soo far Iam sorted.. Will wait for s8 and Nokia flagship to get launched then will decide which to buy... As for windows hope surface phone is great and something out of the box for me to start using windows mobile as my main device

One step closer to flushing out Ultratech!

...any clues, living in England, as i do.

Nope. The usual tactic has been used, of pushing Windows phones in the US where no-one buys them and forgetting where all their customers live. And people wonder why they don't sell...

Thanks. Looks like a top phone too. I've no interest in apple or android. Cheers, drew.

So, why do you have a German soldier as an avatar?

Exactly this. There was a time when the UK had like 15% windows phone market share and the HTC One M8 Windows was a Verizon exclusive and Verizon has nothing but contempt for the platform., and always has. When the iPhone first gen came out Verizon pushed a flip phone with an mp3 player instead of the Samsung Omnia which was better and cheaper than the iPhone one... Why pick a phone to a market that is solely in love with whyPhone and Google way to monitor everything you do and sell it to marketers and the governments of the world for a prophet

Especially in Canada, I hope.

Those specs look amazing. If I weren't holding out (holding hope) for Panos Panay's Surface Phone, I'd be ordering one right away.

It is an amazing phone. Build quality is fantastic. It's nicer than any Lumia I ever had (and I liked my Lumias a lot).

why worry about dead lion when there's strong wolf around.

Some of us still like Windows 10 Mobile and it serves our purpose. They day it stops being useful, will be the day I and those that still use W10M will decide which OS to move to next. Until then...

I have the T-Mobile one and love it. It's a beautiful device. When ever the Surface Phone finally shows up, I'll probably get that, but waiting out souly for the Surface Phone seems to be a waste as it'll most likely be a while.

It really is an awesome device. I have been using one for a couple months now, and I don't really notice any kind of lag on my phone at all. It performs great and has outstanding battery life (I don't worry on the rare occasion I forget to charge my phone overnight), and it also can double up as something I can use for work in a pinch due to Continuum. Only real flaw is the fingerprint sensor, which can be a bit hit or miss. I love mine though and I highly recommend it.

I unfortunately sent mine back today and went back to my 950. The phone is beautiful and thin. The screen looks great even at 1080. Front flash was a nice touch. In the end however I wasn't able to justify the purchase because the main camera is one of the worst ever on the WP8 and up devices. If cameras are not important this phone has everything going for it. BTW, not really impressed with the VR thing.

One thought : They unlocked it because of the high demand!
Great news by the way!!!

But windows phone is dead. Nobody wants it. /s

Sweet, this is awesome! Hopefully more will buy!

Specs look good, love my HP Elite X3 though :)

Same! Love my HP Elite X3 as well, but since I'm on T-Mobile and a Jump customer I bought one of these Alcatel Idol's as my backup phone.

What's a jump customer ? Is that with T-Mobile or?

Yes, basically It's premium handset insurance and backup bundled with phone upgrades. You pay the phone halfway down and you are eligible for an upgrade where no money changes hands, you just continue the monthly payments for the particular handset you are getting.

If only that Elite were .5 inches smaller.

I love the size, and probably alone in this but I could see going .5 inches bigger lol .

I thought my HP Elite was gargantuan when I first got it, never had a phone that big, but I gotta say I don't think I'd like to go smaller again. That screen real estate is nice, very nice, and reading text on that screen is awesome!

The vr only works with the phone? Or can be used for computer gaming too?

Phone only. And although it's a respectable toss-in, someone really into VR shouldn't buy this phone for that.

And if you aren't into VR you should be able to remove the VR apps.

I guess, but they don't bother me.

This phone is gorgeous. This is what the 950 should have looked like.

I love the 950! Looks are fine.

Especially with the Mozo Leather Cover!

I have the 950 and I think it looks and feels cheap. Performs relatively well, but the casing isn't anything special.

I felt the device was lacking in aesthetics as well. However, when my Mozo back (black leather silver trim) came in, the phone looked awesome.

It's better looking in person than it is in pics. I can't put a case on mine because I can't bring myself to cover up gorgeousness.

Ghosttech has a case for that. I have one on my 950XL and it still shows off the design of the phone.

Right! When I went to TMo and held on and felt this phone I couldn't believe how nice it looked and felt. For all those who a talking about the Mozo on the 950 I had a 950 and even with the Mozo casing it is no Idol. It just isn't. Go visit your local TMo store and check one out. Sure the 950 may be more polished but esthetically, no comparison. None.

This phone has a very feminine look. I somewhat am turned off by it.

Would you be more turned on by it if it had a beard? Or unnecessary ruggedness?!

I would love but I spent my extra cash on a nintendo switch pre order...lumia 950 xl you will be with me a little longer.

This is awesome news for MS. Another phone finally in store. Now we need the WB phone and then the Surface. Most likely in that order.
Even though I've got the HP, and LOVE IT! This would be my next choice. Think this is a step very close to international availability. Australia!

The Wharton Brooks phone is vaporware, you ain't seeing it any time soon LOL

So the camera on this is worse than the AT&T 950?

It has improved on the latest inder build.

If you consider the 950 one of the best cameras out there, then this is one is not one of the best. Not one of the worst either.

I wonder if there will be the capability to delete some of the VR apps if you don't want them. That would be nice. A very nice and well made device for sure. I liked it a lot but decided to stay with my 950 for various reasons. Anyone who gets this I think will love it. As far as power goes, this is a truly high powered device without the high price tag of the HP X3. Finally a device worthy to take the mantle of the now dead Lumia line.
Can only hope to have more models come from Alcatel this year.

Nope, as of right now you can't uninstall them which sucks.

Which VR apps (and content) are actually available?

I'll put up a pic of what I have on Disqus

I wonder if you can uninstall the VR apps on the unlocked version because according to Alcatel, T-Mobile was the reason you couldn't uninstall them which I find hard to believe.

You've got 64GB of storage and a microSD card slot. The few apps you can't uninstall aren't killing it ;-)

This!
Hey, I'm a this man today.

same thing i'm wondering, i mean you got all that storage and worrying about vr apps.

Not worrying, just thinking up an excuse not to buy ;-)

The only things keeping me from buying this to replace the 950 is that the camera is not as good and there's no wireless charging.

I've been asking this question since it came out. The official word is, it has to be T-Mobile that initiates the ability to remove the VR Apps. Hopefully T-Mobile is looking and listening, but I doubt it since they believe its the major selling point of the phone. I really cant stand the VR Apps, they clutter up an otherwise great phone.

This was asked when it launched on T-Mobile. The VR Apps take up very little space. It's not like they're going to slow down or clog up the phone.

What are the chances that MS does a little advertising to get the word out and help out a partner?

I would say: zero to none. T-mobile did nothing to promote it.

The week this launched I stopped into a T-Mobile store to see it. They had a display set up (in the worst location available) with the phone and all the accessories bolted to the wall/shelf and although the charger was plugged into the phone, it had no power connected so the phone wouldn't turn on!! Sales guy said "it's just a Windows phone" & referring to the continuum dock "you can use that to hook it up to a computer" I turned around and walked out. So frustrating!

As the headline says-"quietly" lol

If I'm not mistaken didn't the snapdragon 820 have overheating issues and other problems?

Haven't heard anything of that nature going on with this phone. I think you are mistaken. Also apparently the battery life of this phone is pretty good, which is nice!

I think that was the 810. I haven't heard of overheating with the 820.

Absolutely no overheating. It's fast and fluid.

None whatsoever. Snapdragon 810 (the one in the Lumia 950 XL) was the apparent dog. 820 is sublime. Fast and much better on battery life.

it had overheating issues, not with this phone though

Thats nonsense, the phone has no issues overheating, you're thinking of the SD810.

There will never be another Windows phone on Verizon

There will never be another me on Verizon.

Bring the to Australia now, I want something to replace my broken 950 and we have no windows phones to select from here now, except for the Elite X3 which is far too expensive.

I bought a brand new Lumia 930 off flea bay Aus for $200, loving it

Is that near Chesapeake bay? /s

It's a nickname for eBay, I think

Couldn't you have gotten a 950 for a little bit more?

The 930/Icon was an awesome phone when I had it, just your basic white and black color is all we had though.

Who can get me one? I am serious, i live in the netherlands

PM me if you are serious.

Looks better than most Windows Phones that I have seen in the past...Though I have never heard of it until now. Microsoft might want to actually advertise Windows 10 phones as someone may then want to check them out!

Advertise????? Never happen.

So if I live in Europe I can only get ONE WM flagship, which is horrendously expensive and has a poor camera? MS seems to suffer from split personality disorder. On one hand the Insider programme still rolls on, on the other hand no marketing, no new devices, and the app gap is more like a canyon these days (do any devs update their apps apart from MS? Yes, Netflix, I'm looking at you - still waiting for offline mode). Everyone here is waiting for the Surface Phone, which is like waiting for the coming of our lord and saviour, The Pink Fluffy Unicorn. Even if it comes it will be too late. Oh, and WC, sort out your app, since it's the least reliable app on my phone.

Does he even know about this phone? I don't think so

Of course he does! He has the android version ; ]

Haha haha, sadly probably true.

Hopefully we see it in Canada soon

I would like to see this in store!

Anyone know about finger prints? Is it only work to unlock phone? What about apps? Is it the same as iOS and android? On iOS when I log in I just need to use my finger print to log in.

It works with Windows Hello and any app that supports Windows Hello. Single touch, wakes the phone and unlocks it. I use it to log in to Enpass every day.

Love fingerprint scanner.

I'll like to ask if the Idol 4s have glance screen?Glance is important to me to view weather and notifications.

Which weather app works with Glance?

Um, the link does not work... please fix. I cannot see the IDOL on the Microsoft store :-(

Just tried it, link working fine here.

Why is this article not showing under the phone tab in the WC app?

How about the camera of this phone? Compared to the other 20mp cameras out there?

It's an okay camera; don't expect to be blown away by it. Mine did this weird thing where, if you tried to tap to focus (in either photo or video mode), it would instantly adjust the exposure as you move the camera around. This was worse in video mode where you simply wanted to focus.

How fast does it snap the photos?

When outdoors in very good light, it's about average. When using adjustments or in low-light areas, it can take several seconds. The camera isn't really impressive overall IMO.

That is a bummer. I think I am going to wait and see what Cerulean comes with or maybe what comes out of MWC 2017 (maybe HP's next) before jumping at trying to buy this. Thanks for your input.

Here's my full review if you're interested: http://gadgetunit.com/2016/12/05/review-alcatel-idol-4s-with-windows-10-...

The speakers are super nice, I love the stereo sound. The phone is fast and no overheating. Camera has improved. Very nice experience with this phone. No nfc , camera is a little down grade but ok, no glance. Other than that this is a high end super phone imho.

Might be an issue in the U.S. but since there's no tap to pay elsewhere on Windows 10 it's not as big a deal if it launches internationally.

I use mine to connect to head phones and Bluetooth speakers

Why don't you just use Bluetooth to connect to Bluetooth speakers?

Really great looking Phone from Specs/Design aspect... If it comes to Europe i would buy it to have Something Smaller than my x3 with Similar Specs.

Not in Canada? Bin waiting for this phone to offer my father. I think for his basic use of phone it would be perfect for him + continuum.

Should be no reason why it doesn't come! Hope to be able to see this in store soon!

I read it was released in Canada, but is like almost 200 dollars more...is that true?

Honest, not as snarky as it sounds, question: Microsoft really expects this phone to move with that price? I mean, if selling 100 or 200 phones is considered a success then I guess this phone will be a hit, otherwise i cannot fathom how a WM10 device can be offered for anything more than 200 bucks in this day and age, regardless of specs.

You get what you pay for, you cant be serious to expect a modern phone to go for 200 dollars simply because it runs WM is laughable. If you want a cheaper Windows phone, there's the Lumia 650/640. You can also find the Lumia 950/XL for around 200 dollars on Ebay. Might I also suggest the slew of cheap Android phones as well for 200 dollars.