Simple Calendar gets a noteworthy update, including a transparent Tile for Windows Phone 8.1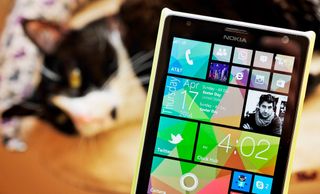 Simple Calendar is one of our favorite third-party calendar apps for Windows Phone, and even though the native calendar improved in Windows Phone 8.1, this app still has a great design. Today, version 4.5.2.0 is live in the Store and if you're on 8.1, you may have had the app auto-update.
So what's new? We have all the details.
Simple Calendar 4.5.2.0
Add ability to edit/delete appointments
Tiles now default to use transparent background (so start screen background image shows through)
You can now see private appointment details
You can now show/hide certain calendars per account (ex: hide US Holiday calendar)
App settings now automatically get backed up and restored when you reinstall the app
Performance improvements
Lots of bug fixes
Technically speaking, Simple Calendar has had a 'transparent' Tile for sometime, so that's not new with today's update. But now, it defaults to it, which is probably a good idea since this feature seems to be a big hit with those of you running the 8.1 Preview for Developers.
If you're running an older version of the app, once you update, you'll need to manually change to the new transparent design, which can easy be done via the app's settings > go to "tile settings" > Step 2 > select "StartScreenBackgroundImage". For new users, you'll get the transparent Tile automatically.
The other improvements and features, like being able to edit an appointment (deep links to the native calendar, seamlessly) is a huge reason to consider using this app. Many people hate the "two worlds" of native versus third party calendars, but with this update, things are much better now.
Simple Calendar also has a great selection of Live Tile templates, which you can optionally choose to purchase based on your preference (I'm a Frodo fan, myself).
Pick up Simple Calendar for free in the Store. You can remove ads, add templates and more at your will via in-app purchases. Windows Phone 8.0/8.1 only.
Daniel Rubino is the Editor-in-chief of Windows Central, head reviewer, podcast co-host, and analyst. He has been here covering Microsoft since 2007 when this site was called WMExperts (and later Windows Phone Central). His interests include Windows, Microsoft Surface, laptops, next-gen computing, and for some reason, watches. Before all this tech stuff, he worked on a Ph.D. in linguistics and ran the projectors at movie theaters, which has done absolutely nothing for his career.
Hopefully more apps will update and give us a transparent tiles

Yeah I hope they'll update their app

FIRST! Waiting for 6alander but this does seem faster. Makes me pop a boner.

WPCentral has a transparent tile, only it can't be a live tile. At first I tried a bunch of different variations (both live tile variants, non-live tile, pinning/unpining), but I couldn't get the tile to become transparent. So last thing I did was I reinstalled the app and that did the trick (just don't turn on live tiles, I had to reinstall again to get it transparent again :D)

Yes, this! I want a transparent WPCentral live flip tile. Get on it, Jay!! C'MON!

I want transparent pinned site tiled when they flip. Half the sites I have pinned have a light gray background on the flip side which sucks for readability

Go look at my twitter or instagram accounts guys "JayTBennett" ;)

Next week cant be soon enough lol

Will a 3rd party calendar like this work with calendars coming across from Traveler?

Answering my own question...yes it does! Cool, purchased ad removal & live tile packages

Chronos Calendar updated to transparent tiles before 8.1 was released.

So didn't this app, as I note in the article. Today's update sets it to default since many people may not have known about it, among other new features.

Is wp central getting this soon as well. I noticed it is like that in all your screenshots.

I believe if you use the "iconic" tile, it will function as a transparent tile. The flip tile is a custom implementation and that might not support the transparancey as easily.

It is kinda a joke that MS updated thier calendar and still only shows one appointment on the live tile.

Certain things are done intentional by MSFT. They allow ample time for dev's to get creative with their work. And come up with their best ideas. Why develop for WP if native apps are remarkable.

Native shops should always be better than 3rd party

So true. After all, everyone knows Paint, WordPad and Internet Explorer are the market leaders in their respective purposes. Where did Microsoft go wrong? D=

Not at all.
An Operative System exist becouse exist third-party application.
The role of an OS is to allow users to interact with the appalications and allow the applications itself to use the underlying hardware and so as to make it easier to develop applications. There are many discussion about what must provide an OS, someone think that it shuold provide also a multimedia player (and received a fine for that), someone else think that an OS mustn't even provide a graphical interface (and think that you need to find an install, and sometime also compile the GIU that you want). Consider that the big win for Windows was its openness to third-party developers and the attention that Microsoft has always addressed to them. Also for Android and iOS, the big deal is the large amount of apps in their store. So there is sonething that is good if it stay in the hands of the OS and other things to which third-party developers can add value

I agree with alot of what you said, but the Calendar is a basic and intrinsic part of a phone. The fact the inbuilt calendar app only shows 1 (the next) appointment is pitiful. It should be at least mildly configurable and could be coded by an intern. They really do need to get the basics right like this, before they go all Cortana on everyone. Phone, Text, Email, Calendar, Contacts. Get that stuff right _first_

Native apps should be as good as possible. One item on the live tile is ridiculous. It's frustrating because the new calendar app is great!

Yea it just shows what is next if you want to lower your whole day ask Cortana or open the app

So it seems with WP8.1 3rd party calendars can do more stuff? Sounds good.

This dev NEVER quits. He is as light footed and nimble as they come. Good job.

BTW...I have to say, from a user perspective, I never tried many apps b/c I knew I needed to guard my space on the phone...but now with the SD card option, its so nice to be able to try new apps!

Speaking of apps on the SD Card... how are they functioning? Just like regular apps?

Honestly...I cannot tell any difference...except my 'Memory Low' message is gone! Some are saying its slower & laggy, but I've not experienced any issues. Its been awesome. Now...if MS can just fix wifi for some of us...

Second that. Have a 32GB Sandisk class 10 that I got cheap in my 1520 and I installed a bunch of games I didn't have room for previously on it and they have been fine so far. Run just like they did on the internal storage.

waiting for the cal update. The default calendar's live tile doesn't have enough information for my taste

I like the Frodo tile, too. But that Wayne tile is a real close second.

The in-built 8.1 calendar is still very disappointing...tiny typeface...only one appointment on the tile...and no agenda view. 3rd parties still rule.

Hey Daniel, could you do me a favor and upload your background pic? Tried to do something similar with Polyscreen but I don't get the colors as brilliant as your's.

Edit feature? FINALLY! :D

Love this calendar app; their tile was top on my start screen prior to 8.1. the tile was black and made my events stand out - beautiful. I've went back to the native app to see if the re-design will keep me there. However, now that Simple Calendar can edit / delete there is no reason not to use it!

Does Cortana integrate with 3rd party calendar apps like this one?

Its still in beta mode I don't think so 3rd will ever get access to Cortana. Its of no use as there are tons of this party apps ppl will be using depends upon person person.

Yes...I just tested it. Asked Cortana to schedule Dinner tonight at 6pm...showed up in the Simple Calendar live tile about 30 secs later...so its obviously monitoring the delivered calendar and pulling & processing changes to it.

Yes, since Simple Calendar pulls the appointment data from the built-in appointment database it integrates with all the built-in phone features... like Cortana's ability to create new appointments and remind you when your next appointment is, etc.

Meh, I still prefer Chronos.

Just tried it. It says my WP calendar is read-only "due to OS restriction." Hmm...Simple Calendar lets me edit my calendar.

i see you have the twitter app pinned on your screen Daniel and the tile is transparent. are you running some new secret build of the twitter app?? ;)

Nope. Just using an app I posted about yesterday called Transparency Tiles.

The lack of tilt in the Twitter tile logo is a dead giveaway, besides. Makes it look like a knock-off.

Daniel what case is on your 1520 in that picture? Is that a white Nillkin?

Ok where did your get this background picture on your phone, Daniel?

An app called PolyScreen. We wrote about it 2 days ago.

Oh wow, don't know how I missed it. Cheers, anyway :)

Already had a transparent tile before this update

It's true, most people didn't discover it though, so this latest update makes it the default.

Dear Dev, Can you please add a weekly view like the new default Calendar app? That's the only thing I find missing in this app. Thanks.

Damn, I installed this, but the app wont start. Uninstalling doesnt delete the app. Storage sense does not see it and store says its installed... Nice! How can I get rid of it now?

Sent you a message with next steps

Can you send me the same info.

Email windowsphoneapps@splinto.com and I'll work with you to figure out what's going on.

Sent you an email. Thanks a lot for looking at this.

Almost looks like the Galaxy S5 Wallpaper. Should be plenty of sites that have that image for download.

Why is my WP central app not transparent? I can not change it.

A nice upgrade and I've paid for some of the features previously, but I think tru cal 8 trumps this with the ability to change font color. White is just so, boring. Enough white font on the screen already.

Private appointment fix is critical, made me switch back to regular calendar

Daniel, i want that background in the first pic. Gimme! :)

This update is great, finally adding some key missing functionality! Well done!

Yes I noticed after the 8.1 update that I could edit in simple calendar and get rid of the duplicate entries by blocking the new stock calendar from appearing. That alone made my day

Is there a windows phone app that can successfully read/import a subscribed calendar?

Has MS opened API so we can finally edit/delete O365 appointments using these 3rd party caledars? Or are people here just talking about the outlook.com calendar appointments?

A great calendar app. That said, I'm not sure its great enough to justify its up to £6 price tag. It prides itself on being a 'Simple' calendar, so pray tell why its apparently more taxing to develop than GTA: San Andreas. =/

Simple Calendar sucks. Long live Chronos!

" this app still has a great design" What? that's one of the worst wp apps in terms of design.

Wonder how soon the other cal apps will update to allow edit/ delete from there app. Have Chronos and like it a lot bit the native edit and delete of Simple cal is huge plus

Hope Cal gets a transparent update soon too.

hi @Daniel Rubino...i want this background wallpaper can you give me the link from where i can download this background wallpaper

The classic calendar included with wp8.1 is better than simple calendar

Where I can get this wallpaper http://www.wpcentral.com/sites/wpcentral.com/files/styles/large/public/field/image/2014/04/Simple_Calendar_81_Transparent.jpg?itok=AdOm95rI

I want that wallpaper too!!
Windows Central Newsletter
Thank you for signing up to Windows Central. You will receive a verification email shortly.
There was a problem. Please refresh the page and try again.