SiriusXM and Roku launch their Windows 10 PC apps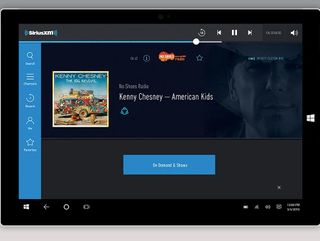 SiriusXM and Roku have launched their official apps for Windows 10 on the PC and tablets.
The satellite radio network SiriusXM started offering customers a chance to beta test their Windows 10 app a few weeks ago. Here's what subscribers to SiriusXM can expect from the newly launched app:
Stream SiriusXM channels live, including additional online-only channels.
Custom mix many of your favorite music and comedy channels.
Get On Demand access to our large catalog of content and listen on your schedule.
Easily find channels, shows, and episodes with enhanced search capability.
Receive personalized recommendations to help you find even more content you'll love.
Let your friends in on what you're hearing or shout it to the world with new social features.
Download SiriusXM from the Windows Store (opens in new tab)
Roku launches its apps for Windows Phone 8.1 and Windows 8.1 in 2014. The new Windows 10 PC version lets owners of the company's streaming media devices control them remotely via the app's features. The official Roku blog states (opens in new tab):
Download Roku from the Windows Store (opens in new tab)
Windows Central Newsletter
Get the best of Windows Central in in your inbox, every day!
Will there be mobile versions?

I could be completely off base here, but in the case of the SiriusXM app, it just looks like a web wrapper app. This is fine by me, but it probably means that there will not be a W10M app anytime soon, simply because the W10M version of Edge doesn't include the protocols needed to access SiriusXM. I am happy to be corrected.
If it is just a web wrapper app, and it is a success, then hopefully they will at least try and port the iOS code via Project Islandwood to create a native app on W10 and W10M, and hopefully even Windows 10 for XBox

Not sure what protocols would be missing from the mobile version of Edge.

Wouldn't a Web wrapper use the flash version of the Sirius player? My understanding is that they made this app because flash is going away. Someone please correct me if that isn't the case. Also, as I posted below, other sites are reporting that Sirius us working on a Universal app. Hopefully those rumors are true. Posted via the Windows Central App for Android

Roku already have a windows phone 8.x version.

not now atleast, but as the Roku spokesperson said, the app is built as an UWP, so I think they'll be able to push it for mobile later on

Yep, and just look at the Twitter app - That came to PC first but IMO the UI they provide on Mobile is much better

Seems to me that both of these apps would be better served on Windows 10 Mobile...

Probably something to get used to. Even though they're UWPs, with W10M mindshare so low, most these devs will just keep them PC only. Microsoft needed to keep mobile around 4-5% to ensure W10M got some focus as well.

It's not hard to test on mobile. If it works well ok desktop it likely works well in mobile.

Exactly right. Allowing Mobile to fall from 5% US and 10% EU, to 1% in just 2 years under Nadella, has really killed motivation for W10M support efforts. Now, when the platform is nearly ready for a push under W10, everyone has moved on. Sad, but true.

I don't think it's fair to blame Nadella for this. WP's decline is clearly the result of years of mismanagement and outright neglect from Microsoft. It isn't fair to expect him to have been able to right the ship overnight. They're in a rebuilding phase; it's going to take time. But from where I stand, things are going very well. When is the last time WM got this much attention in the tech media? When have there been this many companies making phones? When have we had this many new apps being made for WP? With Windows 10 being a unified ecosystem, there have never been this many *potential* WP users. It's going to take a long time but I think the future looks very good for Windows 10 Mobile. Posted via the Windows Central App for Android

I can't really agree with this when most apps that are either new to W10M or have returned as UWP apps seem to support both. Twitter is a great example and their app is better on mobile than PC also.

Cue the "When for mobile?" comments. Probably not a long time from now.

Well yeah. An app only makes sense on mobile. The website works perfectly fine on a computer/tablet. A phone app for SiriusXM is absolutely needed, now.

gaining two apps I'm actually acquainted with - losing one app I never knew existed. :-) I'll take that equation every time.

All they need to do is add the layouts for mobile screens and push the publish button again.

i mean... this is great... im excited... and i guess token: "when on mobile"?

it works! I thought you had to pay extra for Sirius streaming ?

But where does the trail lead?

Apparently the trail leads to free streaming, even though my subscription doesn't include it. They better not pull some "you used the streaming app, so we added the fee to your bill" crap on me.

When in Canada....of course its coming soon, just like it is to US mobile, just like it is to canadian mobile.

It depends on which plan you have, but most of them include it for free Posted via the Windows Central App for Android

If they get the mobile version working for Sirius XM I will gladly pay the monthly subscription, but I have no need for it on my PC right now. I have it in my cars and would love to have it on my phone as well.

I love having Sirius on my phone. I love the service so much they I jumped to Android. I've been constantly harassing them for a WP/WM app ever since lol. The moment they release a phone app, I'm jumping right back to Microsoft. Posted via the Windows Central App for Android

These apps have a very similar design, especially the left-hand navigation.

Is the SiriusXM US only? I have a subscription in Canada but the Store (on my PC) says it is unavailable.

SiriusXM Canada is technically a separate company so you'd have to contact them about an app. Posted via the Windows Central App for Android

I didn't have to on my iphone. Cool hey!

There is a roku for mobile downloaded it just now

Yeah is that the 8.1 app? It allows remote control of Roku. ,but also for the (original at least) Now TV box in the UK which is running on Roku hardware

Cool cool cool. Bring it on!

Unless you are talking about the SiriusXM app specifically, it might be a bit weird to control a Roku stick/box from an Xbox? I don't think the Roku app lets you watch any content.

*Other sites* were reporting that Sirius is working on a UWP app but they haven't reported anything new today. Hopefully that was correct and we'll get a W10M app soon. I'm so close to coming back to WM, all I need now are the Sirius app and a media remote to work with the phone. My $30 Satechi remote (which is FANTASTIC btw) will pair with my 630 but it won't actually control anything... Posted via the Windows Central App for Android

So far so good with the, SIRIUS XM app.

Works on my Windows 10 laptop and Roku 2

Glad to see we are getting some good stuff finally

The store still only shows the 8.1 version, not the new one. The link takes me to the 8.1 version as well.

Oops, just got the update for Roku for win 10.

As a Sirius subscriber, this is cool by me and can't wait to give it a go. If you're not a customer, they do have a free 30 day trial. If you like, a new burner email addy every month is not complicated for most people

Good news! Now for the mobile versions of these apps on Windows 10. An Xbox app for SiriusXM would be great too!

Windows Central Newsletter
Thank you for signing up to Windows Central. You will receive a verification email shortly.
There was a problem. Please refresh the page and try again.