Rack'em Up with Sky Cue Club for Windows Phone and Windows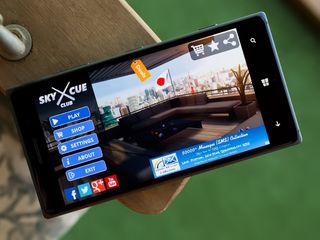 Sky Cue Club: 8 & 9 Ball Pool + Billiards + Snooker has one of the lengthier gaming titles available in the Windows Phone and Windows 10 Stores. It is a nicely animated, 3D billiards simulator that not only delivers a host of billiard games but also a multi-level challenge where you try to master trick shots.
The gaming title includes three gaming modes, plenty of customizations and adjustable difficulty levels. While an appealing game, Sky Cue Club does have a few glitches that impact its performance that will require a little patience on the player's part. We took the Windows Phone game out for a test drive and found it to be an entertaining game. Hopefully, the stability issues can be ironed out to improve the appeal of things.
The primary menu for Sky Cue Club: 8 & 9 Ball Pool + Billiards + Snooker (we'll go with Sky Cue Club from here on out) offers you the options to jump into game play, visit the game's shop, access the settings and view the About screen.
The game's shop offers you several in-app purchase opportunities that range from disabling the ad support to unlocking all the table decorations. Prices range from $4.99 to $1.49.
Settings cover game play, video and audio options such as turning off the aim assist, setting the graphics quality and setting the sound effects levels.
Sky Cue Club has three gaming modes that include Practice, Tournaments and Pass/Play games. The Practice Mode has Trick Shots, Challenges, Free Shots and Speed Pot games.
The Trick Shots is a multi-level challenge where you tackle pre-set billiard shots, having a set number of shots to sink all your balls.
Challenges are similar to the Trick Shots but are aimed at the more experienced player.
Free Shots is an open table where you practice shots without any rules or restrictions.
Speed Pot is a timed practice game where you have to pot all your balls before time expires. Some balls will add time and if you scratch your cue ball, you will lose time.
Both the Trick Shot and Challenges games include hundreds of levels of billiard shots to master. The Challenges game will require an in-app purchase to unlock.
The Tournament Mode has three billiard games to master. You have 8 Ball, 9 Ball and Snooker Tournaments to compete in. The same three billiard games are available in the Pass and Play gaming mode.
Prior to the start of any game in any gaming mode, Sky Cue Club offers you several pre-game options. Many of these options involve customizing the billiard table color, decal color and decal texture. Where you are competing against a computer player, you will also see the option to set the difficulty level of the game.
Gaming mechanics with Sky Cue Club are not very complicated. Game play, as you might expect, is from behind the cue ball. The gaming screen will have the balls potted (pocketed) or needed to be potted displayed at the top of the screen.
To the left side, you will find three control tiles to pause the game, switch to an overhead view of the table and to move the cue ball (when allowed). Just below these tiles is a cue ball that will note your striking point, which can be adjusted by touch.
Along the right side of the screen is your cue stick that will be used to strike your cue ball. You can tap/hold/slide on the cue stick to strike the ball or just tap on the illustration to strike the cue ball. The further back you slide or tap, the more power will be applied to your shot.
Lining up your shots will require you to swipe at the screen (or swipe/hold for faster movement) until things are lined up just right. There is the option in the settings to turn on an aim assist that will highlight the patch of your billiard ball and cue ball based on your aim.
Game play does move along nicely with very little time spent on re-drawing the table or waiting for the computer player to take their shots. It does take a little time to align your shots and I would have liked to have seen a screen sensitivity setting in place. There are times you will overshoot your point of aim or take forever to rotate around the table to line up your shot.
The physics of the game are nicely in place and overall, Sky Cue Club is an enjoyable game. Where it begins to suffer is with a few stability issues. I had the game lock up a few times at the conclusion of a tournament game on a Lumia 830 and crash when played on a Lumia 635. low-memory Windows Phone. It is our understanding the developer is working on a fix for these stability issues and until that update is pushed out, the game will require a little patience.
As far as features are concerned, Sky Cue Club isn't too shabby. I would have like to have seen more camera views such as behind the cue ball but slightly elevated. Playing from directly behind the cue ball isn't bad but looking at things from a raised perspective gives the table a little more depth.
In contrast, I did not experience any issues with play Sky Cue Club from the Surface 3 or a Windows 10 laptop. Granted you have more under the hood with the Windows 10 devices. Speaking of which, the layout of Sky Cue Club for Windows 10 is identical to the Windows Phone version of the game. The trailer video shows controls at the bottom of the screen that apparently have been removed.
Overall, Sky Cue Club: 8 & 9 Ball Pool + Billiards + Snooker may be a game with an excessively long title, but is a fun option to consider for your Windows Phone or Windows 10 gaming library. Graphics and animations are well done, game play challenging and there is plenty of gaming modes to keep you busy.
Hopefully, the stability issues can be easily addressed. Nonetheless, Sky Cue Club is a game worth trying. If you give the game a shot, let us know what you think of Sky Cue Club in the comments below. It is a free, ad-supported game with several in-app purchase opportunities.
Get the Windows Central Newsletter
All the latest news, reviews, and guides for Windows and Xbox diehards.
George is the Reviews Editor at Windows Central, concentrating on Windows 10 PC and Mobile apps. He's been a supporter of the platform since the days of Windows CE and uses his current Windows 10 Mobile phone daily to keep up with life and enjoy a game during down time.