SkyDrive gets new 'modern' look with site redesign, new features and an Android version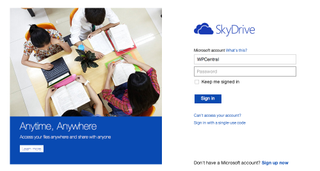 The new SkyDrive login screen
Two weeks ago Hotmail became Outlook.com with a new Metro…errr..modern look to it and now it is finally time for SkyDrive to get the same makeover.
Heading to www.skydrive.com you can see the new site redesign (log out and refresh if you are not seeing it) that brings it up to par with the Windows 8, Windows Phone and Outlook's new appearance. And yes, Microsoft is not calling it Metro but rather are using 'modern' instead—take that as you will.
Besides the new look, SkyDrive also gets some new features on board including instant search, contextual toolbar, thumbnail multi-select, drag-and-drop organization, and HTML5 sorting which should make the service is more fun to use.
The instant searches will all you to browse through all of your files and even within Office documents for specific keywords that you enter. The contextual toolbar helps clean up the UI by moving common commands to the toolbar near the top and it will change dynamically depending where you are within SkyDrive.
With multi-select in thumbnail view, users can now choose numerous photos or documents for moving, deletion or sharing—that's a huge feature that many of us have been wanting for some time (seeing as the service now supports that feature, we wouldn't doubt that an app update for Windows Phone is in the works too).
SkyDrive's new 'modern' look
Finally, users can take advantage of HTML5 by having drag-and-drop functionality for organizing photos and documents, including new "sort by" options and custom folder choices.
Other changes are also significant:
Official Android app is announced and it will be available "within a few weeks"
Developers – no more restrictions on file sizes for uploads
Optimized desktop clients that will improve upload efficiency in terms of speed and require less CPU power
With the removal of size-limits for file uploads, Windows Phone apps presumably can begin uploading full-sized photos to the 'cloud' very soon. We'll keep an eye on that to see if and when it happens.
SkyDrive mobile - On iOS, Windows Phone and soon Android
The changes to SkyDrive will be rolling out over the next week and for many of you, you'll see the new site within 24-hours. Currently we have the new login but it takes us to the old site, so we're still waiting too.
Source: Microsoft
Daniel Rubino is the Executive Editor of Windows Central, head reviewer, podcast co-host, and analyst. He has been covering Microsoft here since 2007, back when this site was called WMExperts (and later Windows Phone Central). His interests include Windows, Microsoft Surface, laptops, next-gen computing, and arguing with people on the internet.
Finally! It was starting yo annoy me when going from my outlook email to my SkyDrive. The new look is so much more elegant and easy on the eyes.

Yeah, this new look fits right in with Outlook.com. Now if they could just update Calander.

Logged out and tried again, no new Skydrive look for me. Log on screen is indeed already changed.

Same here. Same old design. :(

Yup. Same ol' design when I (re)logon.

Still getting the old look for SkyDrive on both my @Hotmail & @Live accounts (both switched to Outlook). But when I tried my "new", yet to be used Outlook account, I get the new SkyDrive view.

Is Microsoft trying to tell me something.

I'm really liking how they're renewing all of their services to looking more "modern" because it's just so attractive seeing the design everywhere. Looking forward to a brighter future for Microsoft!

I am glad they are coming out with a Android Skydrive, will pass the time till WP8 is released and I can bail on android all together.

Finally an official Android app. The one available now for my tablet is serviceable (Browser For Skydrive by Bolero) but it's basically just a glorified FTP client.

Awesome! Now I just need them to update the Live Calendar! That is the last missing piece for me!

Amazing what MS has accomplished over the past 5 years.

Amazing what has been accomplished over the last ~18 months:
Software advancements:
Windows kernel brought to ARM with Windows RT.
NT kernel brought to phones with Windows Phone 8.
Modern WinRT app environment built.
Windows Store established.
Windows Essentials package updated.
SkyDrive becomes cloud sync app on all major operating systems.
Xbox Dashboard converted to Modern UI with app store.
Xbox SmartGlass platform unveiled for all major operating systems.
MS Office overhauled with Yammer and Skype integration.
Windows 8 designed for touch-first computing.
IE10 updated for touch and HTML5. (weakest link at MSFT imo).
Industry deals:
MS buys multi-touch creator Perceptive Pixel.
MS buys Skype largest VoIP service in the world.
Largest phone manufacturer of the last decade, Nokia becomes exclusive OEM partner.
MS buys Yammer.
Barnes & Noble establishes new "Nook" company with Microsoft ("Newco").
Nokia maps replaces Bing maps.
80% of Android OEMs sign-on as Microsoft licensees.
Hardware advancements:
Kinect launched.
Arc Touch Mouse released.
Microsoft Touch mouse released.
Surface tablets with touch covers unveiled.
Wedge Touch mouse and mobile keyboard unveiled.
Perceptive Pixel 82" displays adopted.
Xbox becomes top selling console in the world with almost 50% share of game industry dollars every month in USA
Microsoft Stores rolled out to over 30 locations.
Cloud Service advancements:
Live.com portal services fixed. Hotmail/SkyDrive/Office/Messenger web services overhauled.
MS Office becomes instant install and subscription service on any computer or device.
Bing search integrates Facebook/Twitter/Yelp/LinkedIn sidebar and HTML5 video.
Bing voice search launched on Windows Phone and Xbox.
Xbox Music service doubles size and brings 30 million songs to subscribers.
Brand fixes:
Hotmail rebranded outlook.
Zune rebranded Xbox.
MS tablets branded Surface.
Live ID rebranded Microsoft Account.
Internet Explorer gets cool marketing campaign.
MSNBC finally sold off, MSN News in development.

Well done, sir. You really put it into perspective for me. The world's largest software company is no longer a sleeping giant. I've always believed in them and their deep pockets.

Yep, the bear has been poked and looking for prey.

Definitely more than what apple and Google have done

Nicely done. I'm exhausted...

I was trying to decide between SkyDrive (25 GB), Amazon Cloud (50 GB), and Box (50 GB Touchpad deal) on a service to backup and possibly share pictures and home movies. I wanted SkyDrive first and I was going to upgrade to add 50 more GB, but I could not see a way to sync my pictures to it from my computer. I wanted to have a few folders within my pictures to sync and backup whenever I add, remove or change a file in the folder. Unfortunately, as of right now SkyDrive can not do that. I really hope they add it. Amazon can't either but it can store all my songs too and not count against my storage limits. Box just enabled sync so as of now they have an advantage for me. I would really like one service so I hope SkyDrive adds sync to specific folders and maybe a music player.

You can download the Skydrive PC or Mac app and set up some folders in skydrive to later add them to your picture and video library. After this has been done, set it as the default save location. This way you'll always have your movies and pictures on all your devices and in the cloud. If you want to back-up this folder, just let Windows handle it using the automated back-up feature.

Problem with that is I still want them stored on my computer's hard drive. I may not be understanding the process correctly. I first did change the save location for my pictures to go directly to the SkyDrive folder but I have 60 GB of pictures or so and I did not want all of them to go there, only a few folders from my pictures. I contacted SkyDrive help and they said that it was not possiable at the moment, but after the demise of Live Mesh it is a top requested feature.

The SkyDrive program for Windows/Mac requires you to keep a copy of your files on your local harddrive. All it does is syncs the local SkyDrive folder between the computer and the web or syncs your harddrive to the web and another computer's harddrive.

From the SkyDrive website you can also access the contents of any computer's hard drive that you've installed the SkyDrive software on.

Yes, it is a highly requested feature, and one that should be in the SKydrive desktop client. However, I have created sym links inside the local SkyDrive folder that are linked to other folder in my system. For instance, I have a MUSIC folder under the SkyDrive folder that links to C:\Users\Username\Music. Skydrive "thinks" its a folder, and syncs it "to the cloud!" It's not for noobs, but look at the command mklink.

1. There's the Skydrive desktop app.

2. mklink junctions. That's what I use and it's amazing. My pictrues folders syncs directly to Skydrive. For example, when I take pictures with my phone and hook it up to Zune, all those pictures go to the My Pictures folder which automatically syncs with Skydrive. Same with all of my class folders.

I have the SkyDrive desktop app, it does not sync. I have to manually copy pictures to the folder. I add pictures to my picture folders all of the time and I would rather not have to copy them to my hard drive and then to the SkyDrive folder. I may foget. Also, when I modify one of the pictures I have to go into the SkyDrive folder, find it and replace it with the new modified one. Maybe I am confused on the best way to make it work. I asked about all of this in the SkyDrive forums and the Moderator there said it was not possiable at this time. The Mod said that there are third party applications that can do it but does not suggest using them.

Are you using Windows XP or Vista? The easiest is if you're on Windows 7, and on Windows Vista you have to make hard links. On 7 the easiest way is to use your pictures library and make the default folder for your pictuers library the Pictures folder in your Skydrive folder. So any time you import to that default folder in the Pictures Library it imports it directly to your Skydrive and syncs in the background. The libraries is similar to making folder links, but a bit more simplified.

You can make the Pictures library folder save to the SkyDrive folder automatically.

If you're in Win7 right click the Pictures Library and select "Properties" then add your local SkyDrive folder and set it as the default save location.

Thanks, but I have 60 GB of pictures and I do not want all of them on SkyDrive. Currently, Skydrive does not allow the user to chose which folders in the picture library, only the entire library. This is unfortunate. I do have windows 7.

You can use windows live mesh

That is the program that keeps coming up when I research on how to do what I am wanting. Microsoft discontinued Live Mesh and I do not have it installed. It has features they did not port over to SkyDrive. I wish SkyDrive would do what dropbox appears to do. I don't have dropbox but it appears that service can sync specified folders on your pc as a backup.

And what are you whining about ?

Your kidding right? Your comments are only funny in your own head. If you could read, you will be able to see what I was trying to do with SkyDrive and how others were trying to help.

Microsoft moves fast.. it wasn't like god an hour ago...

This has all been in motion behind the scenes for some time while we were fiddling with our WM6.5s and Blackberry Bolds

So....Modern UI it is? :D

Still old UI for me. Waiting... :-D

Anyone realized that live account doesn't sync Facebook friends birthdays and us holidays in calendar app? I made outlook account when it came out so I thought that was the issue? Please anyone help me out!

You can check it under content sync in sync settings from live email.

Y would SkyDrive be on other phones ? Isn't SkyDrive a cloud memory for windows phones?

SkyDrive has been around for thousands of years, it was an online storage place for peeps then your attachments got synced then they made it more useable like drop box then now it's gona be a back up place for WP + a drop box alike with a nice 'metroh' look.

Because unlike crApple Microsoft like to share services with others!!!!

If it's on more platforms people are more likely to use it since they won't be limited by what device they're on. It makes it infinitely more useful. Think Evernote.

sw33t!
I love the Metro (I refuse to call it otherwise) design.

Agreed, the metro look to SkyDrive is nice!

Modern starting to sound better then Metro. Like the new look.

Really really REALLY need the option to select which devices sync what

A smidgens off topic, but does anybody else dislike how they implemented the Messaging into Outlook? (and from that screenshot, probably Skydrive too). The old setup, all you had to do was mouse over "Messenger", and voila, you see your contacts. The new setup, I can't see who is online right away, and not without two clicks, first to open the Messaging, then second to "Start new conversation".... only then, after that last step, do I see who is available to message. Dislike!

Take your dissenting comments elsewhere

Take your fanboyish obliviousness elsewhere, he has a valid point

People like you give us genuine Microsoft enthusiasts a bad name.

Just giving my opinion dude, chillax. I am all for the redesign, and I am just noticing now what it looks like once you start a conversation in Outlook, and I think that it looks nice. All I'm saying is I can't see why I need two clicks to see who's online, when before I just needed to move the mouse. Take a chill pill.

Stop being so closed-minded.

Ignore the fanboyish troll, your point is very valid.

Forgive me for my harshness

well done MSFT, design is now being placed in front of your decision making. Just like outlook.com and surface. I guess I should than aapl for this but still go work.

awesome and its so much more polished, faster

Good job MSFT...KEEP INNOVATING

I can't seem to send a link directly using outlook.com

When I use hotmail or windows like mail accelorator in IE I can directly link a sight in email.
If I log into outlook.com and use the new outlook mail, I can't link web sites directly, I have to copy the url and then link it.
That's a bummer.
Any tips on getting an outlook accelorator?

Maybe, after a small spelling and grammar lesson. :-)

Windows 8 makes it easier... =D

Good news! Even better news once the Windows 8 styling is present for everyone :)

At least Microsoft is doing something for android. Remember those Google+ times and Google's roadmap leaked and it said G+ for wp7, it never came but it's ok because G+ was a total flop anyway.

LOL yeah Google plus what a waste of time.

"Costa Rican Adventure" that's my tiny and beautiful country :)

I hope that's what IE9 looks like on the Desktop for Windows 8! I love that theme!

Uh, its IE10 from the start... =[

somebody please explain me how i could have box color other than dark blue?

One more UI update needed : calendar. ;-)

and what if..
I want to sync some folders (which are on home PC) with my personal data to skydrive, but I don´t want to sync these folders to other PCs (ex. work PC) via Skydrive? And vice versa..I don´t want to sync work data to my personal PC. I just want them in the cloud.. I know that Live Mesh did this very well, but what about Skydrive?
So can I choose what data to sync to which computers or I can´t?

Love the new design. Can't windows 8 and wp8 just come out already? I'm ready to adopt this ecosystem whole hog.

I'm glad Skydrive has updated. It's been long overdue and we've waited for it for a long time. I can't wait to see the version for android too. - Carmack Moving and Storage
Windows Central Newsletter
Get the best of Windows Central in in your inbox, every day!
Thank you for signing up to Windows Central. You will receive a verification email shortly.
There was a problem. Please refresh the page and try again.