Skype and Facebook Messenger snag minor updates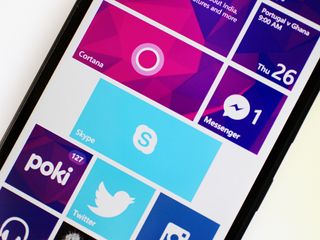 A lack of changelogs appears to be a common theme with some apps nowadays, and the most recent culprits are Facebook Messenger and Skype for Windows Phone. Both apps have received updates, but left out changelogs — so don't expect anything in the way of major new features.
That being said, it's likely that both apps have received a decent helping of minor bug fixes and performance improvements, neither of which is a bad thing. If you'd like to pick up the most recent updates, you can grab them from the store links below. If you happen to notice anything new and notable, be sure to shout it out in the comments below. Happy updating!
Thanks for the tips, everyone!
Download Skype for Windows Phone
Download Facebook Messenger for Windows Phone
Windows Central Newsletter
Get the best of Windows Central in your inbox, every day!
Dan Thorp-Lancaster is the former Editor-in-Chief of Windows Central. He began working with Windows Central, Android Central, and iMore as a news writer in 2014 and is obsessed with tech of all sorts. You can follow Dan on Twitter @DthorpL and Instagram @heyitsdtl.
Got it and don't know what's the improved and going to comment with it.

Skype is a waste of start screen space

Seems Faster
w/o notifications

True that! Man, does it crawl when a notification pops up!

When i first came to windows phone 7-8 montha ago messenger seemed kinda bugy and crude compared to android. But after a good number of these minor updates and 1 or 2 more significant ones it seems to work great now. Or maybe ive just gotten used to it. Anyway i like it a lot and uae it often.

landscape keyboard would be nice...

Does messenger still drain battery? :o

Keep the location feature off in messenger and it's fine.

Dan, Plague also updated for WP with new disease.

Did they forget about the Facebook and Facebook Beta apps? Lately FB Beta is unable to show comments on posts even though there are comments and keeps showing unable to retrieve data! POS app!!!!

Seems I ain't alone here.!!! :P

comments are now showing for me. but its hit-or-miss.

Not just facebook (beta) even Facebook out of beta.Guess everyone is facing same issues.

I think MS is working on a Windows 10 app, that would explain why they haven't been updated.

True but that's no excuse for not updating the app for everyone still on WP 8 and 8.1. It will be a long time before most are able to upgrade to 10 due to the usual BS carrier delays. So update the damn apps already. That goes for windowscentral app too!!

The Windows Central app is one of the few that works flawlessly. I don't want them to update it for fear it will screw something up.

Is lacking features though

Nope, the new news counter on the tile is broken. It does not reset when the app is opened.

Yeah the Windows Central app is very good and is probably my most used app. 1st one I paid for too. But the live tile notifications counter has been acting up. Sometimes it shows 20 new stories even after I close the app. Great app though. Just wished the Windows 8.1/RT app worked as good as the mobile app.

Seems other people are having this issue too, so glad its not just me

Me too the comments dont appear to be loading

Facebook app was having trouble loading data this morning. Then it updated. Now it works again. I suspect FB updated an API and the app has been updated to match the change. (Just a guess based on my own experience today.)

I understand Messenger not having transparent tile option, but Skype?! Its a Microsoft product...they should enable one of the aesthetic differentiators amongst OS's that THEY themselves have been pushing.

Nope, some apps should continue to have that kinda of tiles to maintain their identity.
But I can see your point, they should give us an option.

Messenger does have a transparent tile.

messenger has a transparent tile

Both still sucks...the only best optimized app on windows phone platform is whatsapp...the app became faster than ever without resuming...i think microsoft should take an example from them...

Is WhatsApp best optimized......? Take a year old Windowsphone and Android and open WhatsApp in both phones.... And tell which opens faster.....

Iv seen WhatsApp lag and become unresponsive on my mates' high end android phones (m8 & nexus 6)

Dude what did i just say...whatsapp is good on windows phone...optimized means good...please use your dictionary next time...thanks

So... Many.... Pauses... In... Your... Yeah you get the idea.

Great, waiting for the fb messenger call feature

Anyone on Win10 10136? Seems like I can't update from regular store, update button is not there. And at Store Beta, there is an error updating. I believe MS is updating apps in Store Beta. Some apps just could not be updated as yet.

Try this link ​http://www.windowsphone.com/s?appid=82a23635-5bd9-df11-a844-00237de2db9e ​

Need update for Facebook, it's not showing comments on the posts

I've just been using web browser, Seems to not drain my battery as much either, but maybe I'm wrong about that.

Facebook just removed the requirement of a Facebook account to use Facebook Messenger. Now more people can enjoy all the features that are available on Messenger – including photos, videos, group chats, voice and video calling, stickers and more. All you need is a phone number.

Messenger can be used with just mobile numbers for users in the US, Canada, Venezuela and Peru & will gradually available to users from rest of the world

Pi have to delete my facebook app in my phone, that app alone ate 8gb... Shut the front door

That can't be right? Just checked my fb beta app in storage sense and it only shows 99MB. And I use the app often.

Sorry, 8gb of data usage or storage??

Skype just needs a splash screen now.

I think It needs alot more than that unfortunately.

Since I know the Windows 8 modern app will shutdown by July 7th, I tried and adopted Viber.
I have no regrets.
Skype will die if they continue like that...

Does anyone know if there is a reason why landscape mode is still not supported? Is this so hard?!?

The update syncs Skype favorites to people hub under groups, wasn't this feature there before? Can anyone with windows 10 phone confirm... http://www.mslumiablog.com/2015/06/skype-for-wp-updated-now-syncs-its.ht...

Hope that Messegnger got some performance fix, because its rubish. Have a Lumia 930 and its struggling to keep up with my typing speed. Terrible UX.

We need landscape mode!!!

I mean stickers and other fancy stuff are nice but shouldn't a good typing experience be one of the main priorities?!

Anyone knows why my messenger don't have that new status bar at the top my girlfriend has it and I don't both are running the same phone Lumia 930 the same software and the same messenger version .... I don't understand .....

You don't have it! I wish that happened to me. Anyway, restarting the app (long press back and then force close the app) will give you the status bar.

There's only one thing that I want from Facebook, they should fix the sh**ty post thing. I don't want the from past two or three days posts when I open Facebook. I want to see the latest or recent posts.

Facebook is no longer updating with current information it's showing updates from one day ago what the hell ?

Any one has solution for problem with skype on last W10 build? I didn't unintall it on 8.1 and updated to W10 :( Anyone know how to reinstall it without rolling back to 8.1?

Yeah, I've never been impressed with Skype on any platform, especially Windows phone. I'm a huge fan and believer in MS Phone/Mobile/The Next Name, but with Skype, either integrate and have a great user experience, or don't bother.