Skype gets snappy with latest update on Windows 8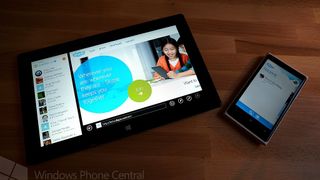 It wasn't that long ago that Skype was updated for Windows 8 and we're glad to see that they are working hard to bring us all the features we want. Bit by bit. The latest update to hit the Windows Store brings with it the oft-requested feature of a functional snap view to allow for a better work flow. We have a little more on that after the break.
The app reports itself as being version 1.3.0.111 upon being updated. On the main screen it will advertise that you can now snap the app to one side.
Here is what is listed for the improvements
Enhanced Snap view for smarter multi-tasking
Performance improvements
General bug fixes
While not a huge update per se, we can report that the app is slowly climbing the ladder of usability on the Surface Tablet and now passes as 'decent'. The major thing here is that snapped view, while there is little reason to run this app in full screen mode there is plenty of reason to snap it.
The snapped view is similar to what most people are used to with IM clients like Messenger, a straight up list of contacts. You now have the ability to kick off a conversation via instant messaging or to conduct a video call all while getting on with your work. Not much other functionality has been added beyond that. The crazy UI choice of putting your people tab off the main screen while in full screen mode is still present as is the need to swipe over, press 'People' and then press the 'Available' tab to see who is actually online. You couldn't make that up if you tried, but that's the point, they didn't.
Gripes with the user experience in full screen mode aside the app works much better in the snapped view and for that we are thankful. We certainly hope to see many, many more updates to Skype coming to flesh out the features now it's being ushered in as the replacement for Messenger.
You can download the app from the Windows Store here (opens in new tab). If you have already downloaded the app and are not seeing the update, check for them in the Windows Store app.
*TIP* To check for updates check updates in the Windows Store, swipe over to reveal the charms menu, hit settings, click on App Updates then hit 'Check for updates'.
While we have you here, what do you think so far of the Skype and Messenger integration currently taking place?
Windows Central Newsletter
Get the best of Windows Central in in your inbox, every day!
Would like to see an update that makes the Skype Preview app on my Windows 8 Phone become an official release!

+1 i don't have skype installed at the moment it is a battery hog on the 920.

Agreed. Need an update for the WP8 client.

Can you now send files via it?

My only problem with skype is that i cant set the messenger availability to offline as i dont want to receive messages from my live messenger all the time Suppose I'm chatting with someone on my phone via messenger and when that person replies i get a notification on all apps , my phone, messages app on win8, and skype app on win8 , i can turn off the notifications in message app in win8 but not on skype cos if i do that I'll be offline on for my skype notifications too and not only for messenger

What happened to promised Skype/wp8 integration?

Typical Microsoft, they own Skype yet the support for their own Phone platform is the worst. I just don't get it. Idiots must be in charge there.



And it is nowhere near what they promised.

Does it fix the green camera issue?!! :|

They could work just a bit harder and bring Skype to WP 7.5 devices with 256 RAM.. That is a real issue.

Skype on WP7 is useless anyway since it can't run in the background, was hoping they fix this eventually but stoped caring now. The only use for it is if you want to call someone, but no-one is going to be able to get hold of you.


Finally, the real snapped view was really missing and annoying when talking to several people.

How about WP8? I am still angry...

Obviously, the full-screen layout was designed by the same people who perpetrated the Win8 Music app. Seriously, Microsoft designers have swung waaaaaay too far to the side of form over function. Even the most commonly used functions are hidden in obscure nested menus that you can only find by accident. It's ridiculous.

Sadly I have to agree. Sometimes I even get lost in the Music app trying to browse my library via my homegroup.
Its like they are working like this..
"Can you stream and buy music now?"
"Yes"
"Ok we are done. move on"

Skype - to my mind - is, and always has been, a horrible service to use. I rue the day that it became the de facto messaging solution thanks to its popularity. It superceded so many already wonderful services (Live Messenger) included and has yet to match them. I can only assume the people who work on Skype are just terribly sloppy. Even Microsoft seems unable to rein it in, why doesn't it work on Windows Phone 7? Where's the much-vaunted integration with Windows Phone 8? Why does the Windows 8 app not have a portrait orientation? The problem of the two messaging apps in Windows 8 is insufferable. The built in messaging application is simply much more pleasant to use, I wish Skype would just integrate with it and we wouldn't have to use this bastard program they've created. The account merging problem is also annoying. I chose not to merge my Skype account when I logged in for the first time with my Microsoft Account and now I seem to have forever lost the opportunity to do so. I have to keep both apps running on the Surface in order to ensure I get messages from Facebook, Messenger, and Skype - meaning I get dual notifications everytime I receive something on Messenger. Skype also fails to link contacts...

Skype for Android tablets also now suffers from lack of portrait orientation, as of a recent update. Super annoying. Surely they have idiots in charge of making design decisions for Skype UI.

Why is Skype so popular though? They solved voice over the Internet. It took a lot of difficult messy work to solve it and make it easy, and they did it. They succeeded where others failed and continue to fail. Even now, there is no decent alternative to Skype when it comes to voice and video over the Internet. There really isn't. Maybe if there was, Skype would step up their game.

I dunno, Facetime seems pretty good. The only people I've ever seen video calling each other is iPhone to iPhone people on Facetime.

I'm like everyone else, appalled at the poor implementation of Skype on Windows Phone 8.
It should not be a battery hog (wasnt the new architecture with "real" multitasking/background work to resolve this)
The interace on the Windows 8 Desktop is shocking.
But so is the built in email client, and the Music app. Horrid horrid implementations.

Log in to Skype desktop and you can merge the accounts.

Oh shut your áss up dumb troll

god FINALLY the snapped view improved. I was ranting about that so much. No give me file transfer and sync the freakin devices. Like when i read a message on my PC i don't want it unread on my phone. Also stop ringing my phone when i answer a call on my PC.

All this plus the option to log out would make the metro Skype app perfect.

Windows Phone 8 update please. So I can actually install the app again.

still no logout option?

This really sucks as my single annoyance is my computer pinging off on new messages whilst I'm on the couch using Skype. The solution to go invisible on the computer sets me as invisible everywhere and is not useful in that sense. grrr

I can log out on my surface not sure what you mean

I have to agree with comments above, skype is riding on truly underserved popularity. It's a mess and i don't understand why it takes so long to fix it.

Why is Microsoft not bothering to update Skype for users with 7.5 devices? The Lag, and Crashes makes me use IM+ instead.

Because 7.5 is dead in their eyes. They're not going to update anything on 7.5 unless they absolutely have to. You want updates? Buy a new phone with WP8. Sucks but that's how it is.

They are updating to 7.8. That should be good enough for old devices.

Its not much a big deal to buy a new phone with 8. The 7.8 update is good enough for me.

As of right now, if you're using Windows 8, just stick to the desktop version.

Wainting for WP8 Skype to go out of beta and being an "official" release. I will NOT be using it before then, cause it causes my live account to endlessly sync and it totally messed up my phone: people app can not be opened. At all. Can't send sms and email (mail icon has disappeared completely). Even after uninstalling Skype, the issues persist. I need to hard reset my phone to probably make it all work again. Sux. No Skype for me on WP8 unless an official release comes out. Loving my Lumia 920 to death for all other things! :D

Waiting for WP8 Skype to go out of beta and being an "official" release. I will NOT be using it before then, cause it causes my live account to endlessly sync and it totally messed up my phone: people app can not be opened. At all. Can't send sms and email (mail icon has disappeared completely). Even after uninstalling Skype, the issues persist. I need to hard reset my phone to probably make it all work again. Sux. No Skype for me on WP8 unless an official release comes out. Loving my Lumia 920 to death for all other things! :D

The beta version has s bug for 8X confirmed by skype support, mic doesn't work, it only works in loudspeaker on headphone. The sad thing is the Microsoft bought Skype and still doesn't manage to integrate this in wp. Its like youtube not working on android...c'mon, get it fixed!

Wish we had an update apps feature similar to this on WP8.

Finally we can do something in the snapped view.

Correction: I think you wanted to say Windows Store, not Windows Phone Store.

I never used skype before I got this phone(lumia 822) so I'm not sure how it compares to before. I also have it on Windows 8 and use it on both devices, now that my gf is on a trip to see relatives in India. I'm curious of what type of issues people are having. What do we mean by integration? Do we mean, we'd like the chat to show up in the standard windows messenger? Do we want calls to show up in the standard phone application?The only thing I was worried about was if I had to have the app open to receive calls. But in both W8 and on the phone when she skype calls me, it rings just like the standard phone and puts me into skype when I answer. Is that wrong or am I actually seeing something else? I also notice that in W8 when I don't want calls to show up, I just log out. I'm just curious as to what else we are wanting for it, as it works really well for me I think. Video calling is easy. her messages pop up at the top of the screen as well. So what parts of skype am I missing.
Windows Central Newsletter
Thank you for signing up to Windows Central. You will receive a verification email shortly.
There was a problem. Please refresh the page and try again.