Skype Windows 8 app updated to bring some welcome improvements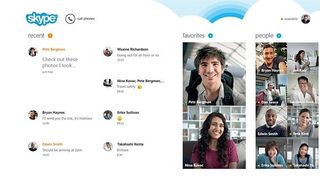 Windows 8 is still fresh out of the proverbial gate and many of the apps are still getting their updates out to iron out the kinks and improve functionality.
Skype isn't long out as a Windows 8 app and it's getting a nice update from today to allow better searching, Messenger integration and performance tweaks. Read on to find out more...
Quickly checking the app after the update and it appears to be much faster running on the Surface tablet. Calling to messenger contacts does now work but it's a rather strange beast. When the call comes in they get a message about the Skype call and a plugin installation will then begin...
When it's done installing there appears a whole new Skype Video Call Window on top of Messenger. It's separate and looks like Skype. It does work and the call quality and features are what you'd expect but it does seem more like just installing Skype rather that integrating with Messengers native UI. If you have family and friends on Messenger you want to call, it might be an idea to just talk them through a Skype installation rather than this halfway house.
Skype Release Notes have this to say about what's new:-
Search people and groups
Call Messenger contacts
Improved Video Call Performance
General bug fixes
The Windows 8 app certainly feels much smoother than before and that is very welcome on the Surface tablet. What is not smooth is the current situation with regards to how this messenger and Skype integration is proceeding. On Windows 8 it's possible to have the built in Microsoft Messaging app running, the Skype App and even a Windows Live Messenger app all working at the same time. Oh did I mention that you might have Skype and Messenger running on your Windows Phone 8 device too?
While it is nice to see Skype allowing some video call functionality to Messenger the process and the usability are far from perfect. I'm sure I am not alone in urging Microsoft and Skype to get this essential communications and notifications system back on track. Failure to get this sorted now could see folks leaving both services rather than uniting them.
Microsoft Messenger itself though is set to disappear in early 2013, being replaced by Skype, so perhaps this is just the odd transition phase. These are likely teething troubles but messaging is looking like a pain point in an otherwise excellent three screens and cloud line up.
To update your client just check the Microsoft Store from your Windows 8 machine or click here (opens in new tab) to grab it.
Windows Central Newsletter
Get the best of Windows Central in in your inbox, every day!
" Messenger integration"

this is the best frickin news I have heard all week.....maybe all month!

I hope we can finally send files over skype

What's the deal about Music Info? Copy & Paste oversight?

Yeah wondering too, got the Skype update for W8 nothing else yet although haven't checked for a couple hours.

Will the 8x stop rebooting as skype appears to be a possible cause of this.

Windows 8 not Windows PHONE 8.

So.. can you log out and sign in as a different user yet?

No. Pretty lame and a feature a lot of people are calling for. For some reason they can't fugure out people have more than one Skype account and run Skype on more than one machine.


As long as you have a Guest account or seperate Microsoft Account to log into.

Pretty surprised that a lot of people say they can't sign out. I had the "sing out" button in settings-->options since first release and now i have this button in settings-->profile
Maybe because I use local account in Windows, not a Live ID one. So it asks me to enter my Live ID every time. I suppose if you use Live ID account in Windows, it signs in automatically. Nevertheless check your settings, maybe you just didn't notice this

Sorry for my English, it's not my native language

Skype has added a "sign out" option but if you are signed in using a microsoft account you will have to sign in to windows with another microsoft account.

How about SENDING damn files?
Nope, no need for this

Is it possible to send files yet? Or screen share?

You can't screen share a phone...

This article is about the Windows 8 client, not the Windows Phone client.

How come you guys didn't mention the BEST new feauture? You can now SIGN OFF your account. Click on your avatar/availability on the top right, a menu will slide in from the right. Then click sign out!

it's a start but that means signing in to windows using a different Microsoft account, if you signed in using your Microsoft account, instead of just Skype. I'm not sure for those with Skype only accounts.

That feature was present before this update

I try and failed to log in with my messenger account to Skype

Does Skype run in the back ground on WP8 as it does not on my 920, or am I missing something ?.......

Did you enable push notifications and backgrounds tasks?

Not a problem, but Robert, your name is all lowercase.

Be straight with me, does ANYTHING about the Surface seem slow? I can't stand when I read some of these hacks online that are saying this...like that one guy who keeps saying the plug doesn't work so well. =P
Windows Central Newsletter
Thank you for signing up to Windows Central. You will receive a verification email shortly.
There was a problem. Please refresh the page and try again.