Skype Windows 8 app updated to bring some welcome improvements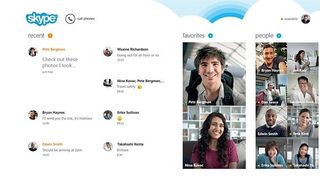 Windows 8 is still fresh out of the proverbial gate and many of the apps are still getting their updates out to iron out the kinks and improve functionality.
Skype isn't long out as a Windows 8 app and it's getting a nice update from today to allow better searching, Messenger integration and performance tweaks. Read on to find out more...
Quickly checking the app after the update and it appears to be much faster running on the Surface tablet. Calling to messenger contacts does now work but it's a rather strange beast. When the call comes in they get a message about the Skype call and a plugin installation will then begin...
When it's done installing there appears a whole new Skype Video Call Window on top of Messenger. It's separate and looks like Skype. It does work and the call quality and features are what you'd expect but it does seem more like just installing Skype rather that integrating with Messengers native UI. If you have family and friends on Messenger you want to call, it might be an idea to just talk them through a Skype installation rather than this halfway house.
Skype Release Notes have this to say about what's new:-
Search people and groups
Call Messenger contacts
Improved Video Call Performance
General bug fixes
The Windows 8 app certainly feels much smoother than before and that is very welcome on the Surface tablet. What is not smooth is the current situation with regards to how this messenger and Skype integration is proceeding. On Windows 8 it's possible to have the built in Microsoft Messaging app running, the Skype App and even a Windows Live Messenger app all working at the same time. Oh did I mention that you might have Skype and Messenger running on your Windows Phone 8 device too?
While it is nice to see Skype allowing some video call functionality to Messenger the process and the usability are far from perfect. I'm sure I am not alone in urging Microsoft and Skype to get this essential communications and notifications system back on track. Failure to get this sorted now could see folks leaving both services rather than uniting them.
Microsoft Messenger itself though is set to disappear in early 2013, being replaced by Skype, so perhaps this is just the odd transition phase. These are likely teething troubles but messaging is looking like a pain point in an otherwise excellent three screens and cloud line up.
To update your client just check the Microsoft Store from your Windows 8 machine or click here to grab it.
Get the Windows Central Newsletter
All the latest news, reviews, and guides for Windows and Xbox diehards.