Skype now lets you send money to friends via PayPal on Android and iOS
Skype has teamed with PayPal in hopes to be your go-to app for paying back friends.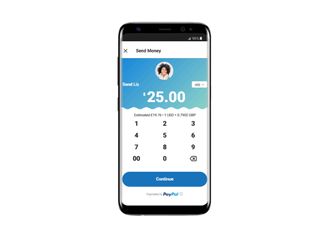 Skype has added the ability to send money to your friends on Android and iOS as part of a new partnership with PayPal, the company announced today (opens in new tab). Available in 22 countries at launch, the Send Money feature allows you to pay a friend from at any point from the conversation window.
Using the feature requires a bit of setup, but it seems pretty straightforward after that. The first time you try Send Money, you'll be prompted to confirm your location, Skype explains. Once the app confirms the feature is available in your location, it will ask you to link you PayPal account to your Skype profile, at which point PayPal will take over and handle transferring the money.
While you'll have to be on the latest version of the Skype mobile app to use Send Money, whoever is receiving the funds can be using any version of Skype.
The addition of PayPal integration arrives shortly after Microsoft debuted a completely overhauled design, complete with Snapchat-like features that seem designed to appeal to Millenial users.
If you want to check out Send Money, you can grab the latest version of the Skype mobile app from Google Play (opens in new tab) and the App Store (opens in new tab) now. There's no word on whether the feature will come to the universal Windows Skype app just yet.
Windows Central Newsletter
Get the best of Windows Central in in your inbox, every day!
Dan Thorp-Lancaster is the former Editor-in-Chief of Windows Central. He began working with Windows Central, Android Central, and iMore as a news writer in 2014 and is obsessed with tech of all sorts. You can follow Dan on Twitter @DthorpL and Instagram @heyitsdtl.
Just overwhelmed by the love MS shows for its ecosystem.

Yeah, it wouldn't surprise me if MS announced they would be abandoning all further development of Windows all together, and decided to become a simple app developer for iOS and Android.

I almost asked "what does this have to do with WindowSoft?"" then I remembered. 😬😬😬😬😬😂

Joe Belfiore, bringing the best of windows phone features to IOS, Android and its tons of users, sigh 😔. Lot of love for windows mobile right here!

This does give confidence in buying Microsoft products in the future... (written from a L950, they might have forgotten what it looks like...) btw: Had to write this in Edge, since the Windows Central app doesn't support posting on my phone since forever...

The lumia 950 is a overpowered feature phone now.

Feature phones have the WC app?

Yeah, what's up with the WC app on the 950? Keep seeing the dots run across the top over and over, and can't post anymore?? Actually, couldn't post this in the Win10 app either, nor Edge...had to resort to good ol' IE. Maybe it's the new website and templates they're using...

Uninstall your app and install the uwp wpcentral app from the store. Not the pink one...solved

No, you don't have to uninstall anymore... You can go to settings / apps / and advanced settings under the WC apps tab.. Hit Reset, let it work,, then go back to WC, and log back in.. So much easier than un/reinstaling.

Hmm...nope. Unfortunately the reset function didn't take, nor did an uninstall/reinstall. Can't get the Send arrow to work, and in Edge, hitting the Comment button switches to a code-gibberish screen. Still using IE. I also looked for the "reset" feature on W10M but not there (yet?) and when I looked for the app to reinstall, learned that there's two versions out there (WC official Win10, and Jay Bennett Win8.1). Wow the loathing of the official app...

I don't use the pink one. Reinstall is already done after Microsoft giving a preview that gave my phone a reboot loop. The app does work a lot better on my android tablet though 😉

The W10M version of Windows Central is ANNOYING!!! It needs to be fixed, but it ain't happening.

Commenting on WC app in Windows phone app also stop working since last week on L950 and L640!? It's an app issue. Not to mention the avatar leaking all over the place!

Really serious question guys. Someone really care about this feature?

Microsoft seems to think so.. That should answer your question.

I do. I use PayPal all the time instead of trying to split bills with friends. We also use Skype as our primary messaging app. This is a great feature to see integrated into Skype.

I do. Makes Pizza-Group-Orders much easier.

Alot ac do care for this, its the most used feature that every danish person (around 5 mil) every day thu an app called Mobilepay.
The whole idea should be being able to do instant small money transfers to friend an so on, really useful :)

I haven't been able to post comments on the Windows Central app on W10M in a long time on my Idol 4S. Uninstalled and reinstalled, I still get the dots as though it's trying to load the comments. If Windows Central can't keep their app working, our days are truly numbered :/

update: Okay, so I've seen there is the UWP version of the WC app, I've downloaded that and can now read comments. After trying to post a comment however, the arrow on the right side to post the comments, to post the comment, is dead. Anyone else?

The UWP version of WC app is very universal in deed.... The app on pc feels the app on the mobile device... If pc app is sick, it transmits its virus to the mobile!

I can post using a uwp windows central app just because I can..

Haaa here in Kenya sending money is not reliant on operating system. It can be done virtually on every mobile phone Os through M-pesa which is a sim card application. As long as your gadget can support a sim card, M-pesa will work on it and you'll be able to send,withdraw, pay bills, buy goods across the eastern Africa and basically some states of USA.

Same comment as others. Why is this posted on this site when the topic is Windows Phone. This belongs on Android Central. Why aren't the mods remove this? Mr. V

Because Skype is a MS product, and this is Windows Central (all things Microsoft). Not all of us use WM10 for Mobile, this is one of the reasons why, MS software works best on iOS/Android.
Windows Central Newsletter
Thank you for signing up to Windows Central. You will receive a verification email shortly.
There was a problem. Please refresh the page and try again.