Skype Preview adds Compact Overlay (picture-in-picture) support for Windows Insiders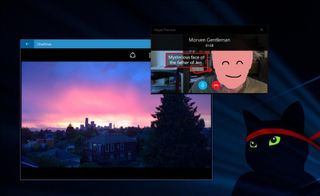 Windows Insiders can now start testing out Compact Overlay mode with Microsoft's Skype Preview app. One of the more intriguing features coming to Universal Windows Platform (UWP) apps in the Creators Update, Compact Overlay lets you take apps that support it and put them in a always-on-top window over any other apps you have open.
As you'd expect, Compact Overlay with Skype Preview works just as intended. If you're in a call, you can park the app in a corner where it will overlap any other Windows you have open. The obvious result is that you can keep an eye on your call and multitask to your hearts' content. Do be aware that this requires Skype Preview version 11.12.96.0 and Creators Update Insider build 15048 (the current Fast ring release) to start testing.
Compact Overlay is definitely an interesting addition, and we should see it start to make its way to more Microsoft UWP apps as the Creators Update release approaches in April. For example, the Movies & TV app recently added support for the feature and it might be in the works for Edge as well.
Download Skype Preview from the Windows Store (opens in new tab)
Windows Central Newsletter
Get the best of Windows Central in your inbox, every day!
Dan Thorp-Lancaster is the former Editor-in-Chief of Windows Central. He began working with Windows Central, Android Central, and iMore as a news writer in 2014 and is obsessed with tech of all sorts. You can follow Dan on Twitter @DthorpL and Instagram @heyitsdtl.
I wonder if this means we are a little closer to being able to download Skype preview on the Xbox one

I've wondered the same for a long time now. The original Skype app on the Xbox One is just awful. Especially now when snap mode in preview won't work...

did fast ring have this already? I was using this last Tuesday?

It's been there since version 11.11, actually... I disabled it day one though... It tends to get in the way when you're multitasking while skyping, IMO.

That's what I thought which is why this announcement was confusing haha

I dunno why but I always imaged Skype putting the video inside a persistent notification or something instead of this :/

My skype preview app hasn't been updating very well. In order to get the last update I had to uninstall, go to the slow ring, wait for it to download, then go back into the fast ring and get the next set of updates. When I checked the store this morning for updates, I'm still at 11.12.91 last updated 02/19/2017. Maybe I'm just doing something wrong here? Anyone else have similar experience?

MatsuDano - I am having the same difficulties as you are. I ended up resetting my 950XL on the mobile side a couple of weeks ago just to get back into sync. My fully updated desktop and SP3 are stuck at version 11.10150.0. Everything is on fast ring.

My Release Preview laptop already has 11.12.111.0?

Can someone tell me how to make this work? It's supposed to work with the Movies app and this, but I can't figure out how to test it

there's a new icon for "Play in mini mode" in the Films & TV app

Well I do not see the icon to which you are referring, so i'm befuddled. I'm in the Insider/Fast track, and should have the latest and greatest.

...and now that I look at my app version for Movies & TV it's an old build. Wonder why I'm not getting the new one.

Its same with me also. I wonder when will i get new app updates

Actually, updates for the pre-installed apps have been halted temporarily in the Fast Ring so Microsoft can get feedback on the versions of the apps that will be contained in the Creators Update image.

I can't figure out how to get it working either and I should have all the latest updates.

I'm ready to make this my default texting app as soon as they add delete conversation support.

You can delete sms convo. You just can't delete skype convos but do have the option to hide them

When did they add this feature? I always knew you can hide, but not delete sms

I believe it's always been there. I'm using production and it's here for me. I actually JUST did it

And speed it up a bit; it is so slow on the phone.

This is a good feature to add to clock apps (particularly for mobile users). This way people can keep track of time while watching full screen video AND not miss appointments or meetings.

Skype is horrible. You can't even delete conversations and the contact sync is a nightmare. It keeps adding everyone to skype when you don't watch out. And when you remove someone from the people app the contact remains in skype. My frustrations with skype are of an insane scale. I could go on and on. I'll keep repeating, fire all the people who are in charge of this nonsense. And how long is this crap in preview now. Holy ****.

I hoped things would improve over time, but it looks the other way around. Constant bugs, lack of basic options, poor design choices (can't even resize the videocall width, it just split the screen on two and you have to keep it that way). That annoying videocall notification that doesn't go away when you switch windows. The app crashing everytime I try or end a call. Just kill it.

There is a toggle for the call notification now but it seems to affect message notifications as well.

I am running the production build on my PC and using the skype preview; why does my video feed stop when I minimize the app?? Is it with just me or others are also facing the same issue?

I thought this was a bug. Glad to know I can disable it.

I hope it comes to mobile soon.